Posts Tagged 'Sci-fi'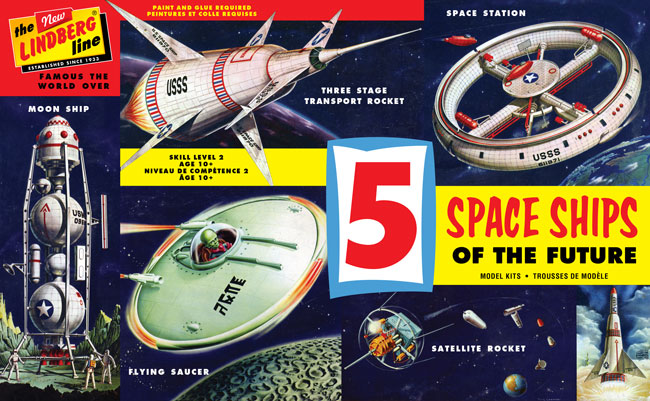 Blasting from the past is Lindberg's 5 Space Ships of the Future.  Considered to be Lindberg's most iconic and sought after kit, the futuristic 5-pack will finally be available for the first time since its originally release way back in 1958.  Along with 5 complete model kits, the release will features vintage boxart, retro-inspired decals, and a few new twists.  The 5 decal sheets are remastered from the 1958 versions but with a better fit and details, and include all new decal options inspired by the kits rich histories. Also for the first time ever parts are injected in a spaceship grey.
The all new full color tray features amazing models painted, assembled and photographed by E. James Small.  Check out more of his work at smallartworks.ca.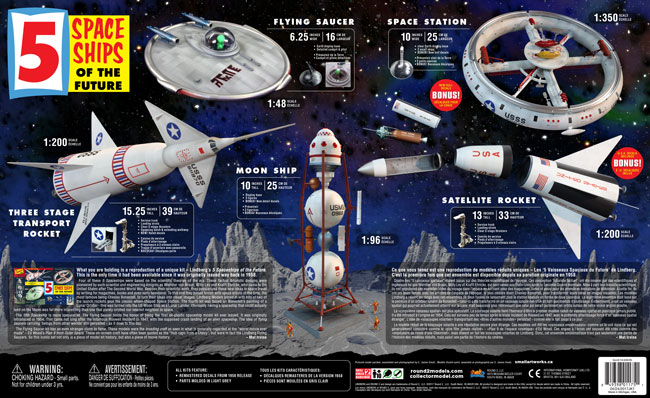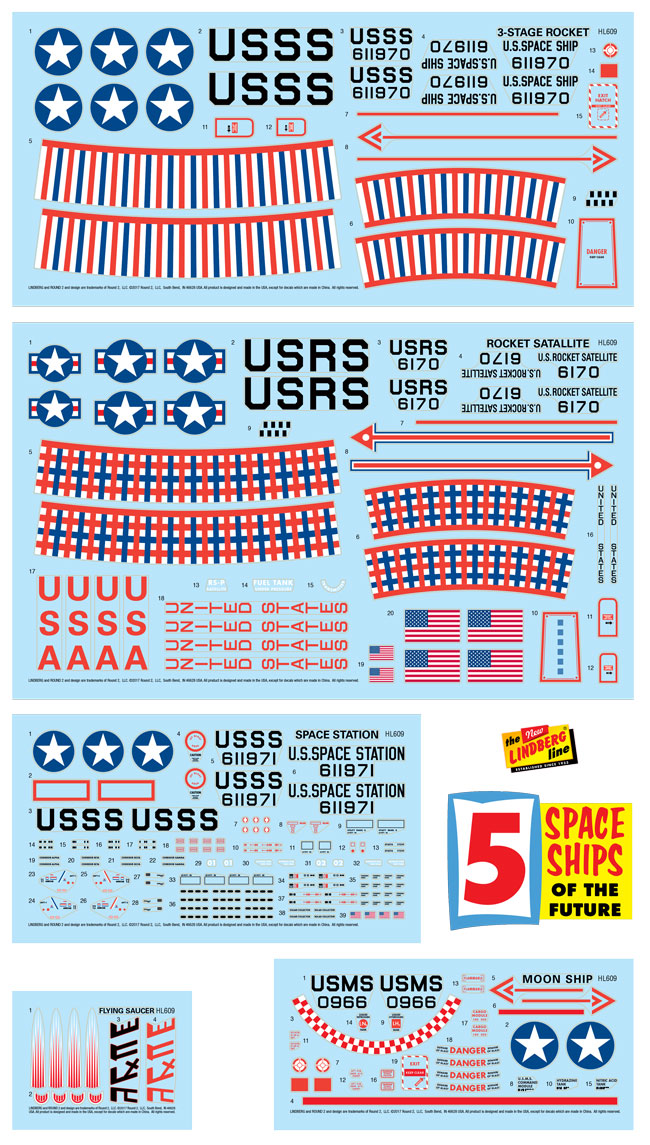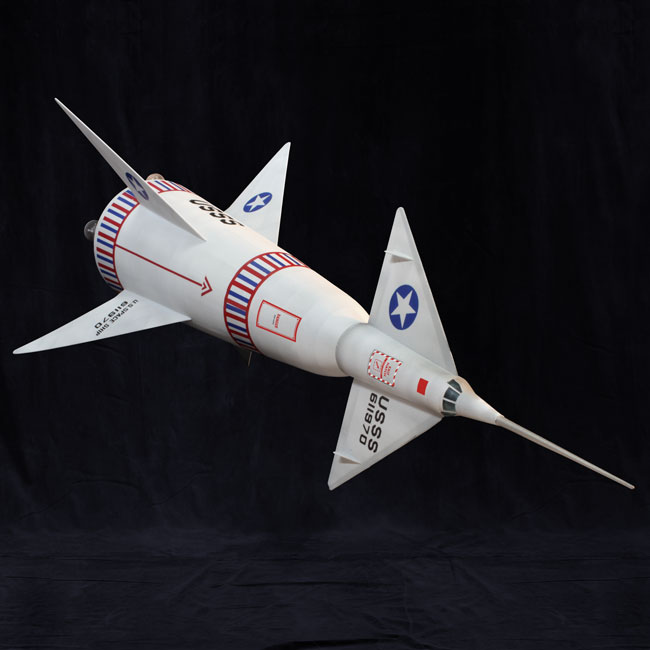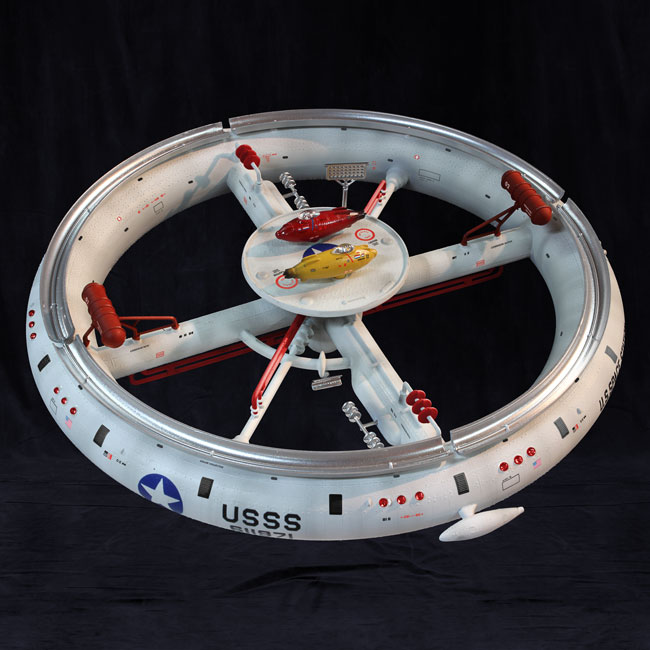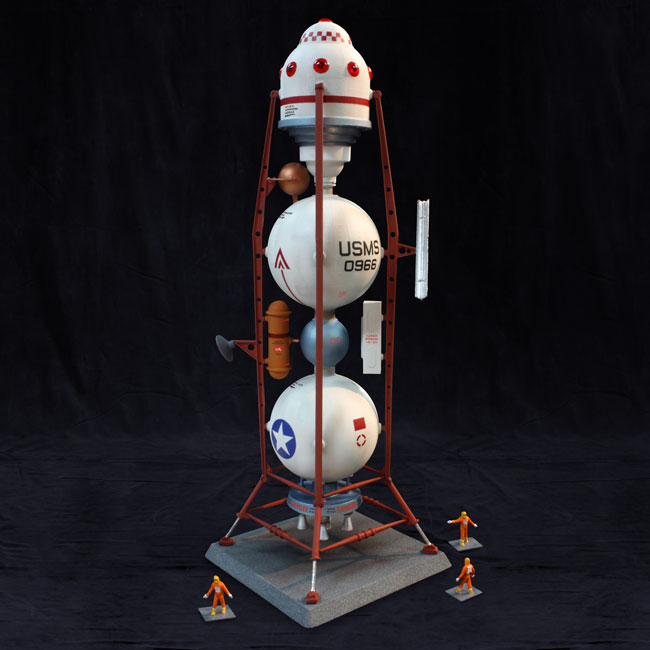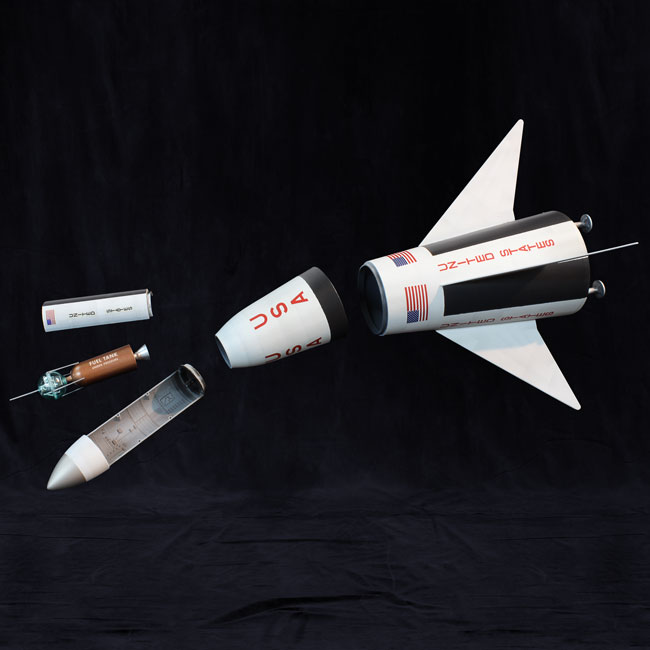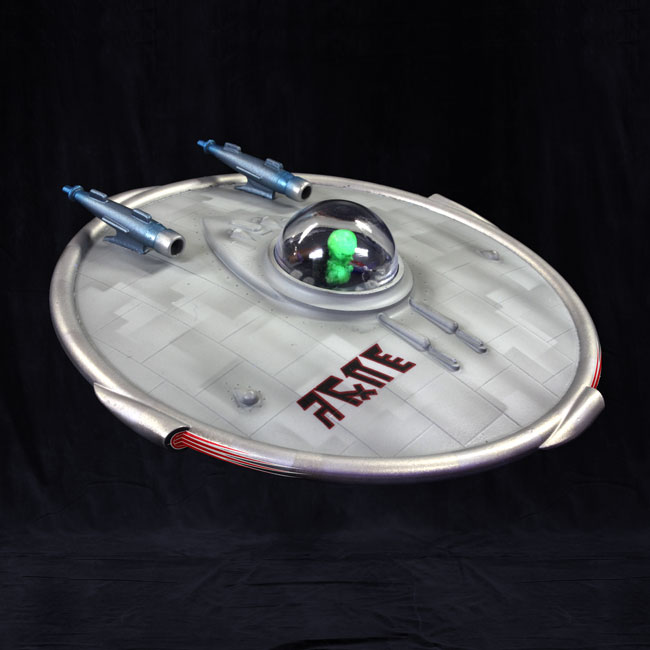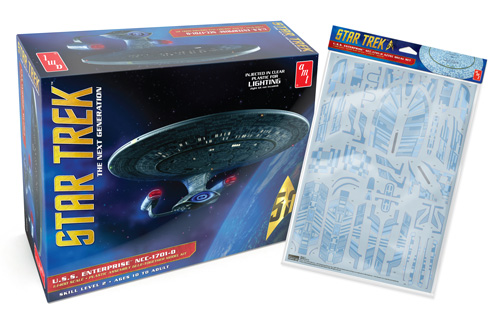 Here is a preview of 2 upcoming Star Trek releases, the AMT955 1:1400 U.S.S. Enterprise NCC-1701-D kit and the Aztec decal set for that kit.  They will be sold separately.
The U.S.S. Enterprise NCC-1701-D model kit will be coming out first.  This all-plastic model kit is 18 inches long when fully assembled, and features a removable saucer section and dome base with metal support rod.  This special edition is molded in clear plastic, which allows the modeler the option of lighting the kit.  (Light kit not included.)  Also included are standard marking, pennant, registry, and lifeboat decals; and complete instructions.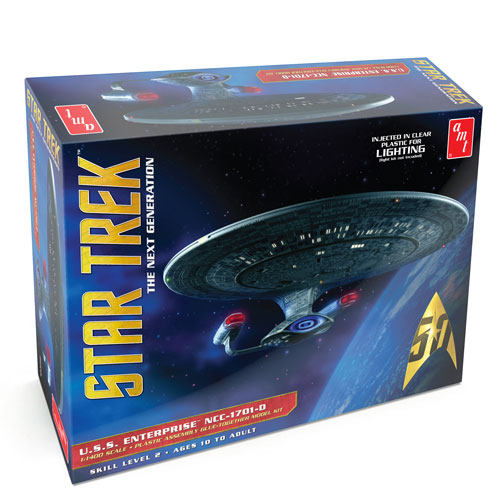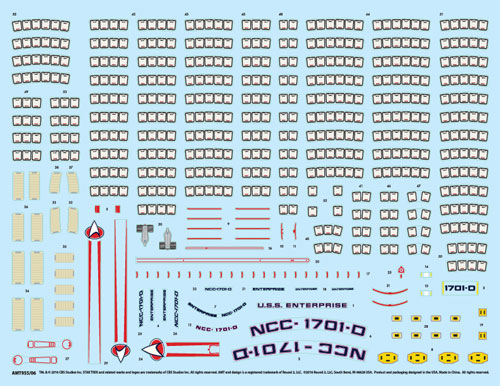 The 1:1400 U.S.S. Enterprise NCC-1701-D Aztec decals will be released shortly after the base kit.  The set will include 4 – 9.25 x 13.25 inch decal sheets and placement instructions.  If you pick up the Enterprise D kit make sure you don't miss out and keep you eyes out for the Aztec decals!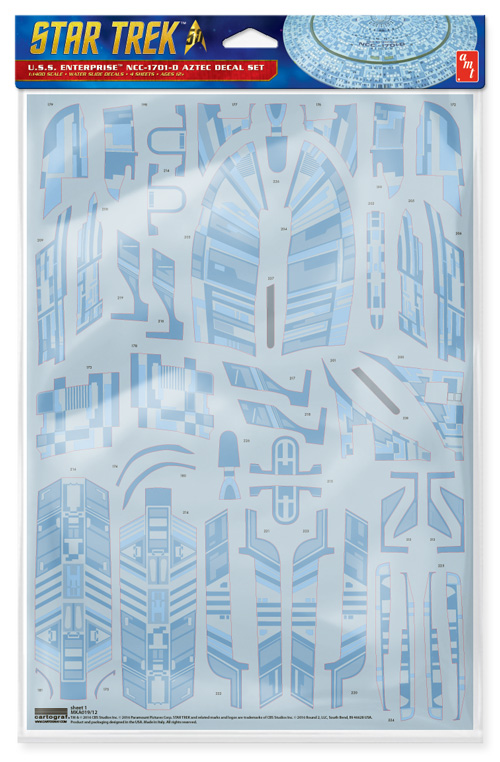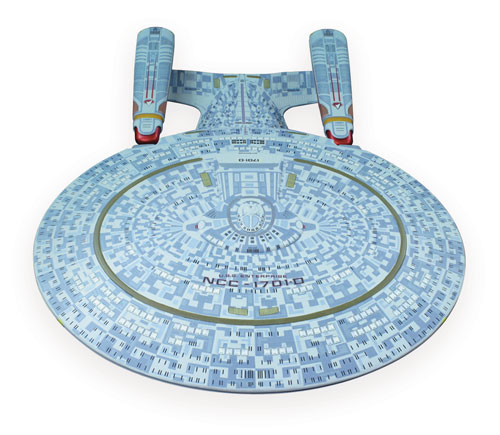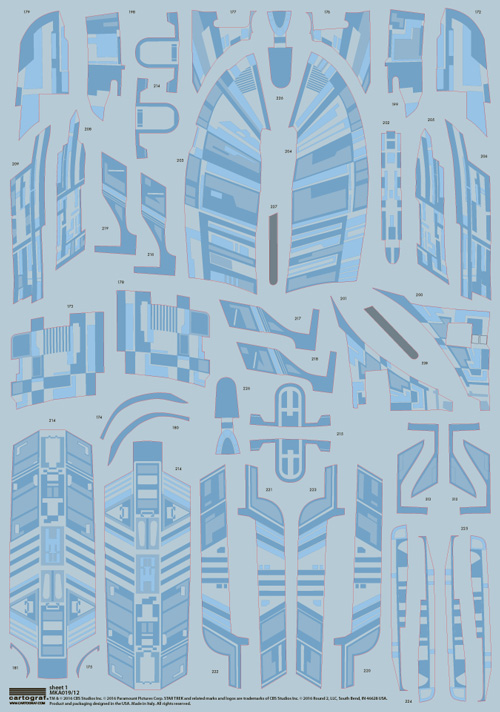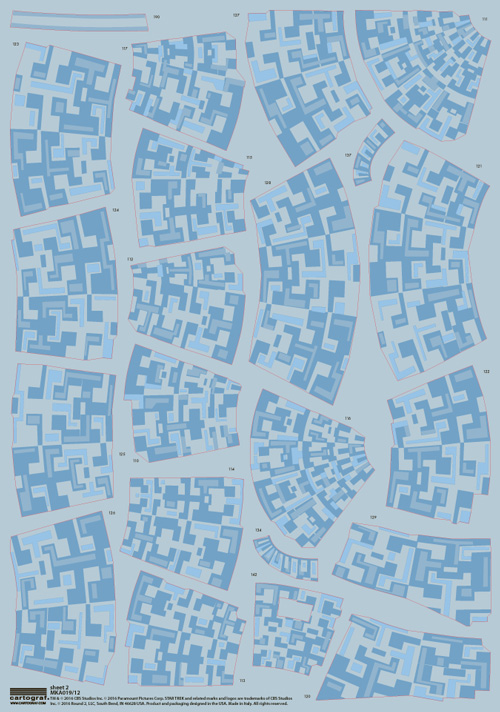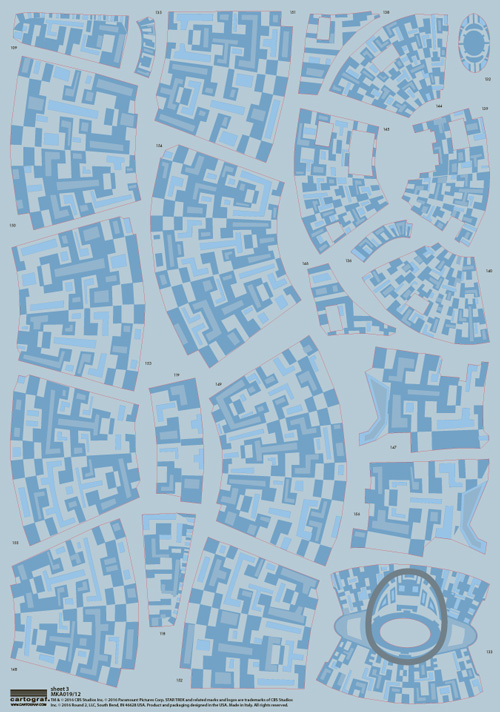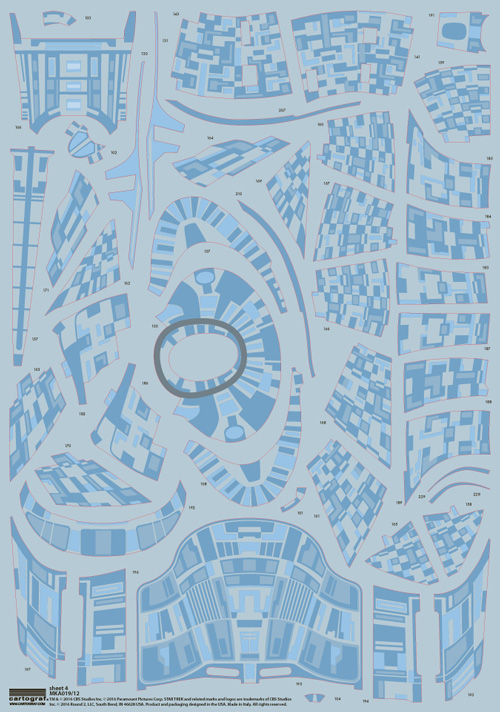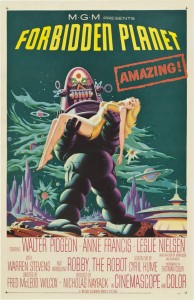 We announced our intention at Wonderfest last year to do give our Robby the Robot model kit a fresh spin to give a 3D representation of the iconic Forbidden Planet movie poster. So this June Robby the Robot returns as the Robby the Robot Movie Poster Edition. It seemed simple enough to take our existing Robby kit, add on a few new parts and boom; we would be off to the races. As usual, there really is no such thing as an "easy" task.
We knew we would need work with the parts we already have, so we knew we couldn't work digitally in this case. We started out by hiring Tim Bruckner to tackle the sculpting duties. Tim has sculpted many licensed collectible statues and action figures. The difficulty before him was to use hard parts that we wanted to avoid retooling like Robby's head and body and sculpt the needed Altaira figure along with new arms, legs and base for Robby. On top of that, he needed to stay as close as possible to the main reference, the movie poster, and translate a 2D painting into 3D that keeps all of the human body parts in proper proportion and get it to seat correctly on Robby. Our licensing agreement does not include likeness rights so we knew we needed to make sure the face stuck closely to the poster, and looked nothing like the actress. The Robby you see on the poster also strays a bit from the look of the real character. Ultimately we found that we needed to find that elusive sweet spot between the poster and what the "real" thing should look like in 3D. So with the parameters of our mission set before us, Tim began sculpting.
The first hurdle that was encountered was the fact that the movie poster shows no trace of Altaira's right arm. It really isn't something you notice when you look at it, because the mass of Robby's body lends enough cover to make us assume that it must be there somewhere. Robby's shoulder dome restricts the notion that the arm could drop straight down like the left one does. That left two possibilities. A) Her arm was tucked in between Altaira's and Robby's bodies, but her right hand could not land in her lap which would have been the natural position for it. B) Her arm had somehow landed up resting back over Robby's shoulder. (Think it through, if Robby was lifting her unconscious body, how could her shoulder have ended up there?) We decided to proceed with notion A and see where that would lead us.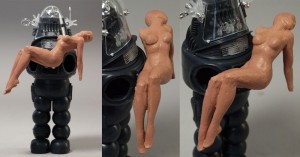 While we were figuring that out, creating Robby's new wide stance was a simpler proposition. Old kit parts were utilized to create a mockup of the new part. They were cast up into solid resin soon enough.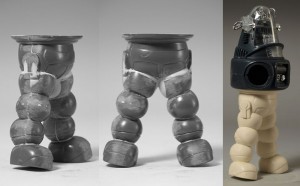 With the legs in hand, the base was begun. We wanted the new base to represent the rocky alien ground that he was standing on in the poster. We also wanted to finish off the full poster effect by including a cardboard backdrop that supplies the background. So a channel was implemented to situate the backdrop. We left it to the factory to supply some gravel/soil texture to the piece after tooling was cut.
Getting back to the figure, another problem that arose during the process is that in the illustration, Altaira isn't really resting on Robby's arm. The right side of her torso is raised so that we can see it, but she is clearly being held up by Robby's hand on her left side. This left a gaping hole in the model. We played with the idea that her right arm had been caught up under her and that was what was holding her up.