Archive for July, 2014
Hi guys-
I promised this post a while back. I know we are running behind on getting the U.S.S. Reliant decals out to market, but they should be here by the end of August.
The images below show you what to expect so you can plan ahead so you can start building while waiting for the decals. as expected, it s a our usual aztec wrap and we've added in several alternative names and registries as well. A preview of the instructions gives you a better idea of how they are broken up and placed on the model. I've pumped up the contrast of everything I am previewing here so you can see it at the relatively low resolution that our blog system restricts me to.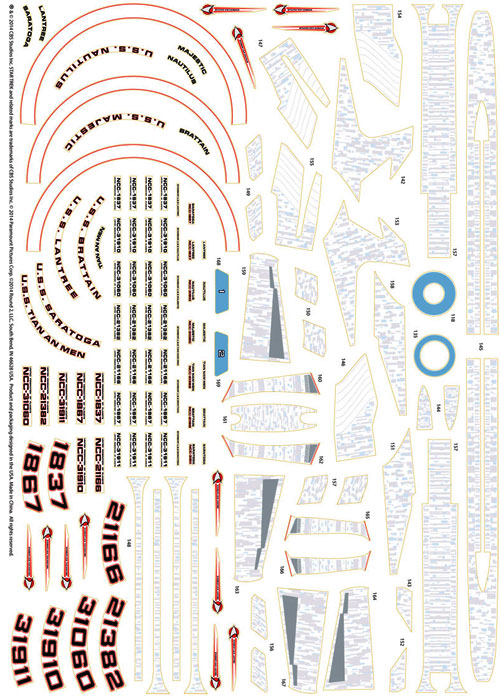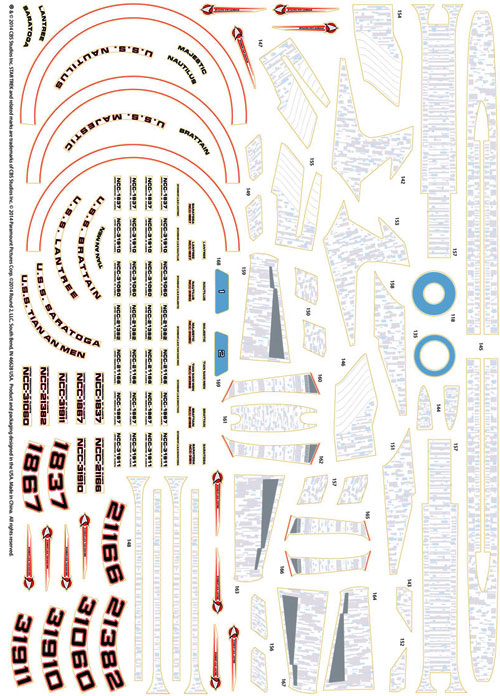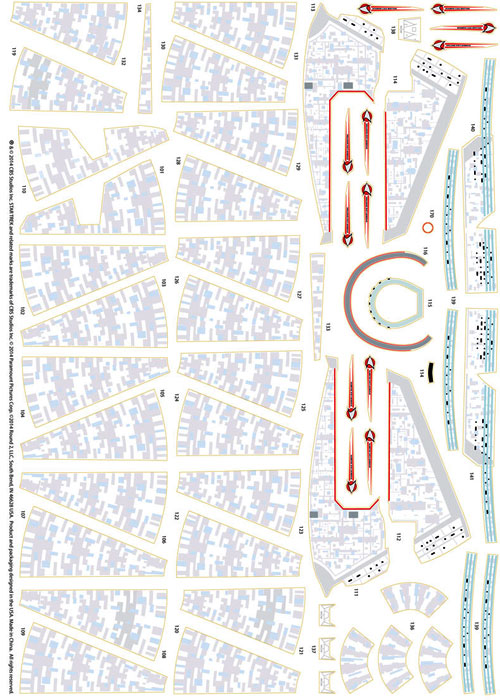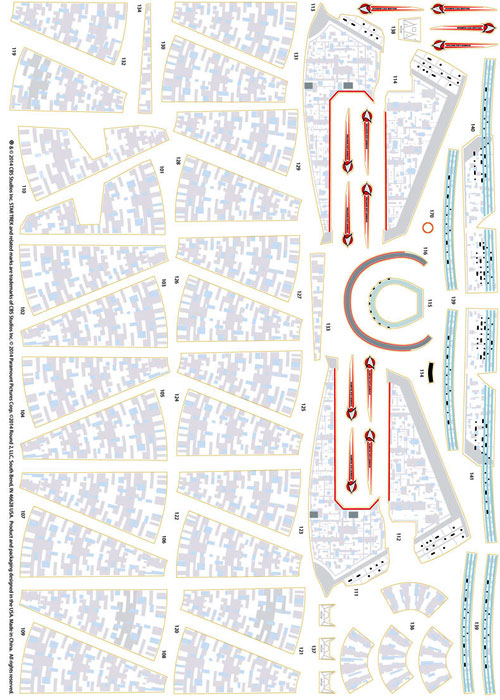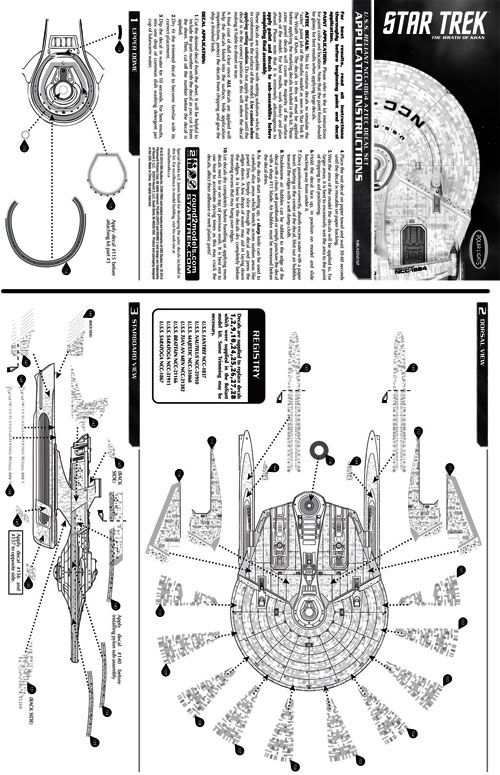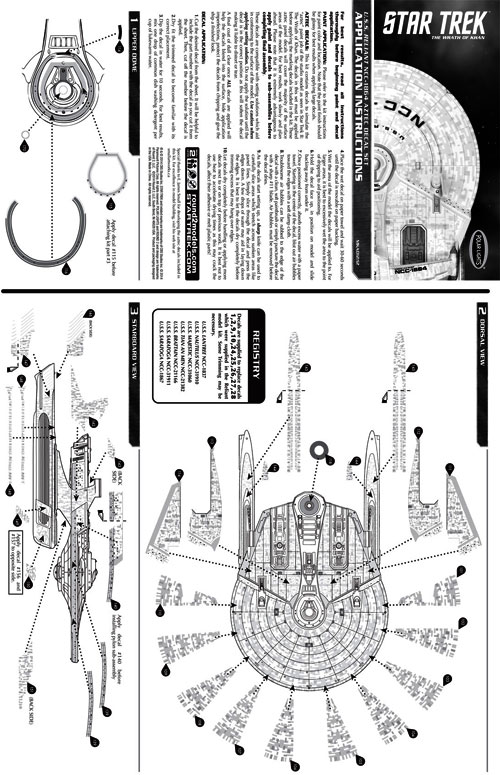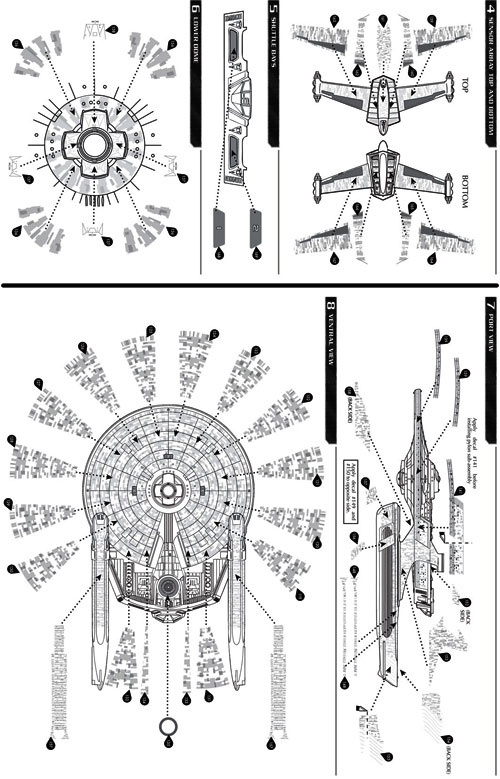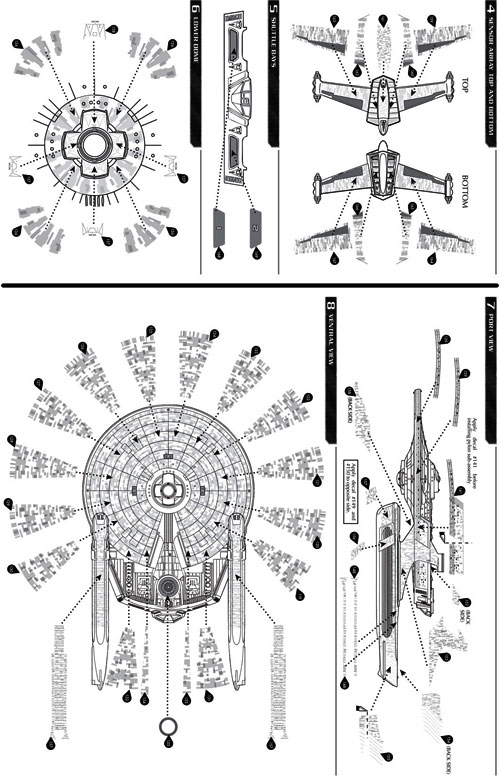 In the late 1990s, Ertl began a tool sampling program. This was prior to the buyout by Racing Champions (RC2). The goal was to set up every model kit tool, one by one and create test shots of the parts. Then, a physical system was to be devised so that the test shots could be easily viewed and referenced. It did not matter if it was a large, primary body tool (which very often contains everything except clear parts and tires) or a smaller window or taillight tool, or even a tire tool. Sample shots were to be produced.
As many of the tools had been used to create alternate or updated versions of the respective kits over the decades, in some cases there were parts blocked off. Efforts were made to unblock the closed gates to allow all the parts cavities currently in the tool to be injected with plastic.
In the end, not all the tools got sampled. When RC2 bought Ertl the program was cancelled and tools started getting shipped overseas. However, an impressive number of tools did get checked and sampled and the shots thereof have proven to be a big help in finding and putting some old kit tooling back together!
The method that was developed to catalog and display the hanger shots was to sandwich them between two clear sheets of mylar, with a metal clothes hanger at the top. Now they could easily be hung up and viewed. Racks were built to hang them all on and they were set up in a dedicated portion of a warehouse room. The first time I visited that room, it was an overwhelming sight. Many of the shots represented kits that had been reissued in recent years, but many others were exciting models that have not been reissued in decades. For an example, one of those shots was the MPC Daytona Transport Truck. As most of you know, we were able to reissue this kit back in 2012 already! Seeing that hanger shot definitely help put things in motion.
With Round 2's purchase of all the AMT, MPC and Polar Lights tooling, all the existing hanger shots were acquired. I'm happy to say we finally have these set up in Round 2's warehouse and wanted to share a couple photos with you, to give you an inside look at a system that will help us to continue bringing you as many sought after kits as possible!