Posts Tagged 'Decal Sheets'
How are you doing in this "new normal" hopefully you've been able to spend some time modeling as businesses reopen and we baby step our way through this ongoing crisis. Here at Round 2, our full staff has returned to the office after many weeks of working remotely from home. It seems like we haven't skipped a beat. Well, maybe one beat was missed…
Because we have been working remotely, we couldn't follow our usual methods of proofing and double checking and some errors were made in the numbering of our upcoming STAR TREK DISCOVERY U.S.S. Enterprise Aztec Decal Set. Some of you may know that the product was delayed slightly and missed being delivered with the kits and light sets. The numbering error was not the reason, but the delay in release did play a roll in the error. We will be sure all future production orders will be corrected. Without further ado, you can see the corrected numbers in this image and high res PDF can be downloaded here.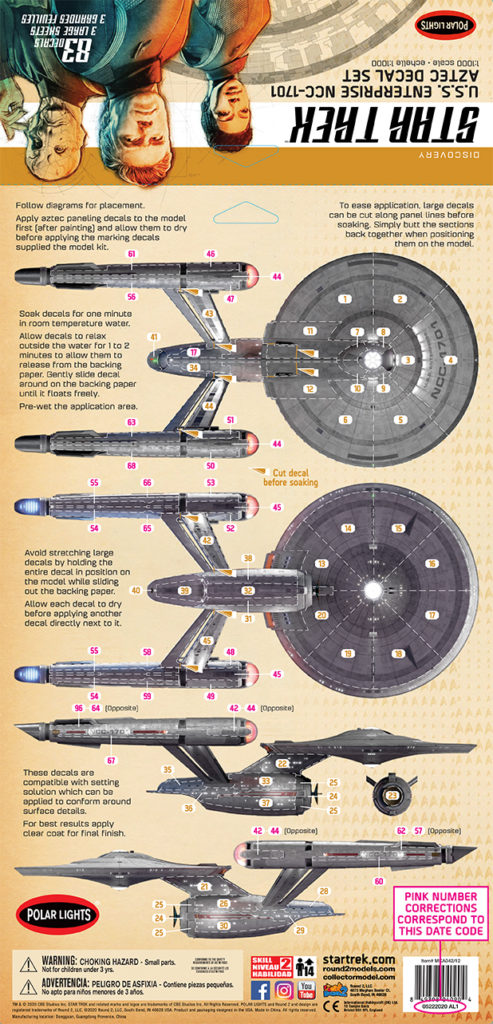 Hi guys-
I promised this post a while back. I know we are running behind on getting the U.S.S. Reliant decals out to market, but they should be here by the end of August.
The images below show you what to expect so you can plan ahead so you can start building while waiting for the decals. as expected, it s a our usual aztec wrap and we've added in several alternative names and registries as well. A preview of the instructions gives you a better idea of how they are broken up and placed on the model. I've pumped up the contrast of everything I am previewing here so you can see it at the relatively low resolution that our blog system restricts me to.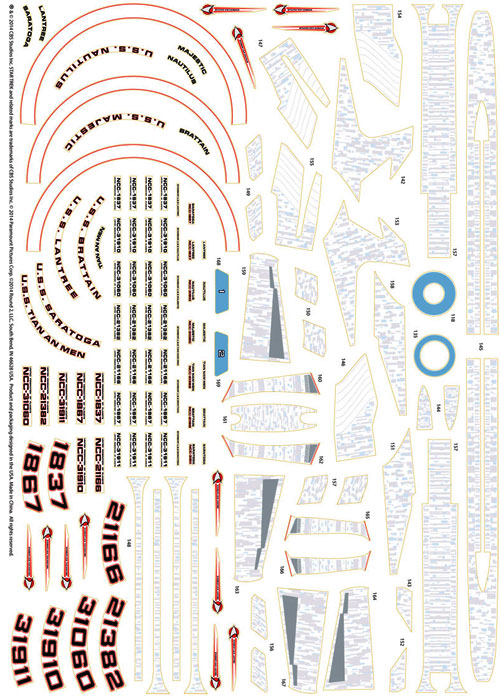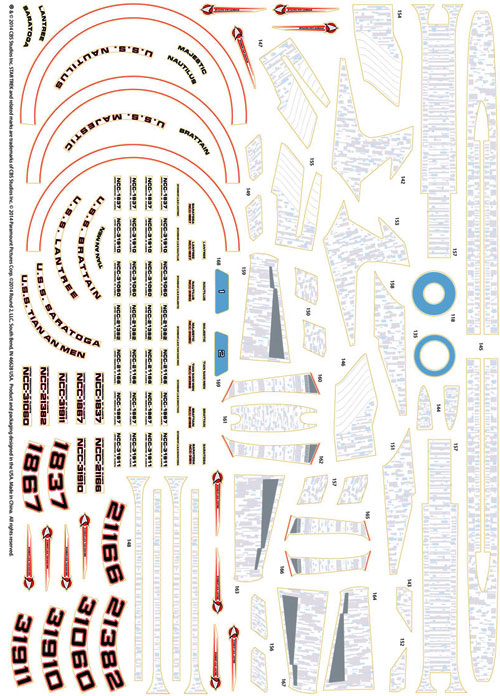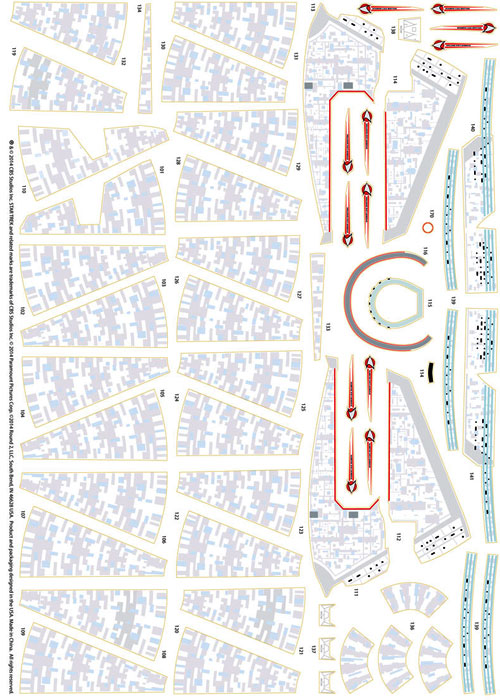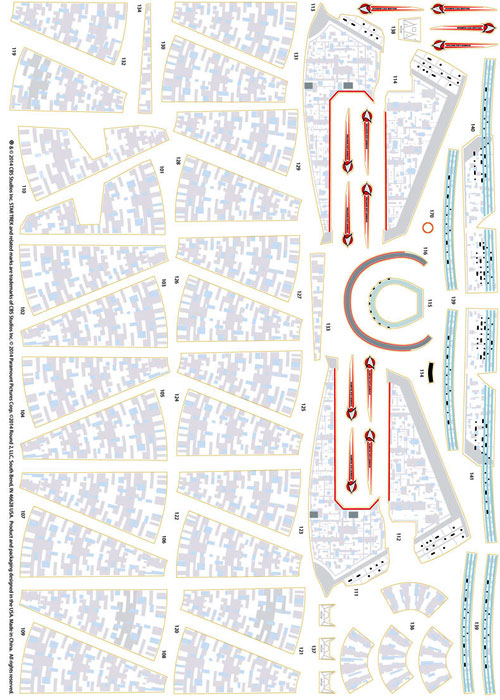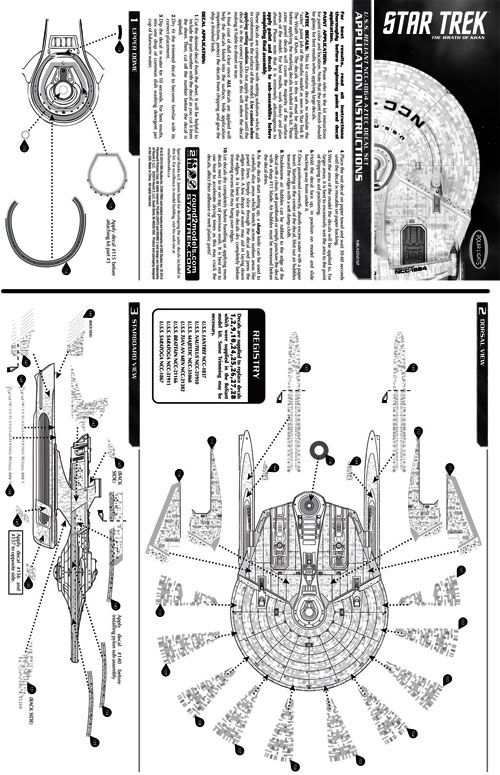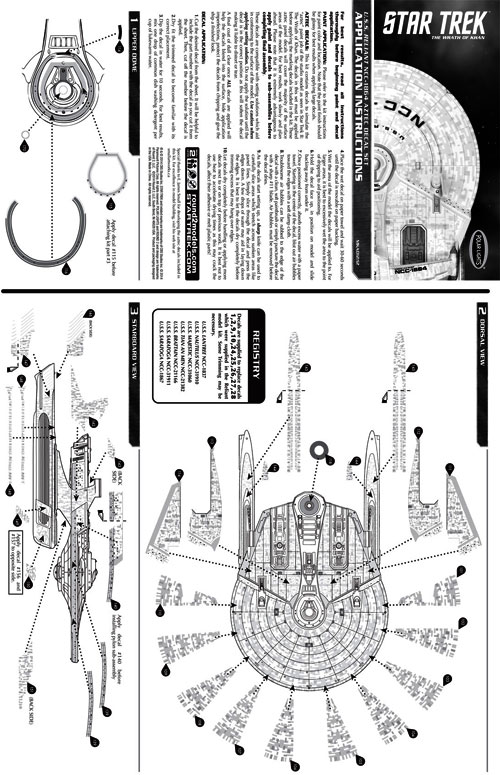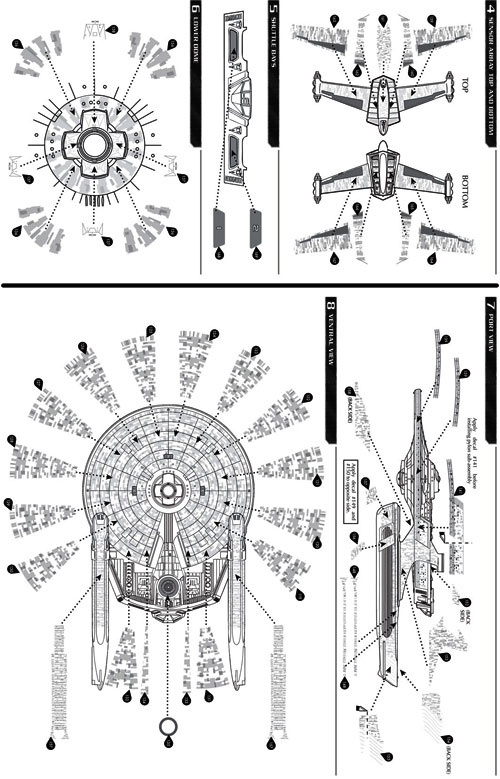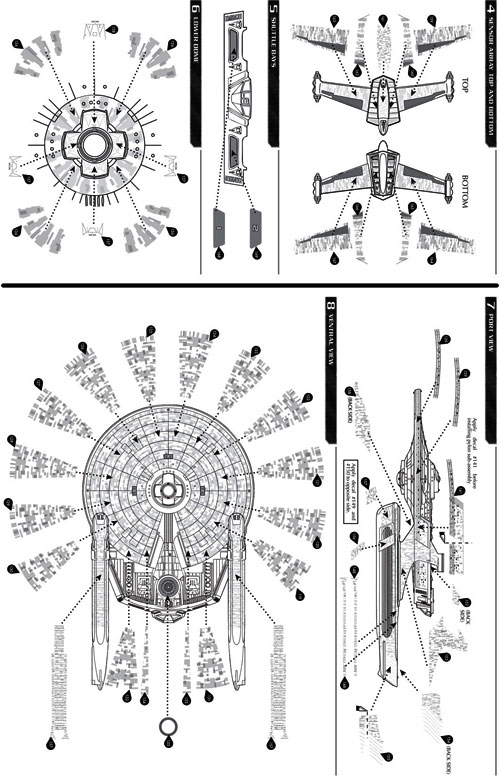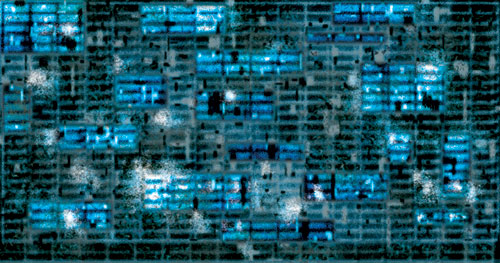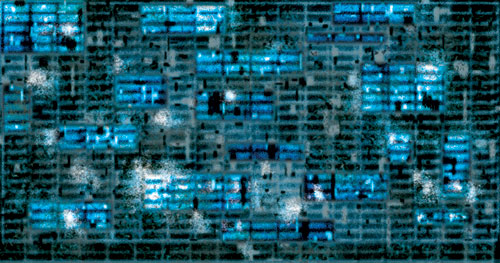 This may not turn into "Global Thermal Nuclear War" (well at least I hope it doesn't), but I always like to post about things I'm kind of jazzed about when I'm working on Round 2 model kits. Usually when there is a lull in posts, it is because I'm busy working on a package or instruction sheet. Both are major time hogs but generally aren't much to talk about. So when inspiration hits, I always try to write something out real quick.
Anyways, I've been working on some decals this week that have been pretty fun. Rather than come right out with it, I figured I'd make a game out of it. (Michael, our new creative director LOVES games. I hope he is proud of me.) So, the pic shows what I've been up to. I'll give you twenty guesses as to what it is. Whoever correctly guesses first is the winner. I'll send the winner a proof of the decal sheet when it arrives.
UPDATE: OUR WINNER… CHIANGKAISHECKY
I knew it wouldn't take long but I figured I would have to drop at least one hint. We are bringing the U.S.S. Enterprise NCC-1701-C back out by the end of the year and it will feature a nice size decal sheet featuring ALL NEW battle damage decals based on the original filming model.  When I first started figuring out how much I would be able to include, I discovered that the ship was pockmarked with relatively small spots of damage. Once I had a map established, I discovered that if I concentrated on the hull opening itself but not include the black burn marks, I would be able to include every spot I could detect in the reference I had on hand. I figured most modelers could handle the little bit of freehand airbrushing that would be needed to complete the look. Even without the additional airbrushing, they look pretty good on their own. I'm showing one of the decals below along with the reference shot and how it will look with a little airbrushing.
Besides revised Enterprise-C registry markings, U.S.S. Yamaguchi registries will also be included. Unfortunately, it doesn't look like I will have room on the sheet for the U.S.S. Excalibur registries. The sheet size is determined by the bottom of the box and it looks like it will be pretty well packed. We will have a product page up our website soon.