Archive for September, 2015
Hi there Eagle fans. One last blog post to wrap up my series on the new MPC 22" Space:1999 Eagle kit. I might follow up later on with some process stuff about the box design and illustration, but I expect my next blog will be about the new parts for the U.S.S. Excelsior. But first, what more could be said about the Eagle…? Heh. Wait for it…
We announced at Wonderfest that we will be releasing a set of metal bells and oleo struts. Well, here is a peek at the first set of samples. They look great if I do say so myself. We need a small amount of adjustment on one of them, but otherwise looking good. The set of 12 aluminum bells and four oleo struts will retail for around $100.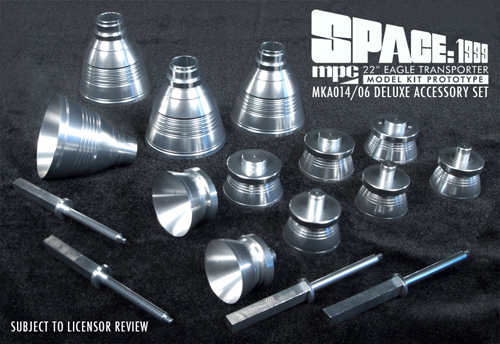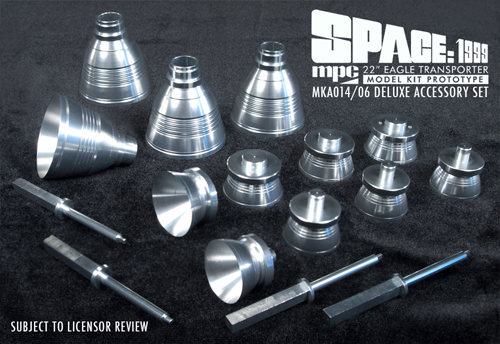 Click to view the following image at full size.
This shows the comparison of one of the VTOLs to an aftermarket main engine bell installed on a 1:96 scale Product Enterprise Eagle.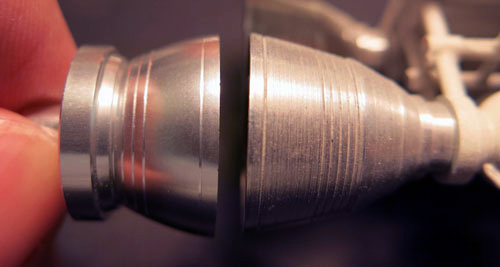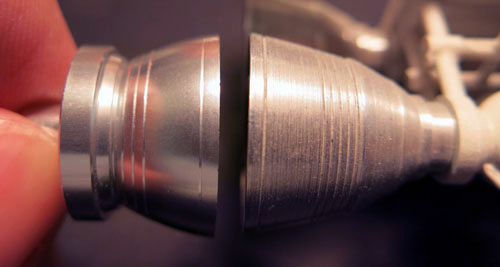 We recently decided to offer another smaller metal accessory for the kit, which will include the small shoulder pod RCS thrusters. These should retail for about $25-30. I'll let you know when we get samples in.
Next, if you hadn't heard we have on occasion had faulty decals found in our kits. In an effort to improve that situation we will be starting a relationship with the world-famous decal manufacturer, Cartograf out of Italy, and the Eagle kit will be one of the first to take advantage of their superior quality. Other kits will start using Cartograf decals as well with a couple trickling out towards the end of this year in our Lindberg products and more being used in our other brands early next year. Once we get some kits rolling out with them, we will evaluate whether to start using them across the board. Cartograf is THE name in water-slide decals having supplied decals for several other well-known model kit manufacturers. I recently tried a "side-by-side taste test" myself. I found that they "feel" thicker even though they are not, and they do not fall apart in water or tear nearly as easily. They seem to really suck themselves down to the surface of the model conforming superbly to compound surfaces. All kits that use them will have a sticker on the outside of the wrapping to clearly show that they are included. It is our genuine hope that this demonstrates how important it is for us to make sure our product is as high a quality as possible.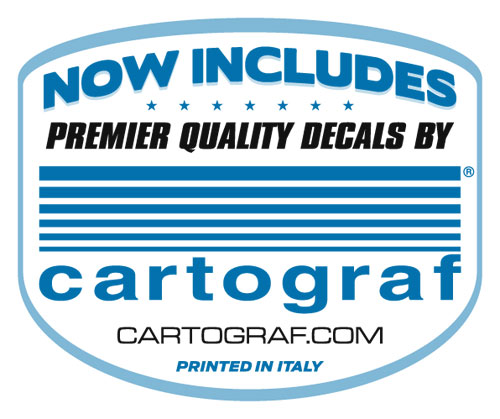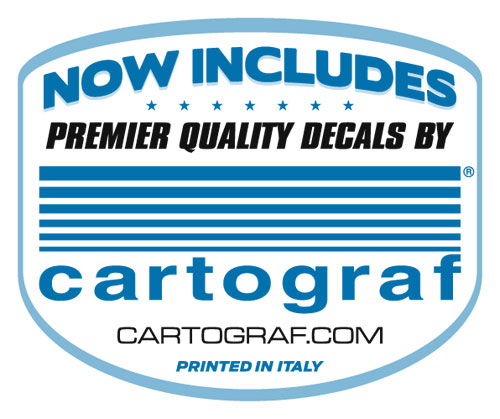 Last and hopefully not least, I think we have a bit of news that will literally put the kit over the moon. (okay, maybe not literally) We will have the ship's designer and Academy Award Winner, Brian Johnson, review the kit himself in hopes of getting his endorsement to apply to the packaging.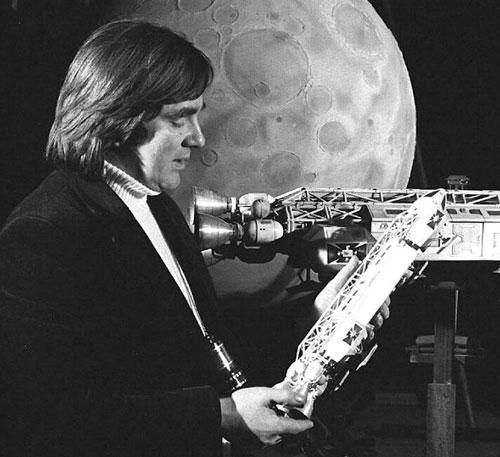 Along with that I am thrilled to share even more excitement… Happy Medium Press, publishers of Sci-fi & Fantasy Modeller, are putting the final touches to the contents line-up for their Modelling The Eagle Special, due for publication early in 2016. They have given us an exclusive look at the cover, prior to them announcing the title on their site in the next couple of weeks. I've seen the list of potential article features and a great portion of it will cover more about our new 22" Eagle kit.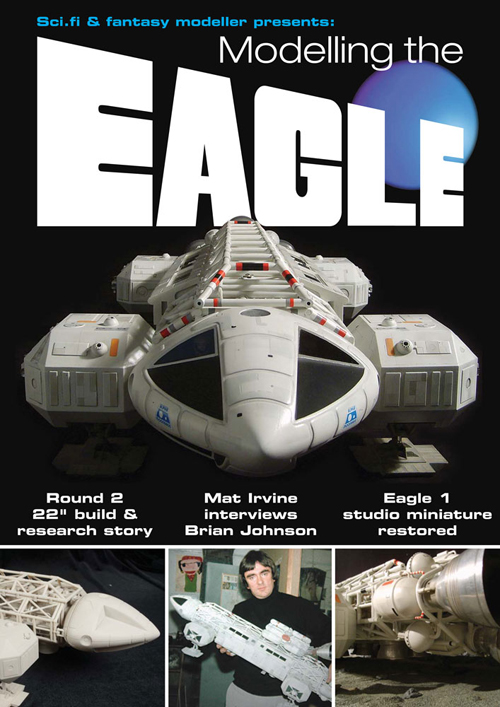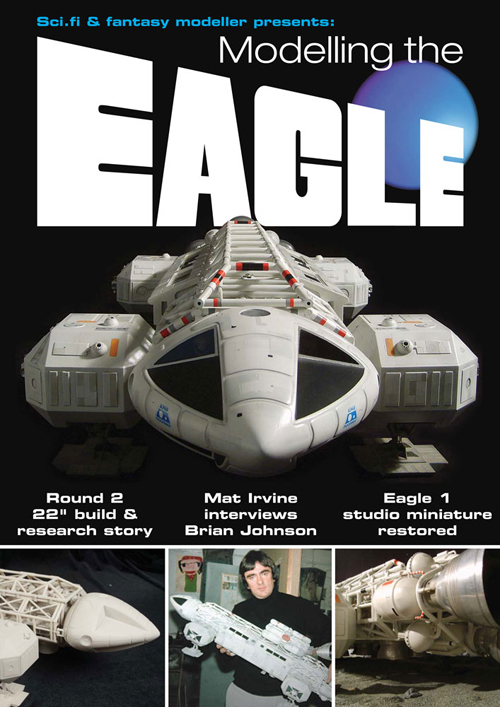 Well, what do you think…?