Archive for July, 2011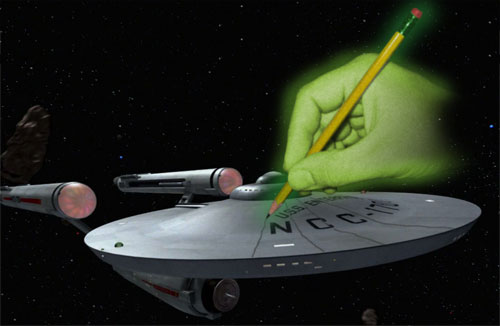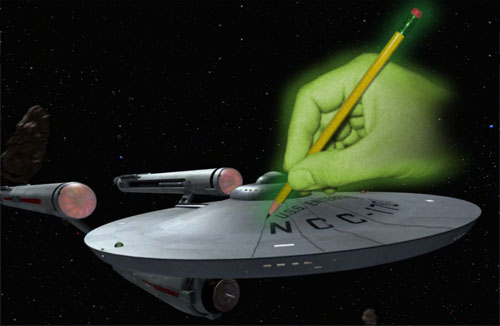 We made a promise not to discuss the development of our 1:350 TOS Enterprise Star Trek model kit outside of our 1701CLUB updates. This blog post won't talk about it directly but it does address a significant concern among modelers that seems to have turned into a great debate. This post won't be about what we will do or what we won't do, but explains the kinds of things that we have to keep in mind when making decisions about our new kits.
Two words seem to strike fear into the hearts of model builders everywhere… GRID LINES. So, let's ask the question. Why in the universe would we consider adding such a detail to a hyper-accurate model kit? I don't have to remind modelers that until we came along, no AMT Enterprise model was ever built without a modeler having to slave over meticulously sanding the stupid things off the saucer… Wait, none of them were ever built without doing that…? Well maybe as kids we never removed them. There was no way to accomplish that at that age and get it to look right. With time, our skills improved and we found ways of improving things as best we could and every build any of us ever did came out looking great… Didn't it? Well, maybe there were some cases where incredible effort was put forth but some builds weren't quite as nice as the next. Is that all on the modeler? Or is the manufacturer responsible to some extent? How many kits were made back in the day with saggy nacelles? If it wasn't one thing, it was another.
So here's the quandary, do we appeal to a core demographic of the really amazing modelers out there and leave something like the top of a saucer smooth or should we consider adding VERY fine engraved lines that would really help out everyone else to make their build look as accurate as they can manage? What if we could do lines so fine that when viewed from an arms length look like they're drawn on…
Let's break it down further…
REASONS AGAINST:
1) it is not accurate to the filming model. The lines were drawn on with a pencil, not engraved.
2) Talented modelers are capable of drawing the lines on themselves.
3) … well… See reasons 1 & 2, I guess.
4) SEE REASONS 1 & 2! (Expletives mercifully deleted)
REASONS FOR:
1) The model kit should represent the TOS U.S.S. Enterprise… as in the one with Captain Kirk standing on the bridge and Scotty in the back screaming that he needs more time. The ship has a deflector grid on the saucer that falls between metal plating resulting in narrow valleys on the surface of the hull. (Or did Apollo's green hand draw them on with a giant space pencil?). The filming model had some other wonky stuff that we wouldn't want to copy exactly either. So, we aren't completely beholden to the filming model, our mission is to create a representation of Matt Jeffries' design in support of what was shown onscreen.
2) If handled correctly, the engraved lines would look just like penciled on lines.
3) Drawing concentric circles on a 14" curved saucer is not an easy task for anyone. More often than not, most modelers will struggle with it.
4) Star Trek has a wide appeal beyond the modeling market. Tons of Star Trek fans would be interested in building such a kit even if they aren't modelers or even artists. If engineered well and thought through, the kit should allow them to be able to build an accurate representation of the ship for themselves.
5) If we don't keep in mind that any kit could be someone's first kit, we as model kit manufacturers wouldn't be doing our due diligence.
6) Most modelers who really work over the details of a build to achieve their vision of perfection have the skill to eliminate the lines without much trouble. Or at least they would not have nearly as much trouble removing them, as another modeler would have with drawing them on.
All this is considered without a firm decision in mind at this point. We'll see how it goes. 1701CLUB members will be the first to find out the answer.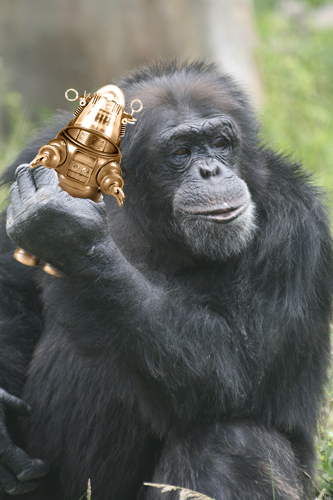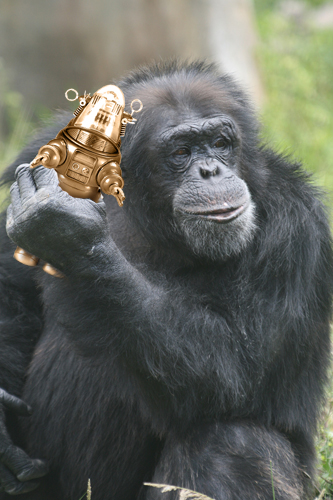 Our first 1701CLUB update has been sent out. If you signed up for the club but did not receive it, just drop us an email through the contact page of our website. Please be sure to check your spam filters. In a few cases, we have had members' correct email information in our system but they did not receive the update. We will still be able to show the first update to them using an alternate method but we will not be able to do that every time going forward.
If you haven't seen it yet, we finally got our Wonderfest presentation set up on our Round2ForYou YouTube Channel. Be sure to check it out! Thanks to Modelman Tom for putting all the polish on the clips.
Thanks for all of the feedback to my last post. It will really help us decide what to do next in our Star Trek Cadet Series line. Feel free to keep responding to that thread with more comments or suggestions.
I was going through my bookmarks the other day, doing some house cleaning and organizing and came across the Polarpaedia page. Someone had pointed it out to me way back at our first appearance at Wonderfest. It was a site I thought would be a good reference about the history of the Polar Lights Model Kits brand. I knew there was a lot going on the PL message boards back in the day and had heard some of what went on back then from some of the folks that carried over from PM to R2. As I looked at the site again, I took note of traditions that had been begun but had fizzled through the years. I know bringing back the glory days is impossible but I'm wondering what little things can we bring back that were worthwhile back then? What are we missing? What can we bring back? The one particular thing that I took notice of was the Golden Frankie awards given out each year at Wonderfest to celebrate one individual's impact on the hobby. Though we don't currently have the license to pop a Frankenstein, maybe we could do something similar. I'm open to any thoughts or ideas.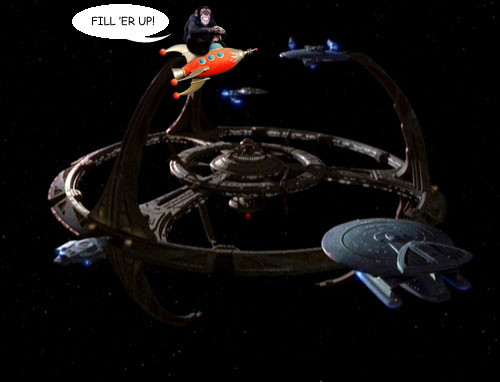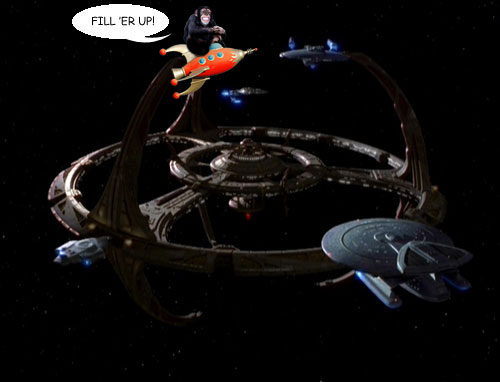 Round 2 Models announced at Wonderfest that we'll be bringing back the Deep Space Nine kit in 2012. (working on a video of our presentation and hope to have it up soon) I mentioned our idea to inject it in clear plastic. Some liked the idea, some didn't. I just took a look at the kit again today and it seems like a good candidate to do in that treatment. What say you?
I've seen conflicting reports about the DS9 kit scale. Some say its 1:3300, the box says 1:2500, my calculations say 1:3700. Thoughts?
If we wanted to throw in a small scale Defiant, would you rather see it in perfect scale with the Space Station or in 1:2500 to match our Cadet Series kits?
Next question is what ships would you like to see introduced in 1:2500 scale? I'm thinking Reliant, Voyager or we could go TOS and do the Romulan Bird of Prey. What enemy ships would you like to see in that scale? We wouldn't be looking at the larger ships like Akira right now. I'm looking for subjects that we could do as kits with lower price points like our existing Cadet Series ships. The smaller they are at 1:2500 scale, the more we can do sooner rather than later.
What do you think of the little Klingon Bird of Prey and Ferengi Marauder kits that were included in the adversary set? They may be returning soon as well.
I'm all ears. The topic of the DS9 kit and suggestions for little kits is on the table. Your input on these Star Trek models counts. Let me know what you think.
Disclaimer: bringing up these questions in no way guarantees future product selections. Everything should be considered hypothetical until you see a kit on the shelves.