Posts Tagged '1:350 scale'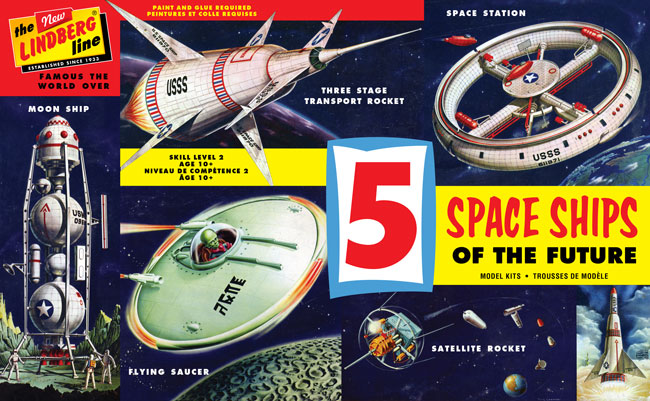 Blasting from the past is Lindberg's 5 Space Ships of the Future.  Considered to be Lindberg's most iconic and sought after kit, the futuristic 5-pack will finally be available for the first time since its originally release way back in 1958.  Along with 5 complete model kits, the release will features vintage boxart, retro-inspired decals, and a few new twists.  The 5 decal sheets are remastered from the 1958 versions but with a better fit and details, and include all new decal options inspired by the kits rich histories. Also for the first time ever parts are injected in a spaceship grey.
The all new full color tray features amazing models painted, assembled and photographed by E. James Small.  Check out more of his work at smallartworks.ca.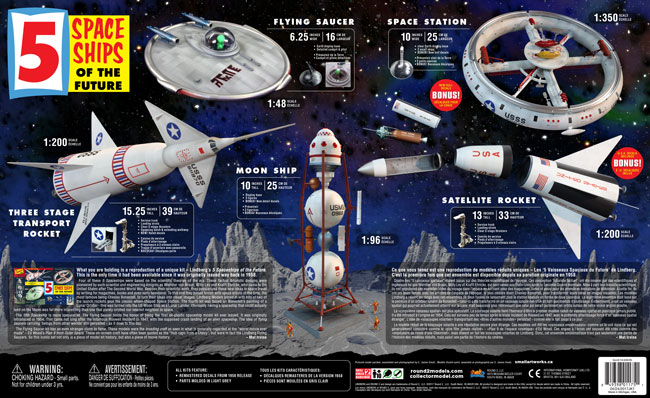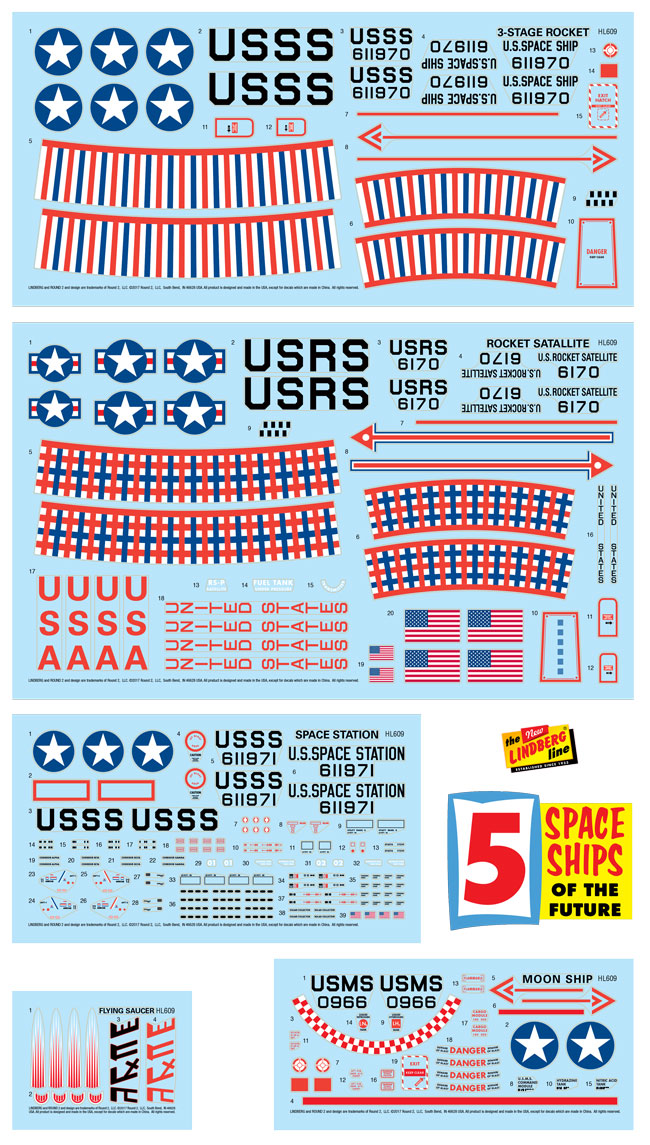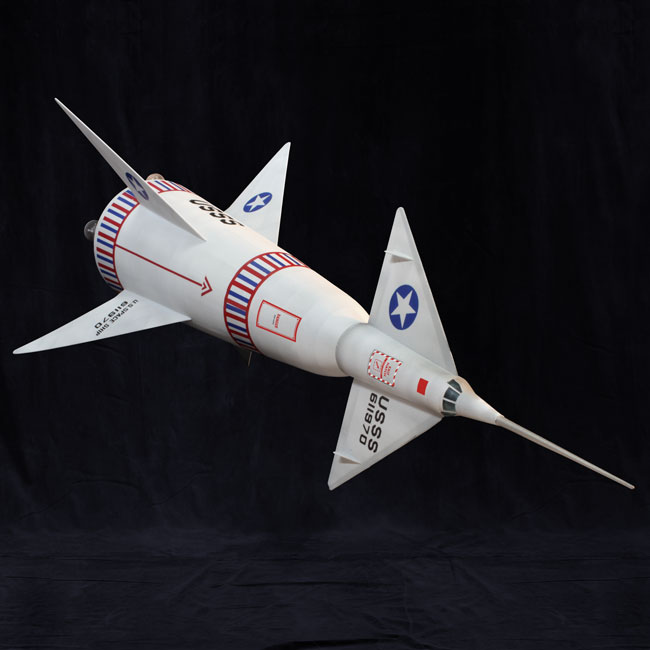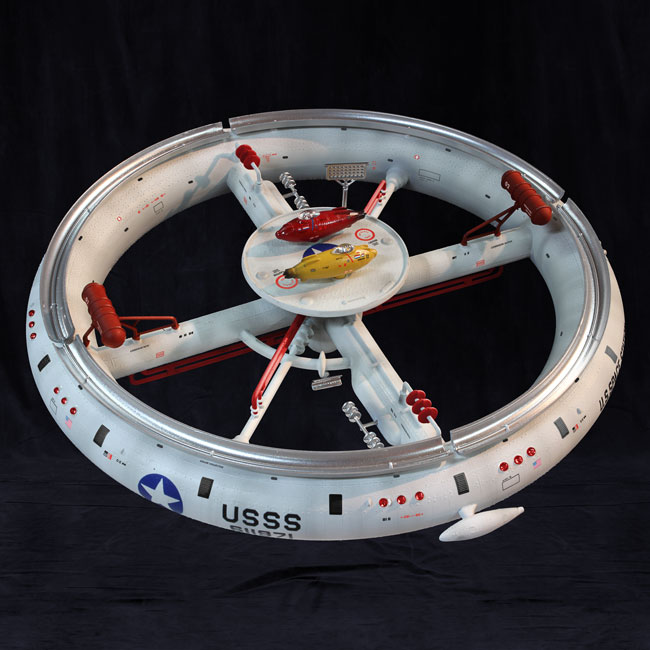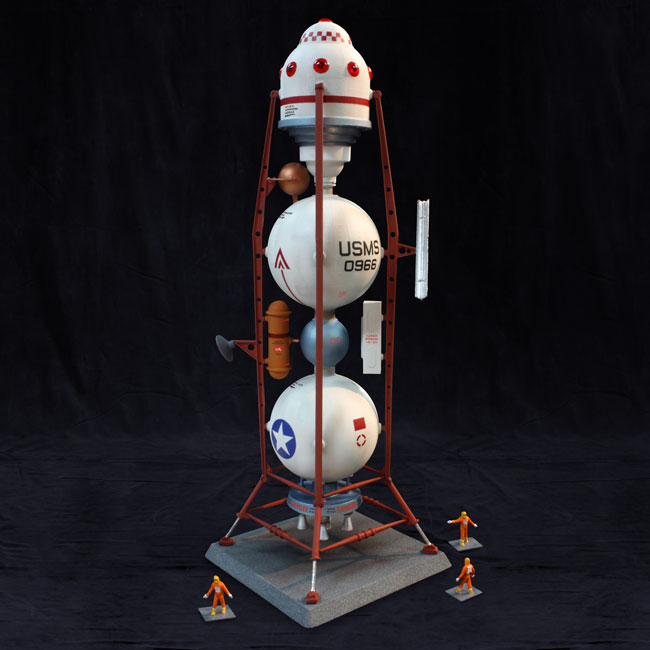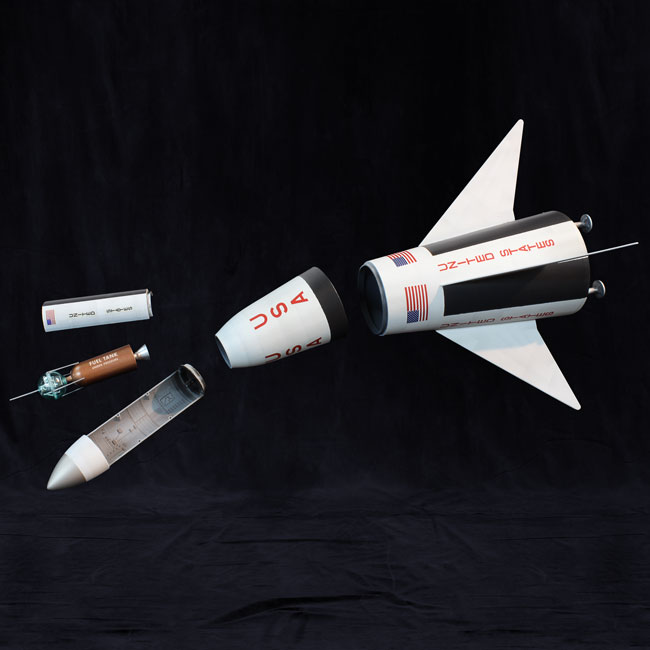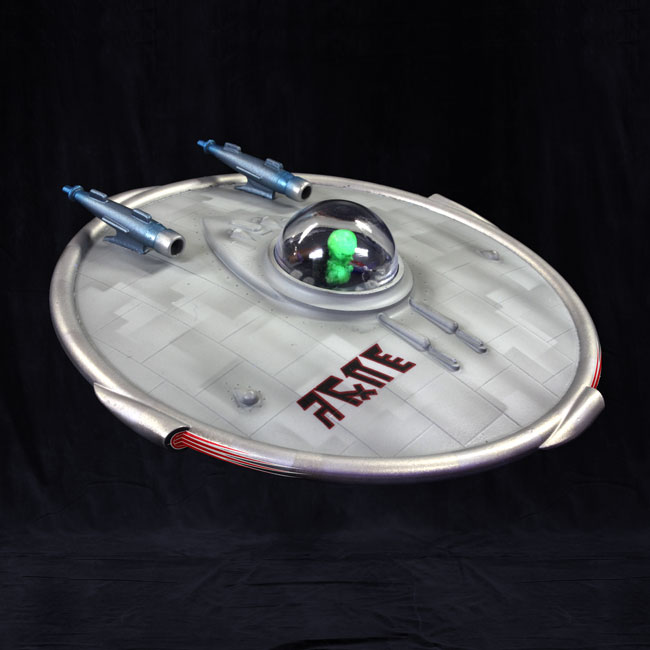 UPDATE: It now looks like a strong possibility we will have test shots of the new saucer parts at Wonderfest. See you there…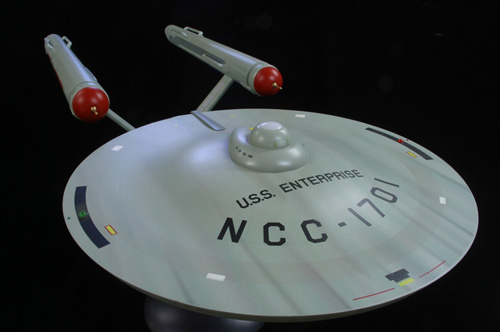 It has been a while since we've talked about upcoming sci-fi releases. I'll spill the beans on a few things, but focus on what we have in the works for our 1:350 scale kits that should arrive later this year to commemorate the 50th anniversary of STAR TREK: The Original Series.
Part of the fun of fandom is holding the great debates… DC or Marvel…? Star Wars or Star Trek…? Chicken or egg…? When developing our 1:350 TOS Enterprise kit, it was "engraved panel lines or no engraved panel lines…?" In order to serve what we considered to be the widest range of modelers, we opted to engrave the panel lines on the upper and lower saucer. We did so knowing that it might upset some, but would satisfy others that didn't have the skill or tools to install them in pencil like the filming miniature had. We have decided it is time to reverse course and offer the saucer without the panel lines. We will be releasing the saucer as an accessory piece so everyone that already has untouched kits can supplement them with these replacements and save the time and effort from filling and sanding them. Along with that change, we have corrected the position of two sets of windows that were off by a few degrees, but got by us. The "toothy" surface texture will also be removed so the saucer should now be as smooth as a baby's bottom.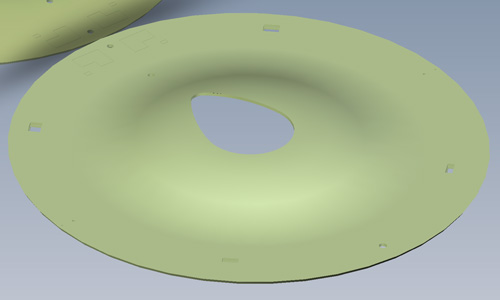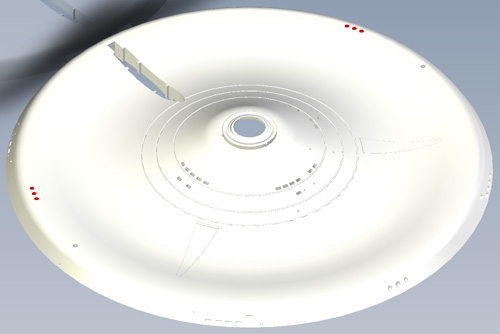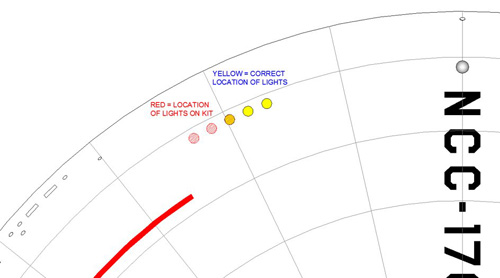 Some may say "Well, if you are doing that, you may as well include them in the kit that way now." To which we say "Yes, indeed." And while we are at it, we will be updating the color reference to reflect new-found information gleaned by the team of experts that are restoring the Enterprise filming miniature. Our go-to Star Trek guy, Gary Kerr, has played a key role in the restoration and is dutifully documenting the untouched/unseen areas of the miniature to determine the exact paint colors that were used. We'll finish off the offering with an updated 50th anniversary scheme on the packaging. We plan on giving the Pilot parts accessory pack the same treatment and everything should be out by the end of the year. Additionally, we've heard the demand for more light kits and a new batch is on a boat as I write this. Expect them on store shelves within a month. If you have been on the lookout for a set, let your retailer know you want a copy (item number is MKA007).
There is a slim chance that we may have a test shot of the saucer on display at Wonderfest. We should have a preliminary look at the 50th anniversary packaging at the show as well. As usual, we look forward to seeing everyone at the show. It is a personal highlight of mine every year to get a chance to meet the builders that enjoy our products so well. We will once again be sponsoring two prizes in the model competition. We will present awards for what we deem to be the best use of a Round 2 model (any brand or subject) in the junior/teen and adult categories. The junior/teen winner gets a selection of kits from all of our brands. The adult winner will receive a gift certificate to autoworldstore.com which despite the name does deal in sci-fi kits as well. Good luck to all who enter. see you at the show!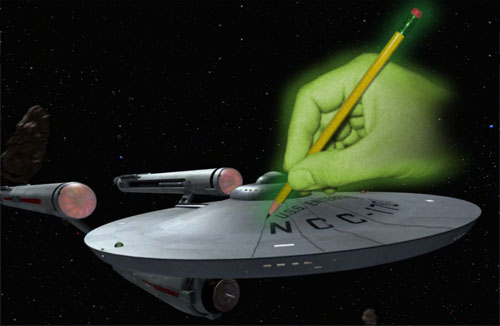 We made a promise not to discuss the development of our 1:350 TOS Enterprise Star Trek model kit outside of our 1701CLUB updates. This blog post won't talk about it directly but it does address a significant concern among modelers that seems to have turned into a great debate. This post won't be about what we will do or what we won't do, but explains the kinds of things that we have to keep in mind when making decisions about our new kits.
Two words seem to strike fear into the hearts of model builders everywhere… GRID LINES. So, let's ask the question. Why in the universe would we consider adding such a detail to a hyper-accurate model kit? I don't have to remind modelers that until we came along, no AMT Enterprise model was ever built without a modeler having to slave over meticulously sanding the stupid things off the saucer… Wait, none of them were ever built without doing that…? Well maybe as kids we never removed them. There was no way to accomplish that at that age and get it to look right. With time, our skills improved and we found ways of improving things as best we could and every build any of us ever did came out looking great… Didn't it? Well, maybe there were some cases where incredible effort was put forth but some builds weren't quite as nice as the next. Is that all on the modeler? Or is the manufacturer responsible to some extent? How many kits were made back in the day with saggy nacelles? If it wasn't one thing, it was another.
So here's the quandary, do we appeal to a core demographic of the really amazing modelers out there and leave something like the top of a saucer smooth or should we consider adding VERY fine engraved lines that would really help out everyone else to make their build look as accurate as they can manage? What if we could do lines so fine that when viewed from an arms length look like they're drawn on…
Let's break it down further…
REASONS AGAINST:
1) it is not accurate to the filming model. The lines were drawn on with a pencil, not engraved.
2) Talented modelers are capable of drawing the lines on themselves.
3) … well… See reasons 1 & 2, I guess.
4) SEE REASONS 1 & 2! (Expletives mercifully deleted)
REASONS FOR:
1) The model kit should represent the TOS U.S.S. Enterprise… as in the one with Captain Kirk standing on the bridge and Scotty in the back screaming that he needs more time. The ship has a deflector grid on the saucer that falls between metal plating resulting in narrow valleys on the surface of the hull. (Or did Apollo's green hand draw them on with a giant space pencil?). The filming model had some other wonky stuff that we wouldn't want to copy exactly either. So, we aren't completely beholden to the filming model, our mission is to create a representation of Matt Jeffries' design in support of what was shown onscreen.
2) If handled correctly, the engraved lines would look just like penciled on lines.
3) Drawing concentric circles on a 14" curved saucer is not an easy task for anyone. More often than not, most modelers will struggle with it.
4) Star Trek has a wide appeal beyond the modeling market. Tons of Star Trek fans would be interested in building such a kit even if they aren't modelers or even artists. If engineered well and thought through, the kit should allow them to be able to build an accurate representation of the ship for themselves.
5) If we don't keep in mind that any kit could be someone's first kit, we as model kit manufacturers wouldn't be doing our due diligence.
6) Most modelers who really work over the details of a build to achieve their vision of perfection have the skill to eliminate the lines without much trouble. Or at least they would not have nearly as much trouble removing them, as another modeler would have with drawing them on.
All this is considered without a firm decision in mind at this point. We'll see how it goes. 1701CLUB members will be the first to find out the answer.