Archive for October, 2013
Occasionally I receive posts from customers and individuals who like to model; the following post was submitted in response to an older post that asked about "first kits". We love to hear about your memories and your models. Please feel free to jump in and share your own.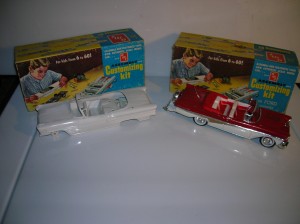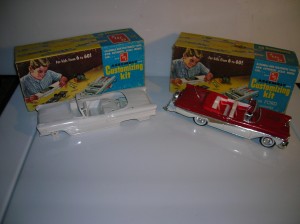 My First AMT Kits…
By:  Jim Ervin
Every time I think of my first AMT model car kits and how I found them, I'm reminded of a prophetic cartoon in one of my old model car magazines. A grandfather shows a model car kit to a child and says "In my day we could build a model kit 3 ways."  Now, at age 66, I'm old enough to be repeating those very words except there are no grandchildren or  children either. I suppose my model car collection and my restored Model A coupe are my children.
The first of my "children "came along in the first year of AMT kits. 1958. I was on holidays with parents and brother and sister. We traveled from the Vancouver, B.C. Canada area down to Spokane, Washington that year to see the Grand Coulee Dam Our old '49 Dodge proved very dependable for the trip. In every town we stopped, I always went into the local  drug store or souvenir shop to buy a pennant of the town. In Spokane, I found myself in the basement of  a rather large store and there in the corner was a stack of AMT model car kits. The attraction was immediate. The black and white pictures of the real cars on the side of the box were all I needed to become interested. I picked out a '58 Ford and '58 Pontiac convertibles and likely talked my mother into paying for them. I recall fitting the parts together one night at a campsite, since we were camping in those days, and couldn't wait to get home to build them.
I later regretted my customizing attempts which involved the usual body putty, detail sanding and brush painting. Still I saved them and have the Pontiac almost rebuilt as a custom. The boxes on the other hand, were cut up for their pictures. Many model kits have come way, both cars and airplanes since (and even before) 1958. But sometime in the 1980's, I made contact with a model car enthusiast in Louisville, Kentucky. We exchanged a few letters and he mentioned that he had some AMT models to sell. Among them  were a '58 Ford and '58 Pontiac, both built stock and unpainted. He didn't mention that he had the boxes and instruction  sheets as well. Those were just a nice little surprise when I received the package in the mail. I've since built the '58 Ford and my picture shows it and the now disassembled Pontiac.
My collection now includes lots of other automotive related stuff, Matchbox Toys, Dinky & Corgi Toys, books, magazines, license plates, name plates, etc, and still those pennants. But that's how it all began for my AMT collection.