Archive for October, 2010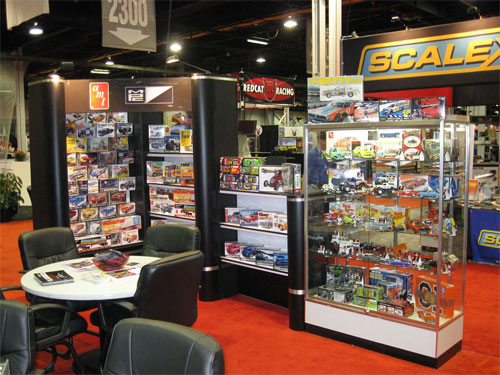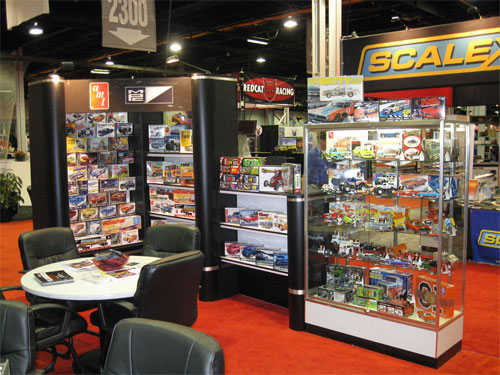 Another iHobby has come and gone, and as Jamie said, it seemed a little quieter this year in comparison to last year's all time high attendance record. Although I wasn't there this year on consumer days, I did see photos of Round 2's booth stuffed with people checking out all our products. No doubt, the new Auto World John Force Drag Strip Slot Car Set was a huge hit. I finally got a chance to try it myself on the trade days and absolutely loved it. Gotta' have one myself! Clearly, there was much excitement over all our product lines and we are very happy about that.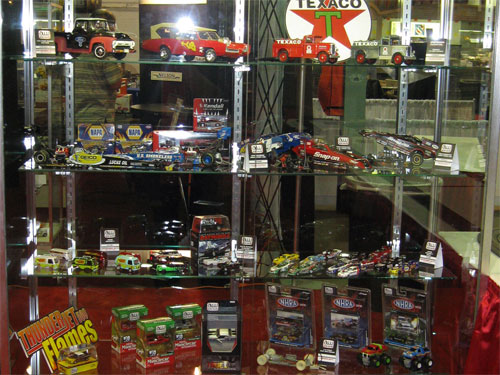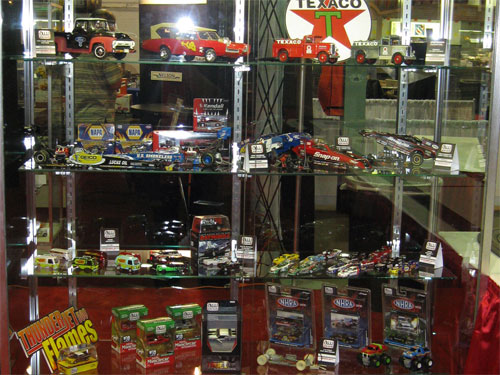 A nice selection of die cast and slot car products was on display from the Auto World brand, including a new 1/25 scale slot car chassis we're developing. We plan to release it in conjunction with plastic bodies from our 1/25 AMT and MPC car and truck kits. We'll post more information as the project progresses. It's gonna' be good!
There were many upcoming 1/64 slot car bodies on display too, including the '66 TV Batmobile, some awesome funny cars and pro stocks with amazing deco detail and even the Scooby Doo Mystery Machine! Auto World has some very exciting programs coming indeed.
For plastic car and truck kits, we of course showed the mockup of the 1/25 '66 Snap-Together Batmobile kit and the excitement is just as strong as when the announcement was made that Polar Lights would be doing a 1/25 scale kit in both snap and glue versions.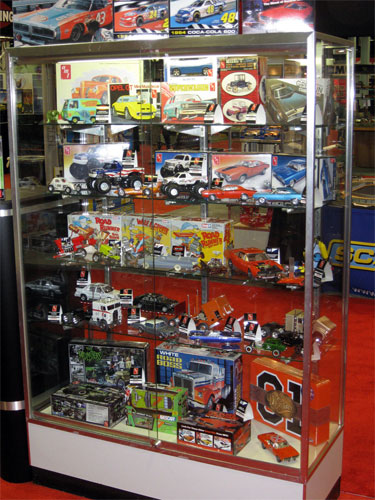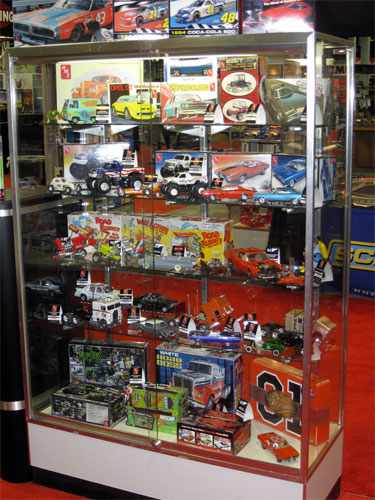 As always, we showed built up models of some current and upcoming kits. The upcoming 1962 Thunderbird kit with the 'never before released' custom and additional parts added was on display – a fabulous build by Mike Wherry. Mike's box art models of the 1966 Olds 4-4-2 and 1969 GTX were also on display, as well as his build of the upcoming 1/16 scale General Lee. Bruce Pearce built a super cool Depth Charger for us, and a fantastic green chopped '25 'T'. Great stuff to see!
For 2011, we've got some great kits cookin'. We're planning on doing the necessary backdating to reissue the clear-bodied Richard Petty Nascar Charger kit in 1/16 scale. I also hope to fill in the T-top roof of the 70's AMC Gremlin kit, and potentially backdate it to the 1976 "stock" version it once was. If you want to see this happen, send an email to [email protected] and tell us!
If all goes well, the Opel GT will be reissued with more of its original parts. I am looking at including real aluminum injector stacks for the drag motor option. We'll see!
For the MPC Road Runner Rail Rider, Beep 'T' and Wile E. Coyote with his Wile E. Willys, these kits are going to all include pre-painted vinyl figures. Warner Bros. would not approve the original snap-together plastic figures originally included in the kits in the 1970s, and we found they didn't assemble well anyway. The new vinyl figures look amazing and the kits will be great for attracting youngsters to the excellent hobby of building models.
To follow up on the great success of the AMT 1925 'T' "original version" reissue with its chopped body and other restored parts, we're planning a release of the second "Tall 'T'" issue with all its related parts for 2011. By the way, if you want to see the '25 'T' Fruit Wagon and Paddy Wagon versions reissued in the future, email us!
Probably my favorite mockup on display was the '40 Ford Coupe, for a new program that will be called the "Original Art Series". Over the past few years we've been fortunate to gain access to some original AMT box art paintings from the 1960s and 1970s. We also have a great group of "new-retro" paintings from Brad Leisure. The plan is to use these vintage and yesteryear styled paintings and reissue some of the corresponding kits, in a box size similar to the vintage AMT Elegance Series kits of the 1960s. While we won't be including any spray paint like the Elegance kits did, we WILL be including special prints inside the kit, printed on the same card stock as the box lids, giving you a robust piece of classic artwork that you can frame or just display as is. This is some of the coolest and memorable automotive artwork ever created and we want to share it with all the modelers who remember it so well.
For the big rig truck fans, a built up by Tim Ahlborn of the upcoming Kenworth K-123 kit was on display, as well as the Fruehauf flatbed trailer, Transtar 4300 Eagle and White Freightliner Dual Drive tractor. We've got more great truck and trailer kits planned for 2011 such as the Diamond Reo and White Western Star.
Overall, it was a great show, and I think 2011 is going to be even better than 2010.
Thanks to everyone who came out to give us feedback.
The pedal is to the metal!
BTW! many more pics showing all of our featured products can be found in the gallery section of the Round 2 Models website.