Archive for December, 2009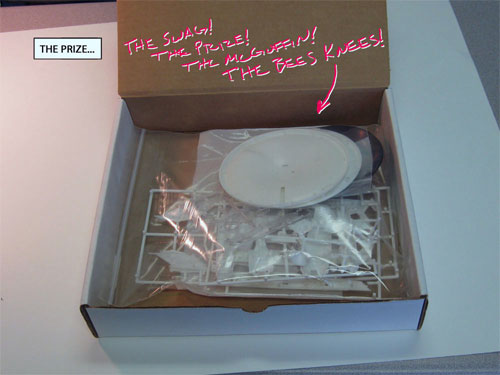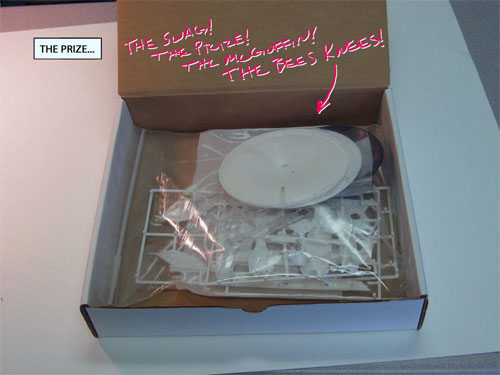 I posted before iHobby that if people would sign up in that thread and show up at 1:00 on Sunday of the show, I'd have a drawing for a test shot of our latest Star Trek model kit, the 1:1000 Enterprise Refit. Well, people came and went and I was wondering who would stop back on time. It would have been great odds as we only had a few sign up but no one did.
I decided I still wanted to give one away to let someone who is a die hard modeler have a crack at it and let me and everyone else know if it is as good a kit as I perceive it to be. Heck, I'm way too busy to actually glue, seam fill, paint and decal a kit. I'm lucky if I get to do the glue and decal parts. I'm hungry to do it but I'm just pinched. But hey, anyway, I wanted someone who could do a good job with it and I knew one where die-hard sci-fi modelers congregate, on Starship Modelers boards. I've seen lots of people post there and I'm familiar with some of their work from what I've seen at Wonderfest. I didn't want to play favorites though so I offered up a drawing again. I figured we could even take the hit on the shipping so I offered it up. We had an outstanding response.
This is how I actually conducted the drawing. I basically printed out the entire thread. I then cut out everyone's little avatar and threw out the ones who posted but said they didn't want to be in the drawing. I also tossed all of the duplicates so everyone got one entry only. I folded each little piece up and put them in a kit box to toss them around a bit. I picked one out and it was Rogue9 of Tennessee. Congrats to him.
I sent out the kit the following Monday and he's been posting his progress in the "On the Bench" of the SM message boards. I've got the prototype decals on their way here so they should get to him next week hopefully so he can finish his build. The kit he received was 99.5% of what the final one will be. Only a couple little adjustments were made before giving the final approval on the kit. Now, it is only a matter of time before everyone else gets a crack at it themselves.