Archive for the 'NASCAR' Category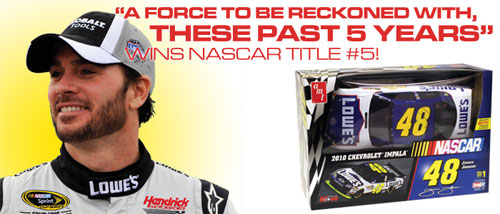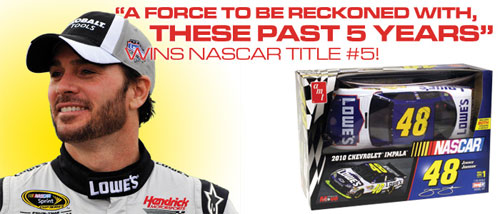 Jimmie Johnson has been a force to be reckoned with, these past 5 years. With unwavering precision he has kept his winning grip tight on the Nascar circuit, when all was said and done. Johnson was behind by 15 points to Denny Hamlin prior to the Homestead race in Miami, but ended up claiming the championship yet again with 39 points over Hamlin. Johnson was noted as being very thankful for his race team and the lucky position he has found himself in.
AMT is proud to be producing a pre-painted snap assembly kit of Jimmie Johnson's #48 Chevrolet Monte Carlo. The feedback on the this and the other 3 kits in AMT's Nascar series has been fantastic, with many enthusiasts being very receptive to the inclusion of both peel and stick markings for the young or novice modeler as well as water-release decals for the adult kit builder.
Don't miss out on this great kit. It's an easy kit to build, thanks to AMT's engineering. It ensures a very rewarding display model to celebrate Jimmie Johnson's 5 Nascar title wins! Click here for more information.