Archive for September, 2016
First a quick apology… Technical difficulties prevented me from posting this yesterday, which would have made it a bit more pertinent.
Nostalgia… We are fully aware that this factor may be the most significant thing that provides the success we have with our AMT, MPC, Polar Lights and Lindberg models. Many of us remember building kits as kids. Some saved their builds and have done their best to hold onto them to this very day, but I'm betting the greatest majority suffered similar fates trying to withstand a black cat or twenty. Even still the surviving "fan" in each of us has drawn us back over time and Round 2's faithful (and usually improved) reissues of vintage plastic kits supply the kits we remember so well the in WAY that we remember them.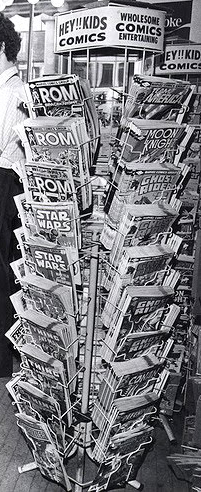 I've made no secret of my love for comic books and just as most modelers do, I have my own list of "Grail" comics, but I was lucky enough recently to obtain the one item at the top of my list. It is something I thought I would have to wait a long time to find and had limited hopes of having the cash on hand to purchase when found. But the stars aligned for me this time so I could experience the jubilation of landing the "thing" of my dreams. Some middle-aged men need a hot rod. Others are equally as happy to obtain a 1/350 scale TOS Enterprise or 22" Eagle Transporter. For me, it was a comic book spinner rack just like we remember from our childhood. Some of my earliest memories are of going to our local supermarket (the building still stands and was only ever as big as a 7-11 we have today), going to the cereal aisle to pick out the one box that seemed to offer the best balance of fruity/chocolaty/sugary goodness with the best prize soon to be dug out of the bottom. This was immediately followed by a jaunt to stand in front of the spinner rack while my mother shopped. It was for all intents and purposes my baby-sitter for the rest of the trip to the market. Mom had no fear I would wander anywhere else. And in those days, it wasn't child endangerment if any other adult was around to ensure I wasn't kidnapped. Oh, what a difference 40-odd years makes… But now, I have one of my own to fill with reading copies and books I clearly recall buying directly "off the rack."
I mention this tale as a means to touch on the fact that I know what it is like to finally find a fan-grail and how I appreciate the opportunity to create products that fill that level of demand for our consumers. Though I can't "regret" it, because it is out of my control, I just wish we were in a position to do more and more quickly. That said, I want to assure you we have the ball rolling on a few big things… Grail-level things. Things sci-fi modelers have been asking for for a long time and I've been saying "maybe someday" kinds of things.
As I've been filling my spinner rack I've taken notice of some of the model kit ads that showcased our brands. Heck, half the fun of looking at old comics is looking at those goofy old ads. Here are a few I've found…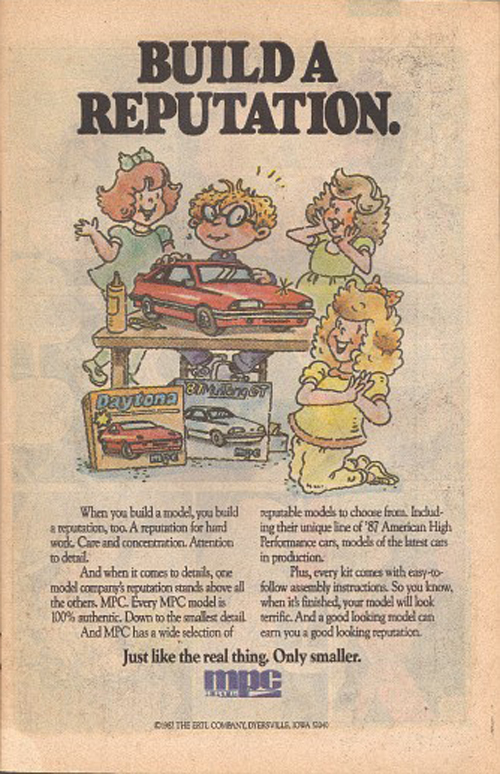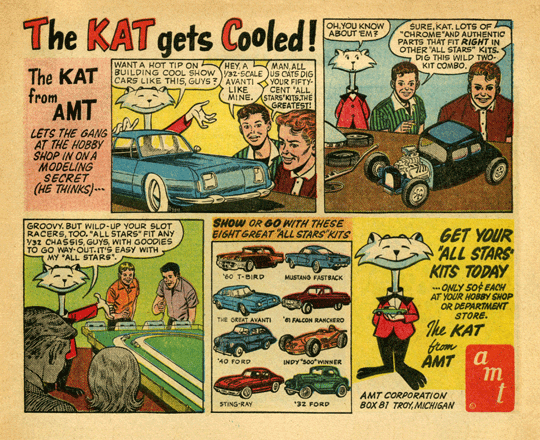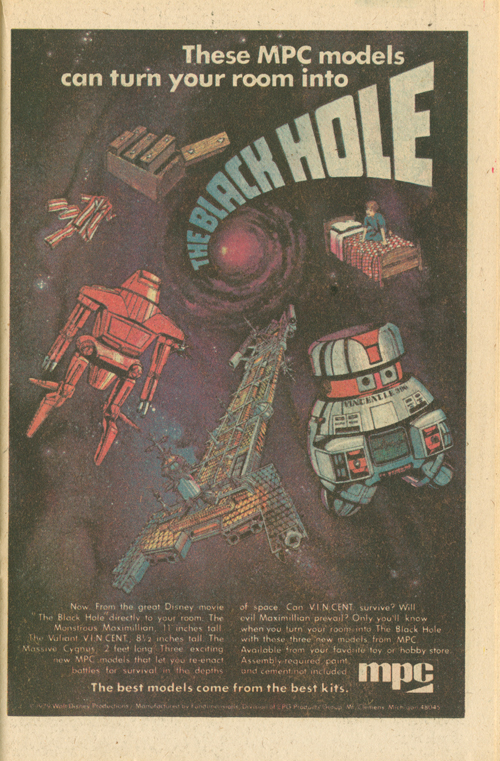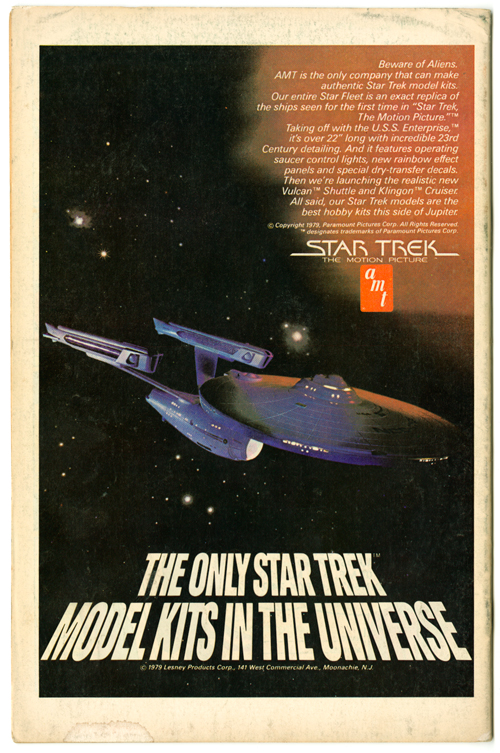 Lastly, I'd like to take a moment to officially commemorate the 50th anniversary of STAR TREK. We can all appreciate the future it imagined for us and even the gadgets we already enjoy 250 years ahead of time. With hand held communicators & computers and now replicators, transporters should be right around the corner. The characters are truly iconic and will always be… but because of my relationship with the model kits we've developed, I think I like the U.S.S. Enterprise the best. She was a character, and most of the episodes I liked the best featured her as a main component. So, here is to STAR TREK, Captain Kirk & crew, and the U.S.S. Enterprise. Live long and prosper…