Coming off the Shelf – '68 El Camino Done in Derby Style
Tuesday, September 13, 2016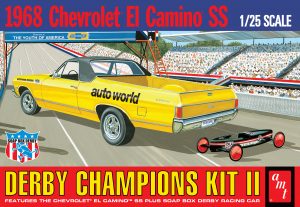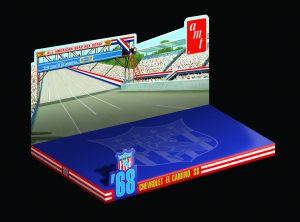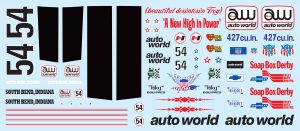 The Kats at AMT are getting ready to release a tasty little treat for all the Chevy fans out there.
The Derby Champions KIT II, featuring a 1/25 scale 1968 El Camino, will be loaded with goodies!
Key features will include: colorful retro-styled packaging, BONUS Soap Box Derby racing car, Chevy SS396 V-8 engine, 2-in-1 pad printed tires which offer "Red Line" pinstripes on one side and Goodyear Polyglas lettering on the other, Torq-Thrust mags, stock Rally wheels, colorful display base and expanded decal sheet with many options.
Build it stock or custom, the choice is up to you! And when you're finished,  proudly show it off on the full-color display base provided.
Keep a look out for this retro-styled gem in your local hobby stores late fall!
2 Responses to "Coming off the Shelf – '68 El Camino Done in Derby Style"