Archive for June, 2018
It is great to see all of the attention our new Star Trek: the Motion Picture 1:350 scale Klingon K't'tinga model is getting. Folks have been oohing and ahhing over the photos of the new mockup we showed off at Wonderfest. Test shots are shipping and they should arrive by the weekend. I just wanted to share a small teaser and fill you in on what we'll be sharing in the next couple weeks.
Jim Small is our go-to buildup guy. He is a consultant on virtually every sci-fi kit we put out. As usual, I am super-busy and Jim is willing to share his progress on the test shots and buildup as he works on it. So we will be posting his progress here and simultaneously (give or take a few minutes) on his Small Art Works Facebook page. He'll get more in depth with it than I would be able to do anyway.
I might pop in to show photos of my test build. I also hope to squeeze in some time to discuss the color research we've done on the ship and share some of that… and maybe even get some help or feedback on finding some specific paint colors to match. More on that soon (hopefully).
But now… more of these…
And some of this! (from our friends at the factory) It is getting real, folks!
We had a wonderful time at Wonderfest USA last weekend. It is always great to see everyone and see the reaction to our new kits and news. Rather than posting a bunch of pics here and linking this post to our Facebook page, I'm going to do the opposite. I've posted two albums there. One of the show in general and the other specific to the K't'inga. (click the colored underlined words to go to look at the pics)
Our biggest "NEWS" announcement of the show was that we have obtained the license to STAR TREK DISCOVERY. We realize opinions are very mixed on the show and the ship designs, but we feel that there needs to be product in the market for those for whom this will be their introduction to Star Trek. Our first kit will be a 1:2500 scale U.S.S. Discovery which will measure just short of 12″ long. It will include a few clear parts which is a feature our other 1:2500 scale kits lack. We were polling attendees to get feedback on what to do next.
Which larger kit size would you prefer? 1:1000 OR 1:1400 (look at the poster to see the difference)
After the 1:2500 scale U.S.S. Discovery, which would you rather see next? 1:1000/ 1:1400 U.S.S. Discovery OR 1:2500 U.S.S. Shenzhou and U.S.S. Enterprise (essentially, in 2019 we can either do a big Discovery next OR do the other two ships in the same scale as our first Discovery kit)
Which ship design do you prefer? U.S.S. Shenzhou OR U.S.S Enterprise (Both have merit, but which should we do first?)
This seems to have caused no small amount of confusion with some people online interpreting this as us doing all three ships in all three scales. Oh well. these things happen these days. Here is a closer look at our board. Feel free to let us know your thoughts by leaving a comment.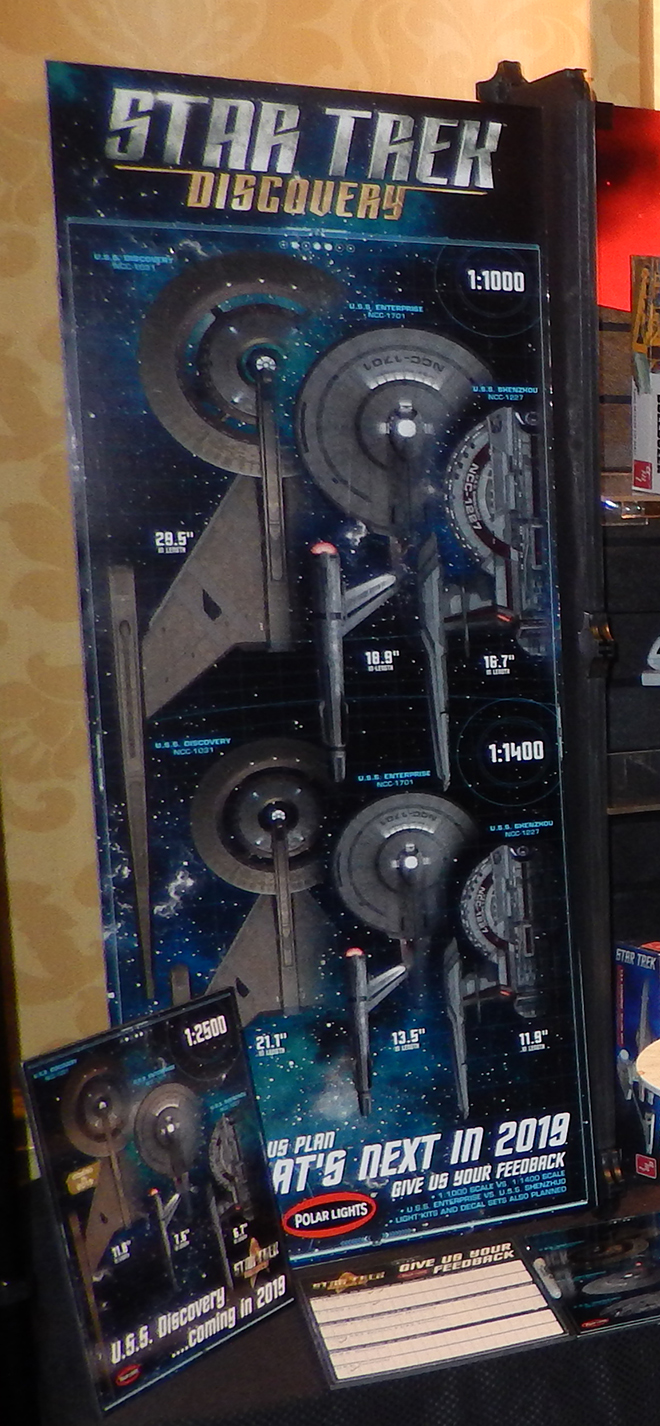 Hello Automotive Modeling Enthusiasts,
Here's a quick  "snap Kat" photo showing the beautiful gold lettered and pinstriped Firestone tires that are included with the upcoming Tiger Shark reintroduction – in big and little sizes! Also shown is the upcoming AMTPP020/24 "Wild Wheels & Wide Ovals" parts pack which includes four sweet white lettered Firestone Wide Oval tires and four "street is neat" five-spoke mags!
Grab the glue, it's all for you! COMING SOON