Archive for November, 2013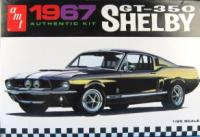 We are so pleased to recieve so many great reviews from the modeling community. Here is another one from the IPMS. The 1967 Shelby GT-350 Mustang was not your average Mustang. It was powered by the Ford High Performance 289 engine and many special improvements. However, since this version was intended to be a production car and to be purchased by the general public, it included the Deluxe Mustang Interior, power brakes, power steering, optional air-conditioning, and optional automatic transmission.
Even so, its performance was superior for its time:
0 to 60 in 7.1 seconds
Ran the ¼-mile at 91 mph in 15.3 seconds
Top Speed of 129 mph
The kit comes with a basic engine that has optional valve covers and can be dressed up to the builder's desires. The interior is rather Spartan, and I guess that, for the time frame, even a Deluxe Mustang Interior would not be all that elaborate. The painting instructions for the interior are skimpy, at best. The online references and photos of existing examples mostly show an all-black interior with very little extras.
To read the entire review please visit http://web.ipmsusa3.org/content/1967-shelby-gt-350-mustang
From time to time I get posts about fan favorites. This recent message from Sheila. My favourite memory was when I found out that AMT had re-released the 1976 AMC Gremlin X, I was so excited that when the kit was released, I bought seven of them! I own a 1975 Gremlin, so I thought a '76 would be good enough, but then AMT re-released the 1975 AMC Gremlin X! I am now working on a model of my real car! Also, quite recently, I found out that MPC was re-releasing the 1978 AMC Pacer X, and when it gets released, I'll have to buy some of those too!
What are some of your own favorite modeling memories?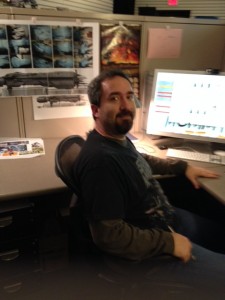 Jamie Hood (Polar Lights)
Jamie is a lifelong resident of North central Indiana he attended the Columbus College of Art & Design where he studied illustration and design. A lifelong comic book fan, his areas of interest spread throughout science fiction and fantasy.
He began his career in the RV industry before moving on to Round 2, LLC, where he has worked on the Forever Fun line of collectible holiday products and the Polar Lights, AMT & MPC brands, where he has a genuine interest in guiding the company's line up of science fiction model kits.
According to Jamie, his favorite kit is the one he hasn't started yet, but he enjoyed working on the Wolverine figure.
His greatest moment of modeling success was the praise he received for the 1701 ship produced in 2012, especially that from Paul Newitt.