Archive for June, 2015
So what else did we show besides the Eagle? How about the fact that we have "un-cancelled" the King Kong kit we showed a couple years ago? Circumstances changed and we were able to bring the kit out after all. Along with that, we also showed our Wicked Witch of the West kit that will be released in resin, but will have a few plastic parts. Both models got great reactions from the figure-modeling crowd.
Another pair of kits we showed will be coming in 2016 from our Lindberg brand. Some may or may not remember one of them, The Mad Maestro. He was a whacky kit that had one release back in 1965. He was a motorized figure kit. The effect was that of a vibrating bobble head. Unfortunately, we couldn't get his motorized action to work under the deadline of the show. We'll see what needs to be done to fine tune that aspect of him.
One of the most mysterious things we've uncovered in any of our tooling vaults is another motorized figure that uses the same kind of works as the Mad Maestro. The thing is, we can find no trace of the kit having ever been released. We don't see it in old catalogs. We don't know what it was called, so it is kind of difficult to research. We are actually asking anyone with any kind of information on him to let us know. In the meantime, we're trying to figure out what to call him.
We have plenty more in the works than what we showed, but I've adopted a "don't talk about anything before we have a mockup or test shot to show for it" policy. Hopefully, this will avoid the pain and anguish that we all feel when a kit doesn't make it to production as previously announced. I will say that one kit we hope to get done by the end of the year is a Star Trek kit that we get quite a few requests for.
As in the past couple years, we sponsored an award in the model contest for the best use of a Round 2 model. We give two awards, one for and adult and one for a junior/teen. Take a look at our facebook gallery to see all of the models we found that used one of our kits (that we could figure out anyway…). This year's winner for the adult category went to David Windham for his "Qo'Nos Oue Klingon Battle Cruiser". The Junior/teen winner went to Alex Tabor for his diorama entitled "These are the Voyages" which featured a look at the behind the scenes filming of the 11' studio model for Star Trek: The Original Series.
If you want more info on anything shown in the booth pics, just leave a comment and I'll give more details.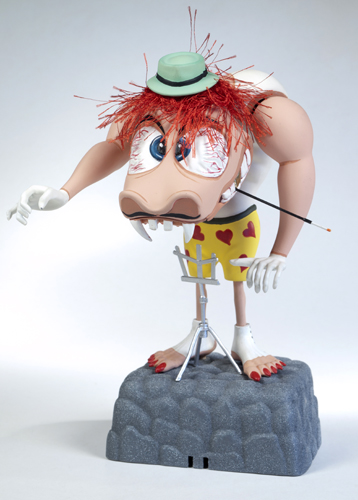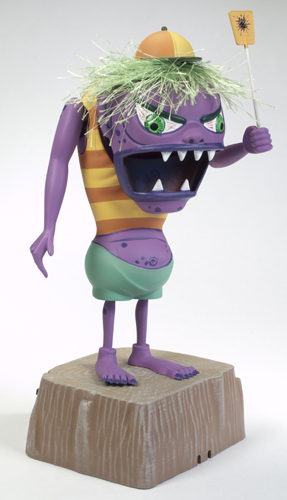 As mentioned last post, this show will always be pretty memorable to me. I had the pleasure of hosting Jim Small and his pal, Donald Hayunga, who stopped in to visit Round 2 then accompanied us for the rest of the trip. Once they wiped their chins after seeing our repository of archived model kits, I put them to work on a few prep items for the show including touching up the Eagle mockup which had been slightly damaged on its way here from China. We then headed out a day early to take a trip to the National Museum of the U.S. Air Force in Dayton. I was a bit let down with this year's trip there as we purposefully went on Friday to see the restoration wing and Presidential aircraft which is only available to be seen on that day, but security levels prevented visitors form going on the base where the hangars are. It looks like the fourth wing of the museum should be finished next year and all of those aircraft will be moved into the new wing.
With the extra help, set up went quickly and afterwards, we had dinner with a couple Space:1999 Facebook fan page managers Todd Morton and Gordon Moriguchi. Somehow, they had sneaking suspicions that we might be announcing the Eagle at the show. It was a pleasure to meet the guys and hang out at the show. We had visitors to the booth like Star Trek gurus Gary Kerr and Rick Sternbach, but the Eagle fans were especially excited when Gerry Anderson's son, Jamie and BSG production designer Eric Chu stopped by to pose for pictures with the Eagle mockup.
I'll touch on some of the other stuff we had on display in a future post, but I didn't want to take too long before addressing one question that came up a couple times. A few kind folks wanted to know what's happening with the Galileo Shuttle model kit. The honest truth is that we are looking to put it out in 2016 as part of the 50th anniversary celebration of Star Trek: The Original Series. Is waiting for the anniversary the only reason for the delay? No. As with all delays, there are many factors involved that would include "business" in that that kit is not our only concern company wide. Other unrelated circumstances and opportunities pop up and sometimes we have to take advantage of them. In other ways I can honestly say "life & death" have gotten in the way a little bit on this project on many levels. I don't feel it is appropriate to get into any of the details. Can I promise that the Galileo will come out in 2016? I am not in the position to promise anything. I can't predict the future. I can only proceed and work and fight until I'm told not to. Why do the Eagle now and not do the Galileo? When we examined all of the costs and possibilities, we felt that the Eagle was the better kit to do right now. As I've said before, I really appreciate everyone that has been reasonable about this. To those that have gotten a bit… testy… about it, well… Thanks for your interest too.
This year's Wonderfest will be one to remember for me I'm sure. It may rival the shows where we announced or showed our 1:350 scale TOS U.S.S. Enterprise. The trip was fun all around. Instead of doing one long post about the show, I'm going to split up some topics through a few posts and I'll put them up over the next few weeks. (no… really… I mean it this time. I've already written them. I just need to "publish" them…) I'll cover the "big news" in this one.
I think most attendees were (happily) surprised to see the main attraction at our booth this year was a mockup of our upcoming Space:1999 Eagle Transporter. It's a bit shy of 22" long and is based on the 44" filming miniature. Our team of consultants on the kit is comprised of Jim Small, Daniel Prud'homme who supplied the CAD model and Chris Trice. The model features spring-loaded landing gear and comes injected in white and gray with clear windows. The only interior details will be the pilot figures with a back wall in the nosecone. The retail price is targeted at about $100, but that will vary by retailer. I understand some have already started taking preorders. I'll post more pics of the mockup later on.
One other thing to mention… Some people get confused when they see "subject to licensor review" like they saw on the little sign next to the mockup. In some cases, we put that statement on there voluntarily and sometimes it is required by the licensor. The true meaning of that can vary, but it essentially means what it says. The licensor has the right to review the product and can ask for changes from what you see. It has nothing to do with "permission" to make a product. The licensor is aware that it is being developed, and the rights to manufacture it have already been resolved through the licensing agreement. In an ideal world, the licensor would have had a chance to review it before we put it on display, but in this particular case the mockup arrived on my desk about a week before the show. Since I was busy prepping for that I never had time to properly photograph it to send to the licensor for their approval of it.