Archive for November, 2011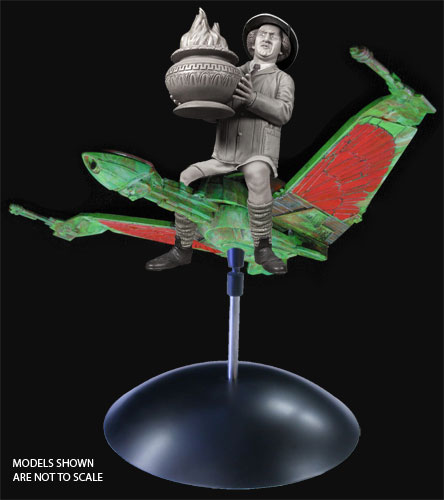 I gave a quick overview of our iHobby booth last time and touched on several Round 2 Models products that will make their way to workbenches in 2012. I'll give a more in depth product preview of some of our early 2012 sci-fi and genre kits.
First we are offering up something we consistently get requests for- our Universal Dome Base. Though not a groundbreaking achievement, many have found it to be just what we intended, a nice clean method for displaying a model. It is suitable for pretty much any space ship or aircraft model. The dome is a perfect sphere section that can be painted as a planet if desired. The metal rod and ball joint will also be included. It should be available in January. If this one sells well, we'll look at bringing out our larger version.
Next, a few Star Trek favorites are returning. From the old three piece Adversary Set, the Klingon Bird-of-Prey and Ferengi Marauder return in their own mini ship set. We are adding widow decals for the Marauder that will also include clear orange engine parts. Though there aren't much to them, once built, they make a couple sharp looking little models.
Also from the old Adversary set comes the Romulan Warbird in its own box. The kit includes a dome display base and new window decals. The engine parts will come injected in regular clear and glow-in-the-dark options. The buildup Jim Small did for us is very striking.
Those knuckleheads, the Three Stooges are coming back again. Why so soon, you ask? We are starting an initiative to bring some model products to market that give some decent results to more casual modelers that don't have the time or skill to put all the work into them that most of our core consumers do. So this time, the Stooges will come prepainted in shades of gray. Facial detail like eyes etc. will have enough detail to give a nice look with no paint required. They will be great for beginners and just require some glue to hold them together.
These Round 2 Models products will kick off 2012 for us. We've got a few others in the works too. More on those as we get further along. Some exciting new projects are in the planning stages and we should be moving into development with them very soon.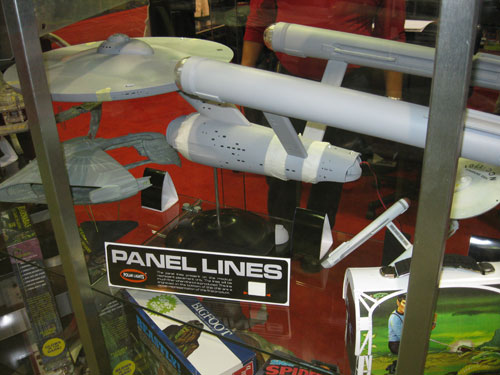 Hi guys. It's been too long (again). I wanted to take a few minutes to give you a 2011 iHobby recap. This was the national hobby industry show where companies of all kinds displayed their wares with everything form trains to remote controlled vehicles to models. We always have a big display of all of our hobby lines of 1:18 scale American Muscle die cast cars, Auto World slot cars and of course our Round 2 Models line.
I'm sure more details are available elsewhere, but I'll give a real quick recap of our automotive products before delving more deeply into our sci-fi/genre stuff. Our display case was filled with a ton of great buildups and box proofs and mockups. On display were…
1:25 1966 Batmobiles of all three varieties, the snap, glue and deluxe versions were all on display. The snap and glue versions are available now. The deluxe version will be out by December.
'76 AMC Gremlin X is being brought back as the first in our line of Original Art Series where we are scanning original box art for our packaging.
Munster Coach and Drag-U-La individually sold kits. Each includes a cardboard backdrop. Drag-U-La is part of our Katch the Kat program that offers chase variant body colors.
The Meyers Manx buildup arrived bruised and beaten (thanks to a customs inspection) but John and a friend or two helped put it back together again. The kit is also part of the Katch the Kat program and also includes a cardboard backdrop.
1:16 Street Charger is being brought back for a limited run under our 1 Run of Fun program. After one production run of the kit, the tooling will be backdated to turn it back into the Petty Charger kit that modelers have been asking about for a while.
Chevy 100th Anniversary collector's tins bring back the '51 Chevy Fleetline and '57 Chevy that will be struck from the Mueller-era Pro Shop version of the tool. The kit features an opening trunk. The kit includes detailing foil, engine wire and photo-etch parts.
The Dirty Donny Vantasy Chevy Van offers several decal mural options.
The Diamond Rio Tractor was on display continuing our line of popular big rig kits.
Buildups of the Dark Shadows Vampire Van and Looney Tunes Roadrunner & Coyote vehicle kits made an appearance along with the Chevy Caprice as well as our new tire sets.
Looking ahead to 2012, the Hot Curl and his pals will be back riding the waves. The AMT version of the Ghostbusters Ecto-1 will be coming back as will the Monkeemobile, Arnie Beswick's Super Judge GTO, Superwagon and Vantom Ford Van. The AMTronic makes a comeback as well. It will come in reproduction packaging and include the original cardboard backdrop and clear green and crystal clear window options.
Outside of kits, one exciting product was Auto World's new line of men's apparel including classy button up shirts and vintage looking racing jackets. I'll need to see what I can do to get one emblazoned with a Polar Lights logo. I think everyone that saw them wanted one. They will be available exclusively through autoworldstore.com.
Across the booth, our lineup of Polar Lights model kits was on display.
U.S.S. Enterprise 1701-C will be available in December. A printout of the battle damage decal sheet was on display as well.
2 piece Adversary Set will be offered with glow in the dark engine parts and window decals for the Ferengi Marauder. Like the cadet series model kits, these little ships will not include bases. This set will be out early in 2012.
The Klingon Battlecruiser with all of its revised parts was on display. The version of the kit in cardboard packaging will be out by Christmas.
The Yellow Submarine kit will be out in early 2012 in a tin package. Reproduction box  and prebuilt versions will follow later in the year.
The Yellow Submarine figures and KISS figures will be available as prebuilt models in 2012.
A lunchbox tin collector's edition of the 1:1000 scale Enterprise will be out in early 2012. The box graphics will be reminiscent of vintage Star trek lunchbox decoration.
A big hunk of gray resin had its unveiling. Most things look good. Some things need work. For more info sign up for our 1701 Club to get updates. We have around 350 spaces left to reserve your kit.
Romulan Warbird previously of the 3 piece Adversary Set gets its own release. New window decals and dome base will be added to the kit.
Deep Space 9 will be a late 2012 kit. It will be injected in clear plastic for lighting and also include window decals for those that don't want to bother. We are looking into another extra add on for inclusion in the kit. More on that whenever our plan for it is finalized.
MPC Hulk and Spider-man kits will make their way back to modelers workbenches. Most people that saw them confessed to having never seen them before. They must have had very short releases back in the day. Though some parts seem wonky, they are nice sculpts overall. They will come injected in color with spots of prepainting. They are snap together kits so they will be great for kids.
Bigfoot is another snap together kit. He, along with the Strange Change Vampire and Strange Change Mummy model kits, will be part of our 1 Run of Fun program and these three kits were made here in the US. They arrived in our warehouse last week so look for them on store shelves soon.
Dark Shadows Barnabas is available now and The Werewolf will be available soon if he isn't out already.
Psycho House will be another in our line up of pre-built models.
Strange Change Time Machine will be out in 2012.
Also on display was our Captain Action lineup. Or first release of was represented, as was a preview of our second release, Thor and Loki.
Our iHobby display of Polar Lights model kits might not have offered many surprises but check us out at Wonderfest where we hope to have several new projects to announce.
Prepping for then working the booth at iHobby is always a lot of work. I'm still dragging a few days later. But, it is always good to get a chance to talk to modelers and get a sense of their excitement for the product. That is reward in itself.