Round 2 Models: Product Preview
Tuesday, November 29, 2011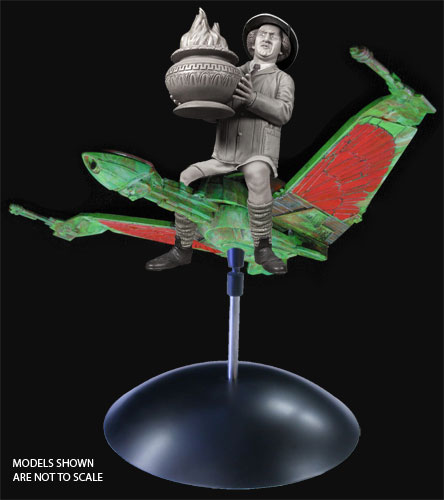 I gave a quick overview of our iHobby booth last time and touched on several Round 2 Models products that will make their way to workbenches in 2012. I'll give a more in depth product preview of some of our early 2012 sci-fi and genre kits.
First we are offering up something we consistently get requests for- our Universal Dome Base. Though not a groundbreaking achievement, many have found it to be just what we intended, a nice clean method for displaying a model. It is suitable for pretty much any space ship or aircraft model. The dome is a perfect sphere section that can be painted as a planet if desired. The metal rod and ball joint will also be included. It should be available in January. If this one sells well, we'll look at bringing out our larger version.
Next, a few Star Trek favorites are returning. From the old three piece Adversary Set, the Klingon Bird-of-Prey and Ferengi Marauder return in their own mini ship set. We are adding widow decals for the Marauder that will also include clear orange engine parts. Though there aren't much to them, once built, they make a couple sharp looking little models.
Also from the old Adversary set comes the Romulan Warbird in its own box. The kit includes a dome display base and new window decals. The engine parts will come injected in regular clear and glow-in-the-dark options. The buildup Jim Small did for us is very striking.
Those knuckleheads, the Three Stooges are coming back again. Why so soon, you ask? We are starting an initiative to bring some model products to market that give some decent results to more casual modelers that don't have the time or skill to put all the work into them that most of our core consumers do. So this time, the Stooges will come prepainted in shades of gray. Facial detail like eyes etc. will have enough detail to give a nice look with no paint required. They will be great for beginners and just require some glue to hold them together.
These Round 2 Models products will kick off 2012 for us. We've got a few others in the works too. More on those as we get further along. Some exciting new projects are in the planning stages and we should be moving into development with them very soon.
10 Responses to "Round 2 Models: Product Preview"