Archive for November 15th, 2013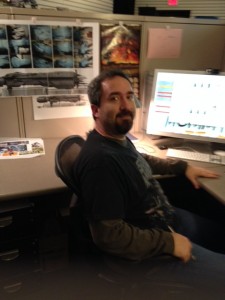 Jamie Hood (Polar Lights)
Jamie is a lifelong resident of North central Indiana he attended the Columbus College of Art & Design where he studied illustration and design. A lifelong comic book fan, his areas of interest spread throughout science fiction and fantasy.
He began his career in the RV industry before moving on to Round 2, LLC, where he has worked on the Forever Fun line of collectible holiday products and the Polar Lights, AMT & MPC brands, where he has a genuine interest in guiding the company's line up of science fiction model kits.
According to Jamie, his favorite kit is the one he hasn't started yet, but he enjoyed working on the Wolverine figure.
His greatest moment of modeling success was the praise he received for the 1701 ship produced in 2012, especially that from Paul Newitt.