Kat Chat: Create Some FRICTION!
Thursday, September 1, 2016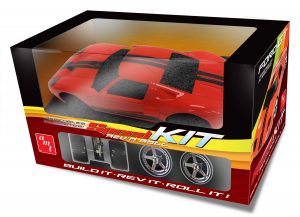 Remember the early days of promotional models with "friction motors" in them? Well, the Kats at AMT do, and they've put a fun spin on the idea with the new Rev 'n Roll SpeedKit series! These wild, modified – but instantly recognizable cars are all about fun, easy assembly and playability, for even the most die hard video game-obsessed kid! They're slung way low with gleaming chrome wheels on wide low profile tires, have pre-painted and decorated bodies and best of all… they screw together in a matter of minutes!
Once built, you can rev 'em up and watch these radical rides roll on their own via the included friction motor! Assembly couldn't be simpler. Snap in the motor and axle assemblies and screw the rest together with the provided screwdriver! It's about as close to instant gratification as you can get in model building.
Four different cars are featured in Series 1: a killer Camaro, mighty Mustang, cool Corvette and fantastic Ford GT! Collect 'em all and watch for more to follow!
Give your favorite kid or grandkid a chance to do something fun and creative while their thumbs take a break from the games. Let 'em build an AMT SpeedKit Rev 'n Roll friction car and get all revved up!
The Camaro is shown below. Dig this bad boy… it looks mean and fast, just standing still!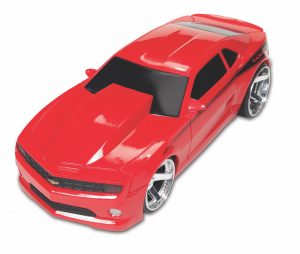 Until next time, Build It… Rev It… ROLL IT!