Lindberg Model Kits: Mini Lindy's: An Illustrated History 1960s
Friday, April 21, 2017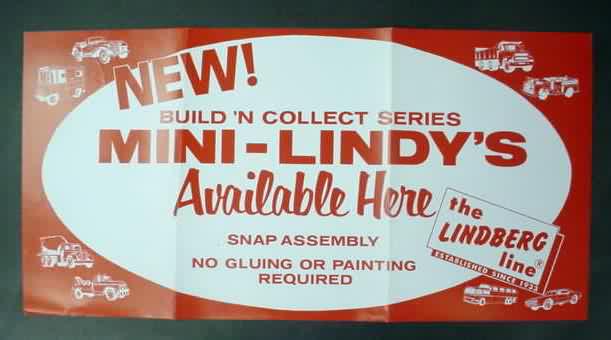 This is an illustrated history of the Lindberg's Mini Lindy line based on found images, catalogs and info from some modeling sites.
Part 1 – 1960s
The first 24 Mini Lindy cars were produced between 1967 and 1968 with the first 16 appearing in the 1968 catalog.  The vehicles were HO scale plastic kits that included clear parts, chrome parts, metal axles, rubber tires and a decal sheet. They came in black boxes with the model illustration appearing in a white oval.  On the reverse side appeared a rear view of the vehicle.  Three variations on the packaging appeared: a basic box, box with a flap for hanging and a cellophane version that was just the basic box with the back illo cut out. On the back of the flapped version was a list of kits numbered 1 to 32, though at that time only 24 had produced.  The list also changed a bit on kits 17-24.

In 1969 7 "red box" kits were released; kits were numbered 25 to 31.  An oddity… #32 Ryder Moving Truck appeared in a black box.  Not sure of the release date but given that the kits were released in groups of 8 generally I would think this would have been released with #25-31, but I don't know.  The list on the flaps changed again to reflect the final 32 kits.  Seems as though #25 Pontiac Firebird, #28 Jaguar D, #29 Bobtail T, #31 Station Wagon Vista-Cruiser, #32 Stake Truck, and #32 Oil Truck were unproduced.  The 1969-70 catalog still only showed the first 16 kits.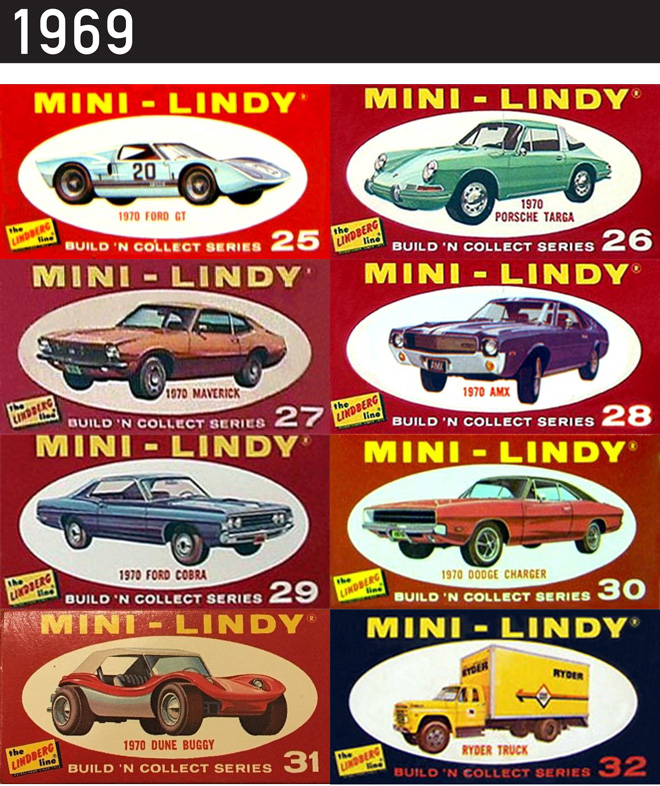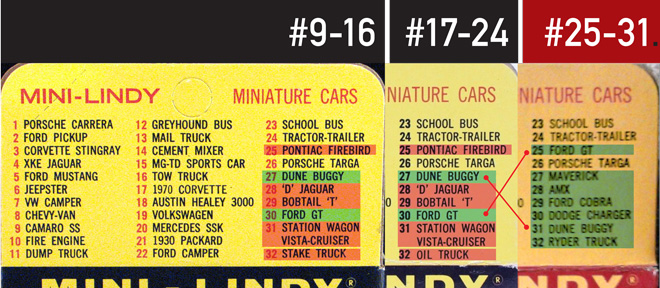 Look for my next post for part 2…….
Some of the dates and images were found on these fantastic sites….
14 Responses to "Lindberg Model Kits: Mini Lindy's: An Illustrated History 1960s"