Archive for July 7th, 2018
Just like Santa takes a vacation the day after Christmas, model kit brand manager Jamie Hood has dropped off the goods (in this case, that means K't'inga test shots) and is off on vacation. In the meantime, Round 2 consultant and model builder Jim Small will be sharing the process of building our display model that will be featured on our box art and will be making appearances at shows like Wonderfest next year. We hope you are hungry for this series of blogs.
Three Delicious Servings of Styrene Goodness!
James Small, www.smallartworks.ca
Well, well, well!!!! Look at THIS!!! A wonderful plate of appetizers came to the carnivorous lair of Small Art Works today, filled to the top with three test shots of the next fantastic model kit release from Round 2 and Polar Lights! I'll be building all three of these at once, assembly-line style for the most part. All will be lit, but one of them I plan to try and install mounting points on the sides, top bottom and rear of the ship the way the studio model was done, which will aid in the photography I'll need to do for publicity photos and box art etc. Only one lighting kit was supplied by the factory so I'll have to scratch the lighting for the other two. Several parts had come loose from the runners and were put into ziplock bags.  Each of the three main large sprues shown measure over 17" x 11" in character, so that gives you a good idea of how big this model will be!
I've taken some pictures of all the sprues here so you can see for yourself the delectable ingredients supplied with the upcoming kit, the loose ones were put in place into the runner locations they came from to show you. The parts are very crisp and clean, panel lines are perfectly recessed to match the original and the fine seasoning of detail is very sharp! This kit is exactly half the size of the actual filming miniature as seen in Star Trek, the Motion Picture. Yes, this kit really IS as good as it looks to be and will make a satisfying full course meal for all avid Trek fans!
As I write this I have examined the parts overall and have tested the lighting system. Next I will be studying it all to figure out the best way to cook this thing and work out assembly and painting strategies. Likely I will be looking for the "quick" subassemblies to get out of the way first.
The biggest challenge of this kit will be the tasty paint work… the "icing on the cake" as it were, as there are many colours in this menu which will need a LOT of masking! Jamie will be supplying me with the paint colour information as he's probably THE world authority on this model by now because he's been preparing for this feast for quite a few years and has worked tirelessly to make it as complete and accurate as possible! He knows more about what goes into this dish than just about any other galaxy class chef at this point.
I'm going to really enjoy preparing these meals over the next while, and I'll post my progress here as I go, so bookmark "collectormodel.com" and keep checking back! You may find some of what I bake here a helpful series of hints to supplement the main recipe that will satisfy your taste buds when you place your order!
Let's get ready to dine with the Klingons! (Bring extra napkins, and yeah, I was hungry when I wrote all this.)
EjIMBo
See how crisp and clean the fine detailing is? Delicious!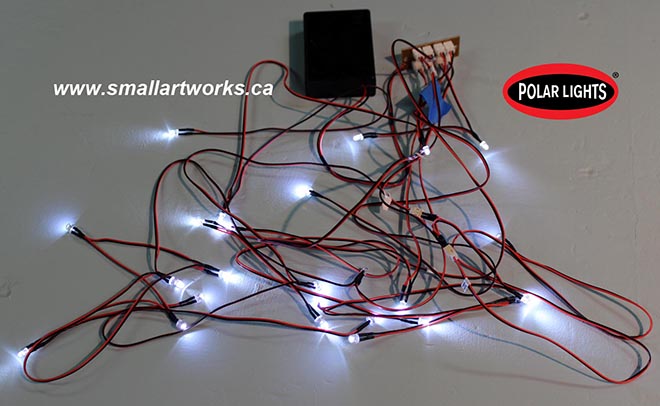 Quick-and-dirty testing the lighting system. Looks like a mess here but it'll be worked out.  Two of the bulbs flash which is why one is off as it blinked during exposure. All lights work perfectly.
Higher resolution pics can be found at the Small Art Works Facebook page here.