Archive for November 3rd, 2016
There are those who thought he was gone forever. But a few of us simply knew better! An infamous, clever character from decades past is coming back to town and a hobby dealer near you! Can you tell who it might be? Check out the "slightly modified" first test shot image below…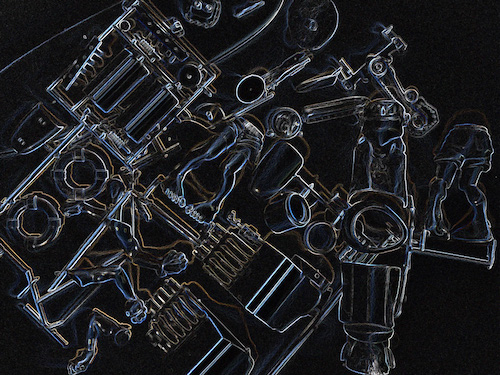 If you guessed STROKER McGURK, you'd be… CORRECT! Stroker, the "Hot Rodder's Buddy" and was created by the talented Tom Medley in 1948 for the pages of HOT ROD magazine. Medley was a photographer and humorist for HOT ROD, dating back nearly to the publication's inception. During the 1960s, Model Products Corporation released three different Stroker-themed model kits that captured the essence and fun of Medley's character.
Sadly, Tom passed away in 2014, but he has not been forgotten! His son, Gary, has been working hard and a beautiful new book on the life and times (and incredible creativeness) of his father is to be released soon. In a coincidence of good fortune, Gary contacted us about the MPC kits around the same time the Round 2 team was thinking they'd be great to see again, after so many decades of disappearance. A conversation was struck, positive plans made and now MPC is crankin' on a radical reissue of the first Stroker kit selection early in the new year!
With Gary's very kind help, the kit will include a couple added goodies inside! You'll just have to wait and see what those are… We will say that the kit will include an exclusive coupon – mail it in when you order a copy of the book on Tom Medley, to get it at a special price!
As well, with thanks to the fine folks at Hot Rod magazine, the kit will retain its original splendor, sporting the vintage HOT ROD logo on the packaging! We love it when a plan comes together…
Stay tuned for the official release date, coming soon.
Grab the glue, it's all for you!