Archive for November 8th, 2016
[UPDATE] The kit will not ship by the end of the year. Look for it towards the end of January or February. This is primarily due to misprints on the decal sheet. -JH
Okay, guys. Time to let a cat out of the bag. We will be offering a special edition of the 22″ Eagle. This release gets a few very special extra goodies thrown in for the Space:1999 aficionados out there.
It starts off with an 18″ x 24″ poster featuring the box art from the kit. Logos have been minimized to really show off the great art on its own. We have gotten several requests to offer this poster. So here is your chance.
Next, we are adding a big sheet of additional decals that feature some specific paneling arrangements that were shown on the filming miniature. It comes with additional marking and "weathering" to randomly spread across the model. This allows the builder to use no paint, or just use a base coat, then apply all these new decals to achieve a great look without additional masking and painting. This special sheet is has been produced by Cartograf of Italy, known world-wide for their outstanding quality.
Last, and best of all, this edition comes with a signature card signed by the Eagle Transporter's designer Brian Johnson! This is not a blind draw, "chance" offering. Every kit will come with an authentic hand-signed card. Brian is a BAFTA and Academy Award winning special effects wizard with credits on films like 2001: A Space Odyssey, ALIEN, ALIENS and The Empire Strikes Back, not to mention his contributions to other Gerry Anderson productions such as Thunderbirds. This is a truly unique opportunity!
So… details…
If things go well, (and they are so far) the kit will be available before Christmas. We suggest it should retail for about $200, but you will need to check with your usual retailer. The kit will be available for a limited time and in limited number. Right now, we are looking at an edition of 500 copies, but if we get an overwhelming response, we may do more. When they are gone, they are gone.
I'm sure many will wonder if we will ever sell the add-ons separately. The answer is that we may offer the decal sheet later on, but not for a while and definitely not until we have sold out of this edition.
Click on this preview to see all the details.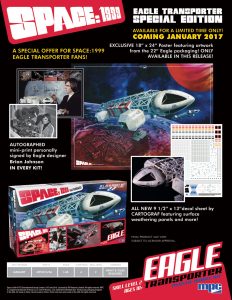 Then, either click and print this form and fill in the info for your usual hobby dealer.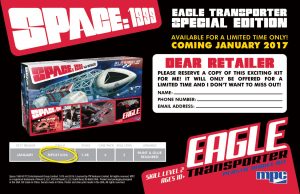 Or download a PDF here. Fill in the form fields and email it to your dealer to reserve your copy.
Save
Save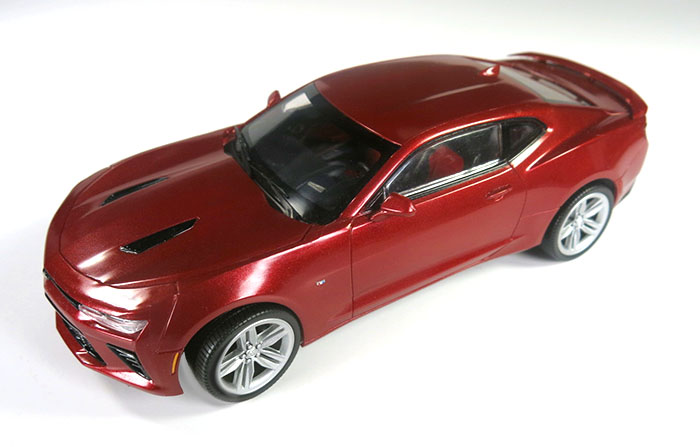 If you want to build and display a showroom replica of Chevy's beautiful Camaro SS, AMT has just the kit for you.
We've taken our newly-tooled 2016 Camaro SS model, containing a highly detailed engine and intricate rear suspension, and applied a factory finish to make building a beautiful version of Chevy's number one muscle car a lot easier.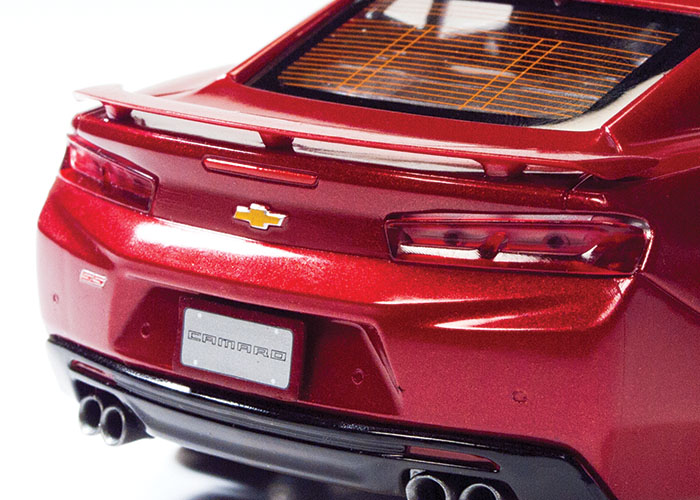 Featuring a Garnet Red Metallic body, AMT's pre-painted Camaro SS kit also has finely detailed badging, painted and pad-printed engine markings and multiple paint operations on the engine and exhaust systems.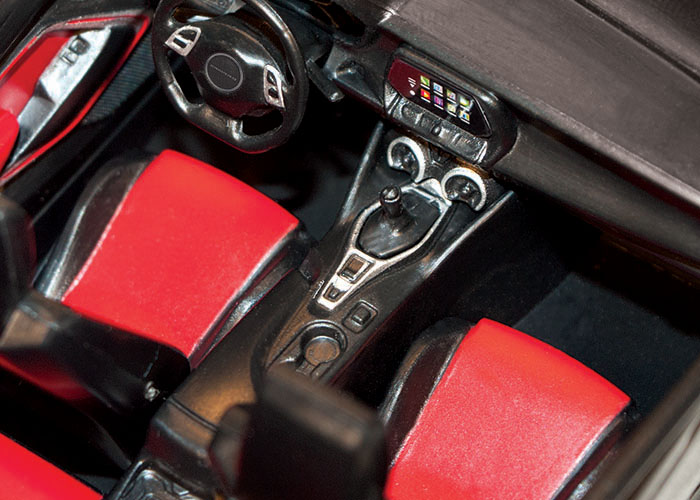 We've also added some great detail to the interior including the door panels, dash and seats.
Already a great kit to build and enjoy, this pre-painted edition will easily shine in your model kit showroom!