Archive for July 14th, 2010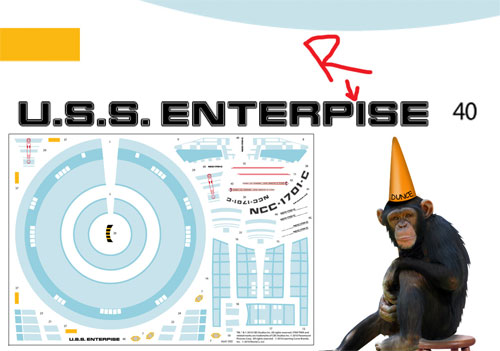 Hey, guess who's an idot? That's rigt. It's m!
Yeah, I know I can't even get an apology right.
We've gotten a few kind comments letting us know that we've got a typo on our latest release of the 1:2500 scale U.S.S. Enterprise 1701-C. What can I say other than I'm sorry. Between the amount of work going into these things and the speed at which deadlines come and go, these things happen. I'd feel worse for myself but others, including the licensor, looked at them too and didn't catch the error. In the end, I get the egg on my face though because the error happened on my watch. Oh well.
So what will we do to fix the problem? We'll be sending out a replacement decal to anyone who will send us the postcard included in the Star Trek model kit. Fill out the information completely and mark the bottom with "ENTEPRISE C". We'll send out the replacements asap.