Archive for July 16th, 2010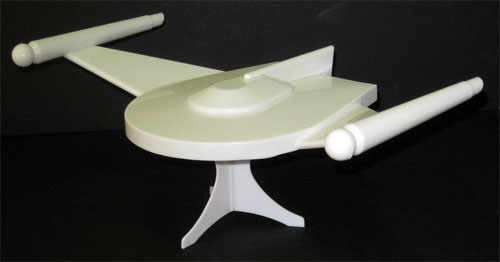 We ordered a big batch of tooling to be moved from our Dyersville warehouse a couple months ago. We heard earlier this week that the factory had received the tooling and we were told to expect test shots from the tools soon. Well, the first one arrived today and low and behold, it was the Romulan Bird of Prey.
It had one little bit of flash on it but other than that, it was immaculate. She went together really well. A few parts could use some extra locator pins and the parts will be numbered. We'll open the hole in the belly to accept the base. Once the plasma weapon and clear domes are added in place of the nacelle balls, she'll be good to go. This is another case of it not being a super accurate Star Trek model kit but it is a nice representation of the subject.