Polar Lights Model Kits: iHobby Recap!
Friday, October 29, 2010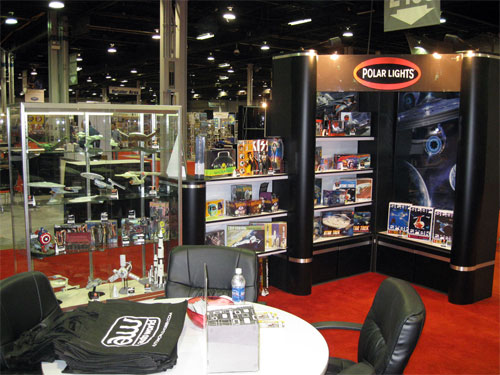 Our shows for the year have wrapped up with our attendance at the international iHobby Expo last weekend in Chicago. October has been a busy month for us with our two biggest shows of the year falling within the same month. iHobby covers the entire gamut of the hobby industry and is open for industry days on Thursday and Friday and open to the public on the weekend. For the past few shows, I've ended up working on consumer days which suits me because I'd rather talk to the guys building the kits than sitting around a conference table talking to guys with ties on. It turned out that I was assigned to help set up the booth and then return to work the last day of the show and tear it down again. Overall the show seemed less attended than previous years and I was surprised to see many booths close up mid day on Sunday and some had closed up even before consumers even had access. (Shame shame on a couple of our distinguished competitors…)
At the show we announced our plans through mid 2011 and gave a sneak peak at a couple things beyond that. Let me run down the highlights…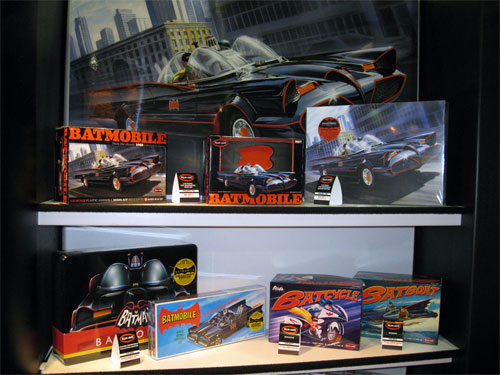 Batmobile– With the kits going to tooling, we were able to unveil our packaging plans. All are still subject to licensor final review. Of course we showed off the beautiful Alex Ross painting in support of the kits. Many have asked about prints of the poster. Sorry to say that that is not allowed under our current agreement. We gave a hint at what will be included in the deluxe version of the kit. If you didn't get a chance to see it, ask your friends who did. (yes, that is a tease)
Star Trek– As usual we had plenty of buildups and box mockups and/or preproduction samples on display. We featured a buildup of the Klingon Bird of Prey sitting comfortably atop its new landing gear as well as other buildups previously on display at Wonderfest. We announced the classic Klingon Battle Cruiser would return this year. We are looking into what little bits of accurizing we can do to the kit. Also announced was a re-release of the classic AMT Enterprise. Sure we brought that one back once already but we have put a nice spin on this one. We are calling it the Tholian Web Commemorative Edition. The kit comes injected in glow in the dark plastic along with the usual decal sheet complete with decal dressing to create the ship as the U.S.S. Defiant. To cap it off, we are including two new Tholian Web Spinners. We showed a buildup of the U.S.S. Enterprise 1701-B and showed a coupld of the revised parts, specifically the lower saucer and rear deck. We had no announcement regarding the 1:350 TOS Enterprise though the kit is still under consideration. Though we did have a prototype of the new movie Enterprise, it could not be displayed due to an error in the output. I'll be showing that off in my next blog post though and explaining why it couldn't be displayed.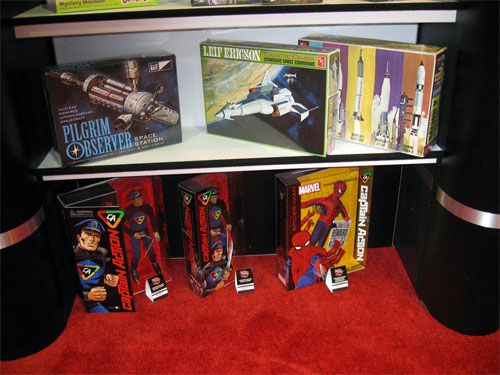 Marvel Comics- We showed a buildup of our re-release of the Captain America kit. We will also be bringing back Spider-man (actually sooner than Cap) and a few other Marvel surprises later in the year. We will be doing these kits in Comic Scenes style boxes complete with cardboard backdrops and full color comic book instruction sheets. The faces in the Captain America kit will be resculpted. One of the resculpts is shown on the buildup but is subject to licensor approval.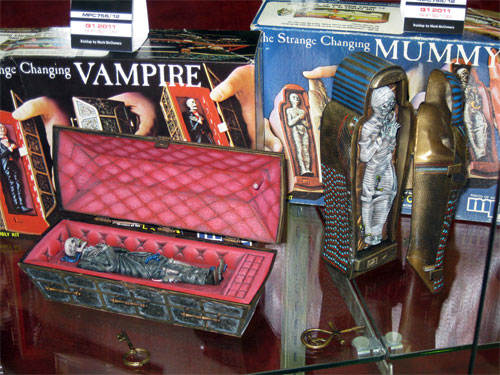 Strange Change- We'll be bringing back the Vampire and Mummy versions in the first half of 2011. The buildups on display showed how great they look when a great modeler gets ahold of them. The kits function really well (though I had my doubts as I was putting together test shots.) Look for the Time Machine version later in the year probably. And please also note that these kits will be made in the USA.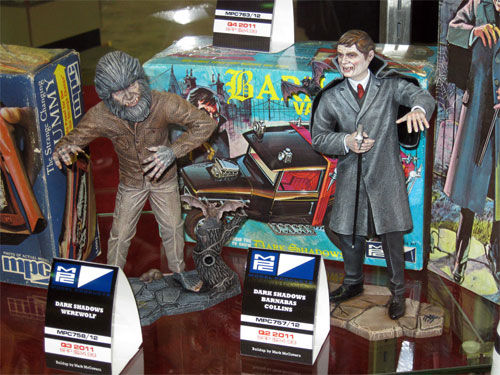 Dark Shadows- All three kits will return in 2011 with Barnabas Collins leading the way. We had great looking buildups of the figure kits on display. We are planning on reproduction boxes and glue parts just like the good ol' days and we'll throw in both soft PVC and styrene sets of arms.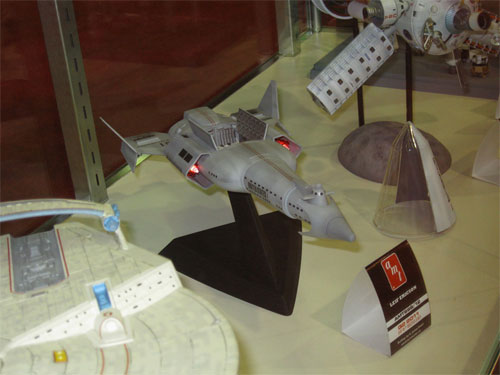 Leif Ericson- When we brought back the UFO kit, most people asked if or when we would bring back the LE. Here it comes complete with reproduction box art, clear engine parts and lights (this time LEDs.) What I would like a little bit of feedback on is would you guys like the engines injected in red or clear so you can paint them whatever color you want? Or maybe a couple different color options. I'm listening for feedback on this.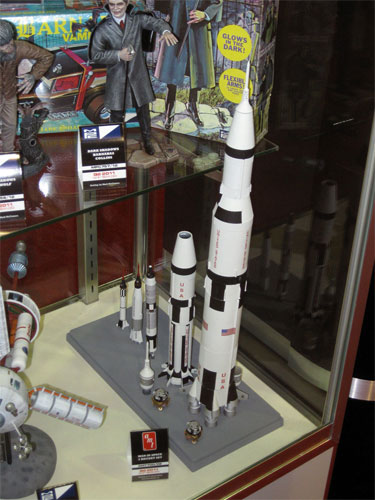 Man In Space set- This set of historic NASA spacecraft will return with its original packaging art as well as the cardboard gantry that had been included in the first release of the kit. We had a mockup of the gantry on hand but just ran out of room to display it.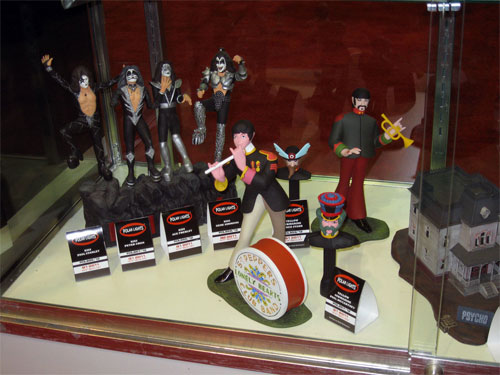 KISS and Yellow Submarine- We'll be bringing back the stars of each band in a series of pre-painted model kits. As you may see in the photo the packaging offers a different twist to appeal to collectors. We'll be doing the Yellow Sub in a lunchbox tin later in the year and we are exploring the possibility of doing prebuilt models of these subjects as well.
So that's the plan Stan… or Bobby… or Richard… or Steve… (I'm getting slap happy now after so much planning and work) Thanks to everyone who stopped by and were universally complementary of our display.
BTW! many more pics showing all of our featured products can be found in the gallery section of the Round 2 Models website.
33 Responses to "Polar Lights Model Kits: iHobby Recap!"