Polar Lights Model Kits: 1966 Batmobile Update
Friday, October 22, 2010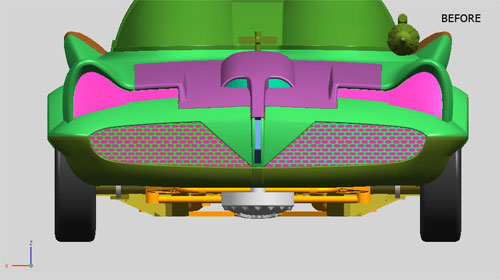 I showed images a while back of our Batmobile mockup. Unfortunately my stream of consciousness writing distracted some folks from the real point of the post- showing pictures of the Batmobile mockup.
Anyway, I figured I'd give an update. The step after the physical model is for the factory to scan the mockup into the computer. The files generated are then used to cut the steel tooling for the kit. Sometimes the digital model is done first as was the case of the Enterprise Refit. In the case of that model, the physical mockup was made from the files. I'm guessing the choice to make a physical mockup of the Batmobile was due to the way I delivered my instruction. Looking back, I supplied the details of the car as best I could but in the end it was kind of piece meal… or at least I think it might have been perceived that way. (either that or it was just information overload)
Once I saw the digital file, I figured that some more tweaking could still be done and be done easier than if I had asked them to change the mockup by hand. I had some edges rounded such as the window frames. This stage also showed a bit of misunderstanding about the track width. Oddly enough, the distance between the tires on the snap kit was accurate but for some reason, the glue kit's tires had become separated too widely. This was an easy enough correction make though. Things like correcting the turn signals on the dash were a breeze. Probably the most significant last minute catch was the front wheel openings being way too wide. I'm not sure how that had been missed before. The front wheel opening on the real car is significantly wider than the rear but I felt this went way overboard. It was easy to spot in the computer-generated images because they were almost orthographic views. I was able to tighten the opening up a little bit. I also made the tires a touch bigger to fill the wheel wells according to the look of the '66 period. One cool thing they showed me was a cutaway of the car. I knew how the parts went together but it was still cool to see so I figured I'd give a peak at it. Btw, pay no attention to some of the spoilers shown of some parts to be included in the deluxe version of the kit later next year. I've got just a few more elements of that kit to finish then the whole Batmobile project will be buttoned up. The tooling for the snap and glue kits is being cut right now.
17 Responses to "Polar Lights Model Kits: 1966 Batmobile Update"