Round 2 Models: It's Time For A NASCAR Update
Friday, April 30, 2010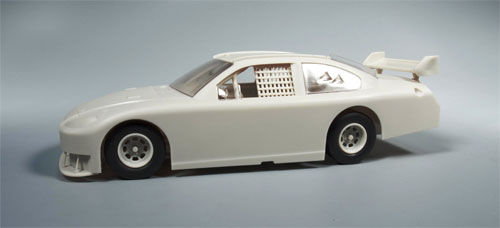 Round 2 Models is so excited about the progress of our NASCAR 2010 Chevrolet Impala Snap it model kit – that we just had to share it with you!
Over the past month our staff has made leaps and bounds, seeing assembled and unassembled test shots of this "Car of the Future" AMT model kit, which overall, look great (check out the photos and see for yourself). Our assessment thus far: the model feels great, has a crisp detailed body, chassis and interior, and it rolls beautifully. However, just like any new model kit, there are still tweaks to be made in order to meet our high expectations and yours too. For instance, we've conducted our "assembly review" of the NASCAR Snap it kit, checking for parts that need slight adjustments (and there's always a few that need tweaking) in order to make sure everything snaps together precisely. Once all the test shot corrections have been made, we will pass on our feedback to the factory, where the proper adjustments can be made. Once that's completed, the factory will send us pre-painted bodies and sticker/decal sheets (we are offering both options with this kit) to review.
The same process basically holds true for our packaging. The initial layouts are developed by our creative staff. The designs are then sent to the licensors for any changes to be made and final approval. Once all the changes are made and approved, we send the electronic files to the factory to be printed, assembled, filled with product, then wrapped up and sent back to us for distribution.
On the creative side of things, we have been making great strides on our packaging for the NASCAR kits as well! So far, both the Jeff Gordon and Dale Earnhardt Jr. package designs have been licensor APPROVED, and are already at the factory to be printed – with instruction sheets soon to follow. In fact, we're so happy about the progress – we've included a couple "sneak peeks" of the packaging and instruction sheets for you to check out! The Jimmie Johnson and Mark Martin package designs are also well on their way and looking good.
We should be wrapping things up soon and can't wait for the NASCAR Snap it kits to hit the shelves. Thanks for all your support, and happy modeling!
7 Responses to "Round 2 Models: It's Time For A NASCAR Update"