Model Kits: Drama on Altair 4 (in Glorious 1/72-Scale)
Friday, July 17, 2009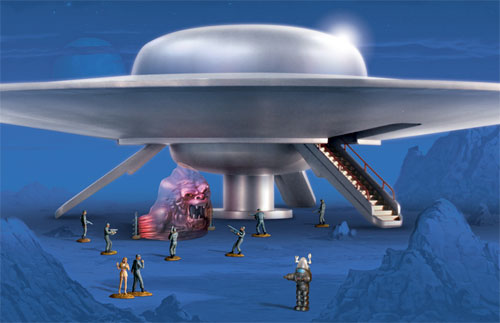 Here's another sneak peek at our upcoming Forbidden Planet C-57D model kit re-release. We unveiled the Id Monster a few days ago – heightening the drama is the crew of the C-57D, laser rifles in hand; Commander Adams barking orders into his communications device and the lovely Altaira suitably distressed by the whole situation.
The figures, along with the ID Monster, really bring the kit alive by presenting a bit of the drama that is at the heart of the plot of Forbidden Planet, rightfully hailed as a masterpiece of mid-century sci-fi cinema. In addition, the small size of the in-scale figures really serves to highlight the massiveness of the C-57D. A true sense of scale is something we felt was somewhat lacking in the last release of the kit, in spite of the inclusion of Robby and the detailed interior. Adding the human element somehow really puts everything into context, and helps bring the story of Forbidden Planet back to the forefront.
As with the Id Creature, Jamie directed the creation of the sculpts, starting with a series of turnaround drawings for the sculptors to use as a guide, and then providing comments and further direction as the sculpts progressed. As with the Id, we received approval on the sculpts just last week, and gray resin castings were photographed, retouched and incorporated into the packaging graphics on the box bottom.
8 Responses to "Model Kits: Drama on Altair 4 (in Glorious 1/72-Scale)"