Archive for April 15th, 2010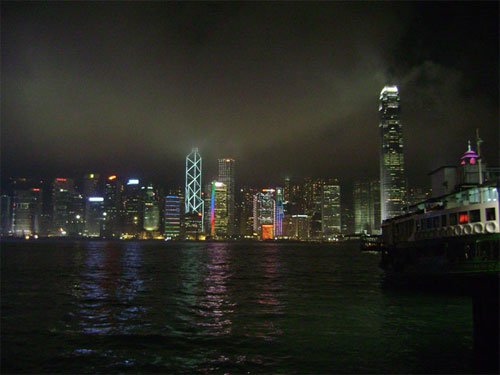 I'll lay my head down in China (Hong Kong actually) for the last time tonight and I'm actually a little bit melancholy about it. I never really had any idea what to expect from this trip. I took it as it came and I never would have come if not for my job with Round 2 Models. Seeing the other side of the world has really affected me and I didn't think it would. I can't really say how I've changed but I can feel it. Maybe I feel a bit more adventurous. Maybe I just feel the kinship of people from a totally different culture that I still know very little about. Maybe it has been because I've made friends and it is time to say goodbye to them. I think that is the biggest thing.
I've spent the majority of the last two days sightseeing Shenzhen, China and Hong Kong with Joseph Yuen who is a key part of the Doallser staff. He has been a very fine host and we've had a lot of great discussions. He has the perfect personality to draw me out of my shell and into a great conversation. (Most of my good friends and my wife do a great job of that) We spent yesterday at the China Star amusement park with the three customer service girls that handle the products I work on. We had a great day walking around seeing shows about old customs from different Chinese cultures. The park's main attractions are miniatures of China's historic landmarks. I almost felt like a giant walking around the great wall, etc.
Today, Joseph escorted to see another manufacturer in Guangdong who had several factories to show us. I got a good feeling for the "real" China. By that, I mean the areas away from the bigger cities. It felt like quite an adventure at some points.
After that, we made our way back to Hong Kong. Once we checked into our hotel, Joseph showed me around a bit of Hong Kong. We covered our fair share of territory in the few hours we had. I bought a few comics at a news stand and we had a couple drinks in the cool pub area. We didn't stay out long enough to get rowdy though. I had heard this is a great city and it lives up to the hype.
I get on the plane back home in about 12 hours. The trip has gone very quickly. I hope to be back again some day maybe. As with most trips, you just run out of time eventually. Oh well. We got lots of important business done and we've really strengthened some relationships I think. For anyone disappointed for a lack of production coverage, never fear. I plan on putting together some great posts real soon that shows how the magic happens. I've taken so many photos and video that I haven't had time to sort through it all and I have no way to edit it all right now. I think I've got it all covered and hope to share real soon. Before I sign off, I'd like to thank Tom Lowe for sending me, Craig Lundquist for guiding me through everything, to Bob and Terri for holding everything together back at the office, Andy for posting these for me. Special thanks to Mr. Wong, Eric Wong and Raymond Wong at Heap Shing, and Dasam Hsu, Amy Hsu, Joseph Yuen and the girls, Beckie, Fay and Grace at Doallser to all for making me feel very welcome in China. I need to thank one other dear person who has been waiting patiently to come back home since the moment I left, my wife Georgette. I hope to show you more of the world some day. I know you want to see it.
Signing off from Hong Kong.
-Jamie Hood