Archive for October 20th, 2009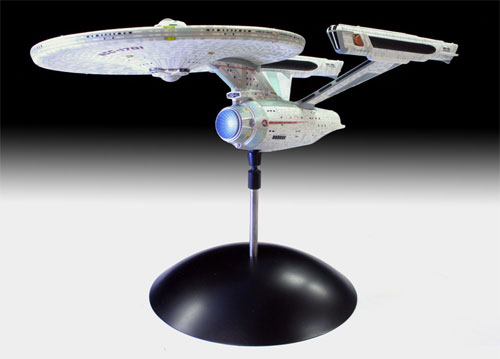 If I said our workload here at Round 2 is unbelievable right now, that would be an understatement of epic proportions. I barely have time to write this blog entry. I promised myself it would get done last week. Anyway, here it is now.
I just have minute to tell you about the Round 2 model kit preview we have going on at iHobby. We will be releasing our plan for the first half of next year. We'll be bringing out around 50 kits by the middle of 2010. Around 20 kits will be genre (sci-fi/ pop culture) kits. Some have been mentioned in passing before and of course many have not. This just sets us up for a great 2010 with many more high profile releases to come later in the year. We'll also be releasing our first print catalog showcasing all of our model kit brands.
Amidst our display, we will have a built mockup and hopefully a built test shot of our new 1/1000 scale Enterprise Refit. I hope to see everyone come out and take a look. To add to the incentive of just coming out and taking a look, I've got something special for a lucky sci-fi modeler- a test shot to take home of the new Refit kit. The only catch is that you have to write a review of it here and everywhere else on the internet that sci-fi models are discussed. So how will I know who to give it to? Just reply to this post. I'll draw one of the names from the posts. Cut off for sign up will be Friday morning (when I leave for the show- no hard deadline so sign up sooner than later) You must be present to win Sunday at 1:00cst at the show.
I'm showing some pics of our finished mockup. It turned out well for being cast in all opaque resin. The decals you see are prototypes and will be tweaked to lighten them considerably. Notice the strongbacks are greenish gray, that's why we keep calling this one the "Refit".
http://www.ihobbyexpo.com/Consumer.html