Archive for July 6th, 2009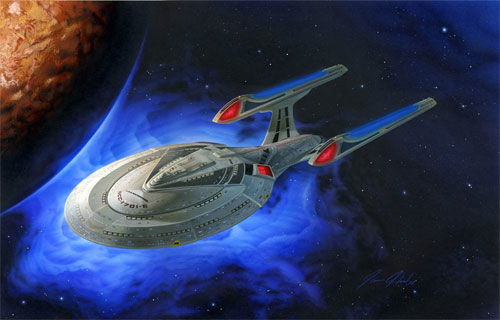 Bob posted a "special features" post awhile back about the Star Trek Enterprise E box art meant for the mass market. These would be larger stores to make sure the model kit offers a point of difference from the hobby shop version.
As he stated in that post, I was fortunate enough to do the hobby version box art. The Star Trek licensor has established a style guide to ensure the look of their brand that calls for us to use one of their supplied backgrounds. So I had a dilemma, do I just paint the ship or the ship on a background. I wanted a finished piece when I was done so I went ahead and did a full background too in hopes that someday the whole piece could be used somehow. The piece was a bear to do. 80% of it was a struggle just because I hadn't picked up an airbrush in years. I didn't start feeling good about it until about the last day or so as I worked on it. Looking back now, there are some things I wish I had done differently but overall it turned out pretty well. Here is a look at the entire piece with background and the lettering overlaid in photoshop.