Posts Tagged 'table top navy'
First, for those of you I haven't met my name is Chris Purvis.  Last year I manned the booth at Wonderfest with Jamie.  I work primarily on the Lindberg/Hawk line doing the military and historical kits (airplanes, naval boats, sailing ships, tanks, etc.).  The occasional car or oddball kit will also end up on my desk.  Before switching over to Lindberg in 2014, I worked on the Forever Fun line.  Next month I will be celebrating 3 years with Round2.  Also, I am a big nerd for movies and vintage sci fi, so if you want to get off topic in your comments go that direction. -ChrisP
Available soon will be the 3rd 2-pack in the Lindberg Table Top Navy Series, the HMS King George V & the HMS Dorsetshire.  The kit features two World War II British Battleships in 1:1200 scale.  Like the previous ships in the series, they can be displayed as Full Hull or Waterline models.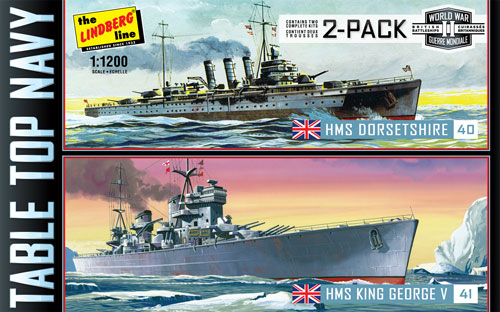 Recently we've been able to acquire some of the original box art paintings used on old Pyro and Lindberg kits.  The King George V box art is from a new scan of the 1959 painting. It is amazing to see some of the original detail and brush work put into these pieces of art.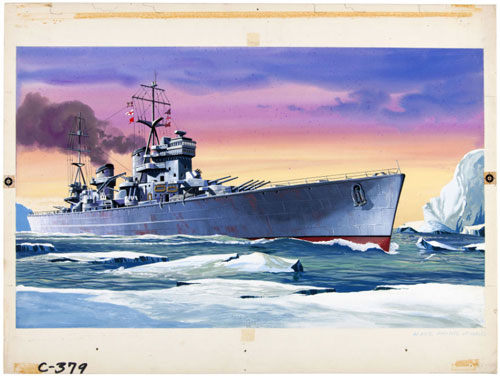 For the Dorsetshire I scanned the 1959 packaging.  From my research I could not find any references to the ship ever have the depicted camouflage pattern.  I altered the image to show this known hull scheme.
Before….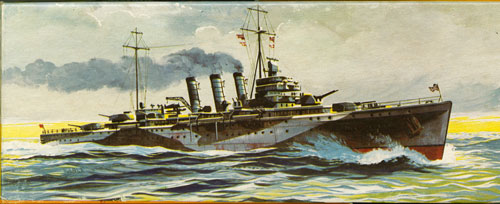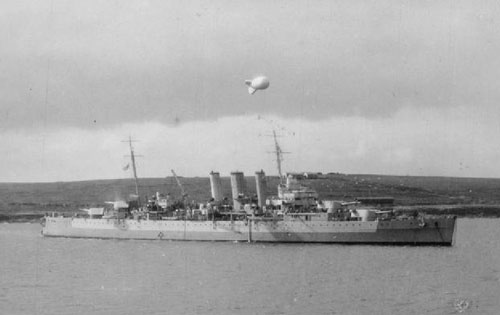 After…
The kit will include that hull scheme for the HMS Dorsetshire as a decal, along with a dazzle camo option for the HMS King George V.