1966 Batmobile Model Kit: Wonderfest Count Down. 1…
Friday, May 14, 2010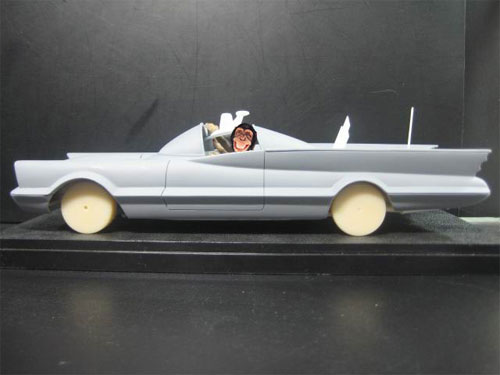 Whew! Wasn't this year's Wonderfest a great show? I can't wait to see you again next time.
Wait… what… I dreamed it all? Well at least it wasn't a nightmare like Bobby Ewing coming back from the dead. (That was a great Family Guy episode) All right. I was going to tell you about the 1966 Batmobile model kit.
First, we'll be showing our 1:32 scale 1966 Batmobile. It looks like some retailers at the show will have the basic kit available for sale there. Feel free to ask me about the delays in the kit. It turned into quite an epic story.
We'll also be displaying our Classic Batmobile™ Collector's Edition tin version of the kit. I've tried describing the kit but any explanation falls short. You truly have to see it to appreciate it. I know not all builders care about anything that says "collectible" on it and I'm not going to try to convince you otherwise. I just know that this product really turned out nicely.
Lastly, if the stars align (and UPS cooperates) We'll be showing the full mockup of the 1:25 1966 Batmobile glue kit that will be out next spring. A simplified snap version that uses some of the same parts will be out before the end of this year. I've really done my due diligence on this model to make sure the details are done right. The mockup is dialed in at about 90% complete. I'll be reviewing the mockup for the factory to see if there is any work left to be done before proceeding. Stop by and take a look to see what you think.
This week's previews only touch on some of the high points of the show for us. Feel free to stop by and ask questions about these and other projects like the Star Trek Movie: New Enterprise, Enterprise 1701B and the 1:350 Enterprise (like I need to give you permission to ask…). We've got these kits and more in the pipeline.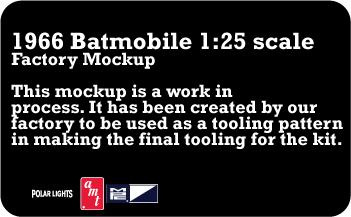 17 Responses to "1966 Batmobile Model Kit: Wonderfest Count Down. 1…"