MPC Model Kits: Wonderfest Count Down. 3…
Wednesday, May 12, 2010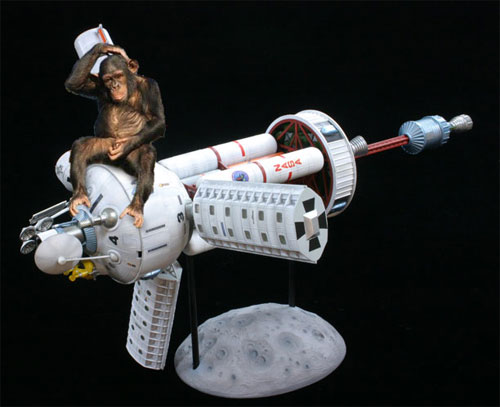 One of the cool things about working for a "legacy" model kit brand is discovering and bringing back all of the obscure stuff that hasn't been out in a while. The topic of today's Wonderfest preview focuses on a couple MPC model kits. As far as MPC sci-fi kits go, most of the well-known efforts were Star Wars subjects. We've uncovered a few cool kits that many folks, even seasoned modelers, may not have known about.
First is the Pilgrim Observer. This is a highly detailed kit of a "real" space station concept. At least it could have become real in the eyes of her engineers. The kit includes a booklet explaining the science behind the concept. The kit itself is really cool. It comes with a lot of parts in white, chrome and clear parts and builds into a nice size model. It ends up with moving pieces and it can be shown in flight mode, like a rocket, and in orbit mode with all of its pods and antennae extended. As great as it builds, it will also be a kit-bashers delight with all of the non-descript yet definitely sci-fi/ space influenced parts. The kit also comes with a few added goodies just like its first release. Of all of the kits we are offering, this is one of my favorites.
Speaking of the Pilgrim Observer, we are still trying to decide how we would like to package it. We liked the original box but our buildup expert, Jim Small, did a great little digital composite sing the buildup that we really like too. If you are at the show, stop by and fill out one of our questionnaires and let us know which one you think is better. As usual, the show questionnaire has a few meaty questions on it we'd like feedback on. As usual, once filled out, it becomes your entry into our show drawing for some great model kits. Be sure to stop and fill one out while you are at the show. We really appreciate the feedback.
Ok, back on track… Secondly is our upcoming release of the Haunted Glo Heads which come in four styles- Werewolf, Vampire, Mummy and Ape Man. These are fun little snap together kits that feature the head and hands of each creature. The have cool detail to paint or build them unpainted for glow in the dark fun. They are simple little kits, perfect for young modelers. I think they have a lot of appeal to advanced modelers too.
Okay. More tomorrow focusing back on Star Trek.
6 Responses to "MPC Model Kits: Wonderfest Count Down. 3…"