Coming off the Shelf – Honda Road Racer Makes A Comeback!
Tuesday, October 25, 2016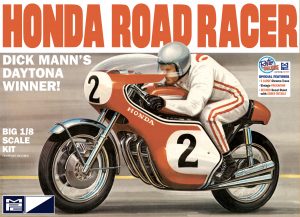 The folks here at MPC are happy to announce the re-release of a classic race bike. The Dick Mann Honda Road Racer! This BIG 1/8 scale kit, is packed with a whole lot of chrome, a 4 cylinder 750 CC engine, velocity stacks, four exhaust pipes, racing fairing with windscreen, racing gauge and short racing handle bars. Not to mention, improved decals and an awesome vintage package featuring a classic painting of Dick Mann in action!
So, for all the bike fans out there, keep a lookout for this sweet build. Coming soon to a hobby store near you!