New insight on Star Trek model kits gleaned from Wonderfest part 1
Wednesday, July 8, 2009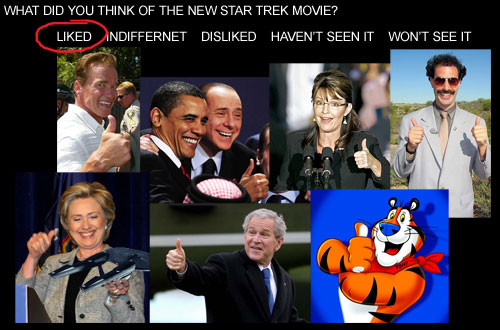 So Wonderfest 2009 is kind of old news by now but it has taken me some time to examine the data from our survey that we handed out. Anyone who took the time was given a couple fresh Star trek tattoos. Seemed like some loved 'em and some could have done without them. Oh well, you can't please everybody… Well, that's pretty much what the survey results told us too.
The majority, if not all, of the survey covered the ground of Star Trek model kits. I have to admit that as hard as I tried, this survey wasn't all that great. I was in an incredible rush to write it. I didn't structure it well and it was probably even biased towards certain subjects just in the way it was written. I'll try to do better next time. So with that said, it couldn't be considered scientific; therefore, I won't consider the results scientific either. As with all polls like this, it's just asking for suggestions. We won't really be steering our ship from it. I'm not going to go into every ranking or specific winners and losers but I'll point out what I thought were some interesting results. A copy of the questionnaire will be posted as one of this blog's images if you would like to follow along.
I was fascinated that people who like bigger kits are so outspoken about it. On more than one occasion, the part of the survey addressing the "smaller" kits was left blank with a written note saying "I only like larger kits". In the question that directly asked which size was preferred, "ALL" won out which wasn't much of a surprise.
The majority of folks preferred decals but if an answer of "some paint with decals" had been offered, I'm sure it would have won out.
Now this next one was the biggest shock of all. Bob and I downplayed our announcement of landing the rights to the new movie because we had seen all of the online debate about whether the movie would be "accepted" or not. We were shaking in our boots at the thought of making the announcement to a group of rather outspoken fans. Turns out you guys overwhelmingly liked the film. We didn't ask about the Enterprise specifically but just the movie itself. Quite a few folks said they "loved" it. Well over 100 people surveyed said they liked it, less than 5% said they didn't like it. About 20% hadn't had a chance to see it yet. No one said that they refused to ever see it. We were surprised that we didn't really have any outspoken haters at the show. A few verbally said they didn't like it and a few took the opportunity to debate with their friends. So, we are pretty encouraged with the new kit in development.
I was really interested to see what size people hoped the kit would be. At the time, the size was still under great debate and we had just gotten the "official" size a day or two before the show. It turns out that the choice of the larger kit won this debate. I guess this makes sense when you consider the aforementioned demand for larger kits as well as fans who want a consistent scale. The 28" kit would match our popular 1/1000 scale. We are proceeding with the smaller one at this point. Cost of tooling is a significant consideration but also the fact that we've had some success with placement of our smaller snap kits in larger retailers like Hobby Lobby and Toys 'R Us.
Skipping down to the last two questions… What are we getting right? Well, everything apparently. At least that's what 45 people wrote in. While I appreciate the compliment, that's not realistic. We've got tons of room to improve and I seriously wanted to find out what we are doing so far that folks are digging. Some people did make note of the extensive decal sets and improvements to the kits. Twice as many people commented on our interaction with the modeling public whether that be responding to customers' kit issues, being at the show or posting on message boards or maybe even this blog. (it was cool that I had more than one person say "Are you Jamie? I read your blog". It's hard to believe people are reading the rants of little old me.) People seem appreciative that we are making some effort to get modelers input. The overwhelming comment was our choice of kits that we've released. I'm not sure if that just means people are happy that we are doing Star Trek kits or that they truly like the specific kits we've brought back out and have in development.
On the other hand, we did want to learn what we could improve. We didn't get a ton of feedback on one specific area but it seems that bringing to market quicker and offering newly tooled kits were answers given a few times. Believe me, I'd like to bring things out quicker too. I've said before that we're still gaining momentum. I can say that our projected list of sci-fi/genre kits for next year is twice as long as our release list for this year… and there are new kits(plural) on that list.
More juicy discussion of the results next time.
7 Responses to "New insight on Star Trek model kits gleaned from Wonderfest part 1"