Coming off the Shelf – Blazing a Trail
Friday, July 8, 2016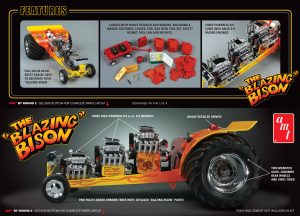 AMT is getting ready to turn a powerful classic loose, a Blazing Bison to be exact. This monster machine was a spectacular show vehicle that amazed fans – pulling 20-plus tons of steel and climbing mountains of cars. It was the show and the go, and now the Kats at AMT are set to turn this incredible machine loose for all to build once again! This 4,000 horsepower modified puller tractor leaves nothing in the bag, featuring three powerful 575 cu. in. Arias V-8 racing engines, two fully loaded chrome trees, two monster sized rear wheels and vinyl tires, a detailed driver and full color decal sheet. Parts are molded in golden yellow and black. But wait, there's more. The Blazing Bison kit is loaded with highly detailed accessories such as a wagon, batteries, cooler, tool box with tool set, safety helmet, fuel can and weights. And just for kicks, we've included a sneak peek of the packaging side panels in this post, which showcases all the rip-roaring features mentioned above.
So, for all the Blazing Bison builders out there, a chance to get reacquainted with this amazing puller tractor is just around the bend.
Arriving soon, at your local hobby stores.
Enjoy!
3 Responses to "Coming off the Shelf – Blazing a Trail"