Lindberg Model kits: Mystery Sword Tool
Thursday, March 3, 2016
As we dive deeper in to the Lindberg/Hawk tooling collection there is occasional a tool that we can find no information on.  This one is stumping me more than normal.  We have a MYSTERY SWORD!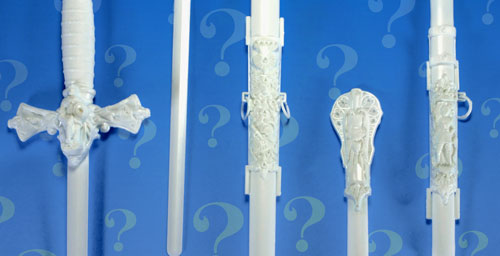 At first glance the tool looks like one of the 1:1 gun kits from Pyro (also released by Life-Like).  Part of it looked like a rifle barrel however the gunstock was missing.  Test shots revealed that it was a sword.  It is very decorative with an eagle-shaped pommel, armor on the chape, a knight and lion head on the scabbard, a knight and axes on one side of the cross-guard, and an AOUW Shield on the other.  There are several places where gems would attach.  So far in our research I have found Lindberg and Hawk kits previously released under O-lin, Pyro, Life-Like, Eagle/Eaglewall, Palmer, IMC, and a few others.  I can not find any sword model kits release under Lindberg or any of those brands.
While I have not found any evidence of the model being released as a kit I have found the real life sword it was patterned after.  And here.  The AOUW on the cross-guard is for the Ancient Order of United Workmen, a fraternal organization founded by John Jordan Upchurch, a Mason, after the Civil War in 1868.  Swords like this would have be used during ceremonies and given to a member of the society often with his name scribed on the blade.  This info, while interesting, has not help me track down the origin of the kit.  So I call out to you, modellers, and your vast knowledge of vintage kits.  If this seems familiar or you know any of its history, let us know in the comments.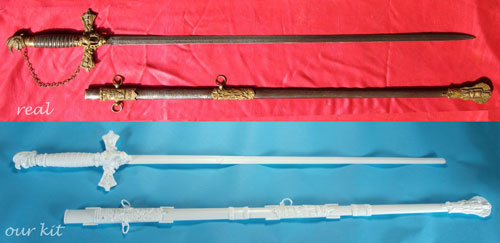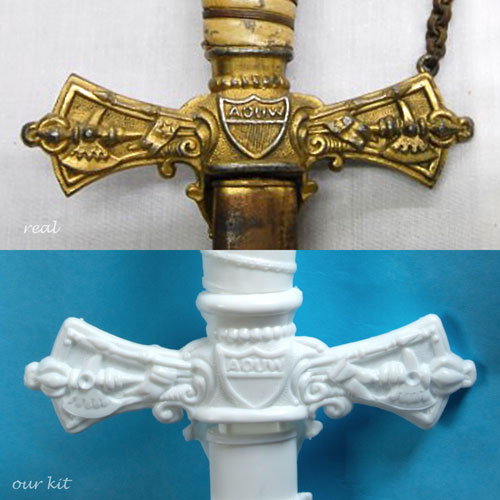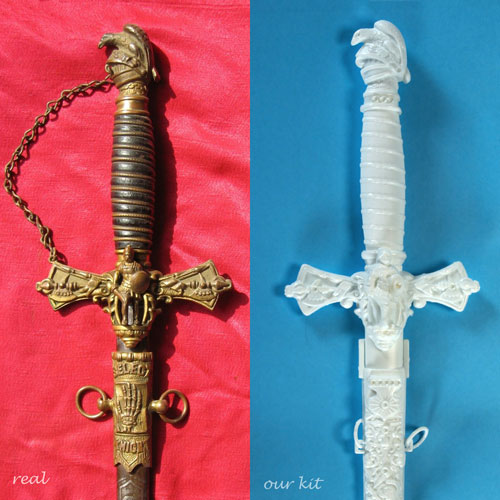 UPDATE 3/4/2016
Thanks to Craig Bennett for this.  The sword was released as Palmer Jeweled Renaissance Sword & Scabbard.  I am not sure what year.  The box design is done in the style of some of the cannons.  I found this small image.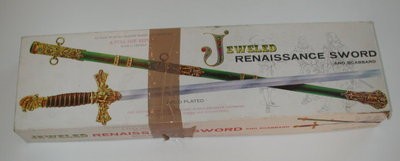 6 Responses to "Lindberg Model kits: Mystery Sword Tool"