MPC Model kits: 22" Space:1999 Eagle update #2
Tuesday, August 11, 2015
UPDATED WITH MORE IMAGES!
Continuing the look at our upcoming 22" Space:1999 Eagle from MPC… You may recall that we received the kit mockup just days before Wondefest. I was swamped with show prep, so it stayed in the box it came in until Jim Small did his repairs to it the day before we left.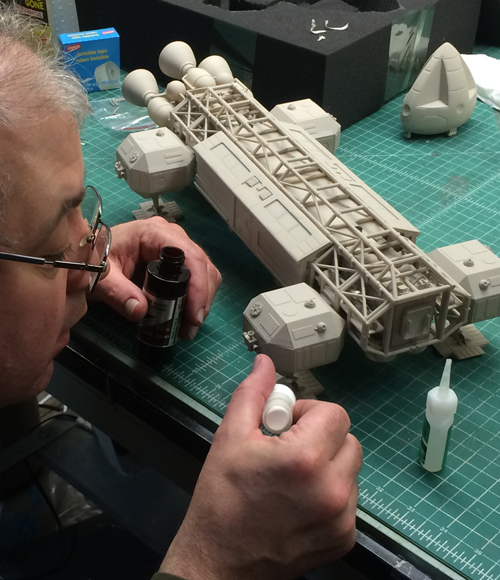 After displaying the prototype at the show, we found very few substantive errors when we gave it our thorough review. In a case of the 1:350 TOS Enterprise kit we probably had between 50 and 100 points to change between the first prototype and the end product. For this kit, we found about 10 things that needed to be corrected and a handful of other things had to be addressed like the cockpit wall and areas where tool drafting hadn't been fully resolved.
For the most part, what you saw in the Wonderfest mockup is what the end kit will be. I give all credit for that to my development partners Jim Small, Daniel Prud'homme and Chris Trice. Their research, data and their mindfulness of how the kit should be parted out, etc. really made a huge difference that took months off the development timeline. The differences were actually so minor that I didn't require the factory to implement the changes to the mockup and instead reviewed them digitally only. Photos of the mockup were submitted to the licensor and it has been approved!
17 Responses to "MPC Model kits: 22" Space:1999 Eagle update #2"