Round 2: These Times, They Are A Busy
Wednesday, June 3, 2009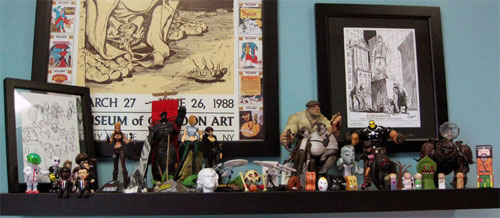 Here at Round 2, it seems like I'm always playing catch-up. The only priority is the one that has a date attached. It's a constant cycle- plan the product, get pricing, draw up the details, create the package, check the test shots, prepare for a presentation, prepare for a show. Mix it all up and start it all over for many products and selling seasons.
Things get hectic and with preparing for and working all weekend at Wonderfest then coming back to catch up on other matters. Then we get a holiday weekend but like everyone else that usually means yard work and family gatherings.
And all I want to do is create the next great Star Trek model kit… or at least figure out how to make repops even better as the new stuff is brewing. Anyway, at times like this my desk and office get to look like a toymaker's workshop with all kinds of interesting goodies lying around. Here's a pic that shows what state I'm in now. For the heck of it, I'm showing the shelf above my computer monitor that shows my varied taste in toys. Some other time I'll show my shelves of Batman or Marv figures for anyone that cares.
Some things are blurred for our protection.
4 Responses to "Round 2: These Times, They Are A Busy"