Archive for January 20th, 2017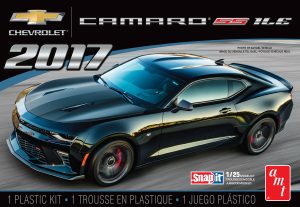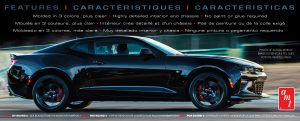 Welcome to 2017! The kats here at AMT are kicking off the new year with a snappy NEW item. The 2017 Camaro SS 1LE snap kit. This simple, yet eye-pleasing model kit is chalked full of curb appeal details including: new 1LE parts, a pad printed clear window unit, highly detailed decals and stickers, a super-detailed chassis, and is molded in 3 colors PLUS clear to give it a nice "finished look" with little effort. And with the option to use water release decals or the easy-to-apply stickers, this engine-free kit offers just the right amount of challenges for moderately skilled builders all the way down to those who are just getting started in the hobby. With solidly built results and easy-rolling wheels, you could say that it would make a great starter kit for younger modelers to build with their parents, uncles, aunts or whoever. And to us, that sounds like a great way to build the hobby!
So keep a look out for the snappy Camaro SS 1LE snap kit, coming soon for your building enjoyment!