Archive for January 20th, 2010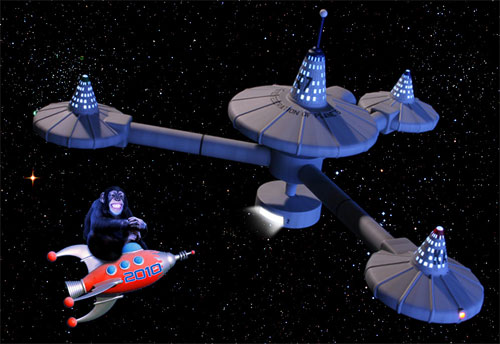 So it's the middle of January already. Needless to say I'm embarrassed that I haven't been able to keep up with blog posts like I would have liked. As usual we are buried with responsibilities split between our model kit lines and our Forever Fun holiday line. Every time we see a light at the end of the tunnel, it caves in again. Maybe one of these days we'll get to take a breath.
We ended up with 13 sci-fi (genre) releases in '09. We've currently got 36 on our plan for 2010 including new subjects from the latest Star trek movie and a 1/25 scale Batmobile among other possibilities. We'll be bringing back spiffed up fan favorite ships from Star Trek and a couple that haven't been seen in decades including the K-7 Space station (another long lost kit is scheduled for later in the year…). We've got plans to bring back other long lost non-licensed model kits including the Pilgrim Observer and haunted Glo-heads. We'll be gearing up for Wonderfest soon where we'll make some schedule announcements for the second half of 2010.
I'm looking forward to another great year. Here's to 2010…