Archive for April 13th, 2009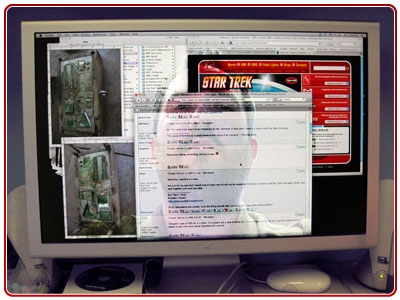 Hi. Thanks for stopping by. I'm Jamie Hood, art director for Round 2. I am part of the team that develops Polar Lights, AMT and MPC model kits. My primary responsibility for our products is coordinating day-to-day development of our Sci-fi/ pop-culture kits. This means I research the subject matter, advise sculptors and outside service providers, spec' colors, work on artwork, contribute to instruction sheets, check test shots, supervise tooling changes and otherwise try to keep my fingers in as many cool projects as I can manage (and sometimes more). I'll do my best to share some of the stuff that goes on around Round 2.
The first big hurdle to jump in developing our Polar Lights, AMT and MPC sci-fi model kits isn't so much "what to do?" but "what to do FIRST?". There are a ton of factors to consider.
What is in demand?
Does the subject matter have a wide appeal or is it a favorite subject of the devoted few?
Does it require committing to a new license?
Are there enough subjects in the property to make enough profit to pay the guaranty that comes with the licensing agreement?
Is it a property that we are passionate about, know and understand?
Is the license holder interested in having their subject made into a model kit?
If the tool exists, where is it?
Is the tool in good shape and is it the way the fans will want it?
What work will the tool require?
Does it need any repair due to the decay of long term storage?
Will correcting details or other modifications warrant the expense of a tooling adjustment?
What tools are already in place that have enough demand to warrant producing the kit again?
Ultimately it comes down to… What can we do to make a great kit even better?
And… If the tool doesn't exist, is there enough demand to warrant the huge expense of (re)creating it?
This is just the beginning. We start with the benefit of having a vast tooling bank to pull from but we all want to see the next brand NEW kit. Everything will come with time and success. It's just a matter of careful planning and attention to every detail along the way. I'll touch on some of these questions in upcoming entries and also throw in a little bits of progress on projects we have coming down the pipeline.