Star Trek Model Kit: 1:350 Refit Decal Set At Long Last
Tuesday, February 1, 2011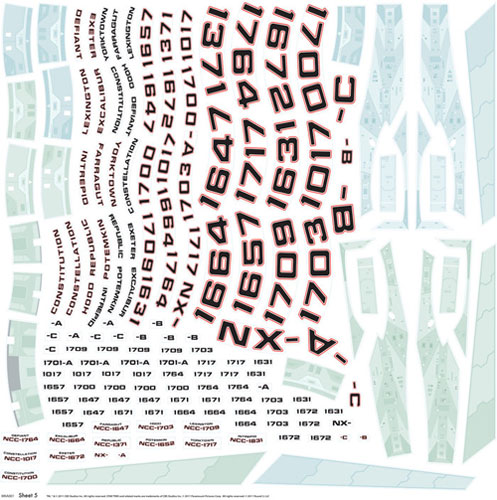 At last year's Wonderfest we announced that we would be releasing our 1:350 U.S.S. Enterprise Refit decal set. Modelers have been clamoring for them since we first released them in our re-release of the Star Trek model kit. We thought we would be able to release them in the fall of last year. The timing didn't quite work out for them to make it back then.
Well, the stars have aligned and we have finally been able to finalize our plans and release the 1:350 Refit decals set at long last. As a bonus for those that have been waiting so long, we are including a fifth large sheet of registries and engineering colors. We have even made an attempt to make them look more like the Motion Picture version in color and design.
The product is beginning production now and should arrive in April. Here's a preview look at the final fifth sheet. The printed colors are more subtle than their onscreen appearance.
One Response to "Star Trek Model Kit: 1:350 Refit Decal Set At Long Last"