Round 2 Model Kits: A Genuine Article
Monday, February 15, 2010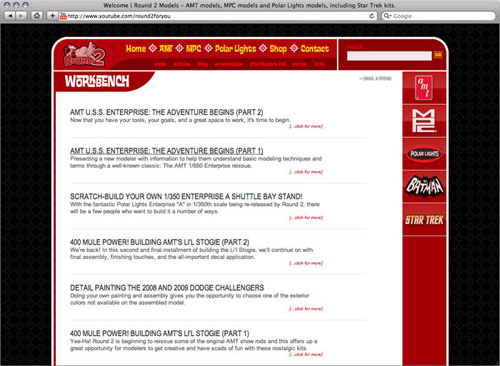 I may have noted here or elsewhere that we are open to posting articles written by modeling fans on our website. The subject could be about any Round 2 model kit. It sometimes takes a while to get them edited and posted up but it is a great way to share insights with others about our kits.
The article can basically be about anything. If you want to review a new kit, write about an advanced modeling or want to talk about the history behind any given kit, feel free to submit a pitch. We ask that you be able to write well, take nice photographs as needed to communicate your story and be willing to take a little bit of direction if we feel something could be tweaked about the article itself. What do you get in return? Why kits, of course.
Be sure to see our website for past articles by Bob, Jim Small, Mark Budniewski, Kurt Brown, and myself. They cover many aspects of modeling but there are an infinite number of topics to explore. Take a look in our ARTICLES or WORKBENCH sections of the website.
Round 2 reserves the right, in its sole discretion, to use or not use any submitted Material. Any parties submitting any idea or written or photographic material ("Material") warrants that the Material is original with the submitter and does not infringe the copyright or other right of any third party. Further, the submitter agrees that, by submitting the Material, Round 2 or its affiliates and assignees have submitter's consent to use the Material in any manner whatsoever without further consent or authorization or without compensation to the submitter. By submitting the Material, submitter releases Round 2 or any affiliated party from any liability to submitter or any third party, and in the case of any claim by a third party, submitter agrees to indemnify Round 2.
2 Responses to "Round 2 Model Kits: A Genuine Article"