Space: 1999 Models: New 1/72 scale Eagle kit Pt. 1
Monday, June 3, 2019
We hope sci-fi modelers had a good time this past weekend at Wonderfest USA 2019 or at least heard from friends that were there and saw their pictures, etc. We had a blast ourselves. We will post a report later this week, but first we are going to start a series of guest blogs by Jim Small focusing on our brand-new Space: 1999 1/72 scale Eagle Transporter. It grabbed a lot of attention from everyone who stopped by our booth. We sent a set of test shots to Jim just before leaving for the show and we didn't want to hold anything back. So here we go…
Eagle Hatchling!
By E. James Small
As you all know by now, Round 2 has recently announced their new release of a proper 1/72nd scale Eagle kit. At about 14" long when finished, this kit is perfect for people who don't have the room to display the larger 22" model, and is made in the popular model aircraft scale. Here is an up-close and personal look at the test shot sprues of the new kit.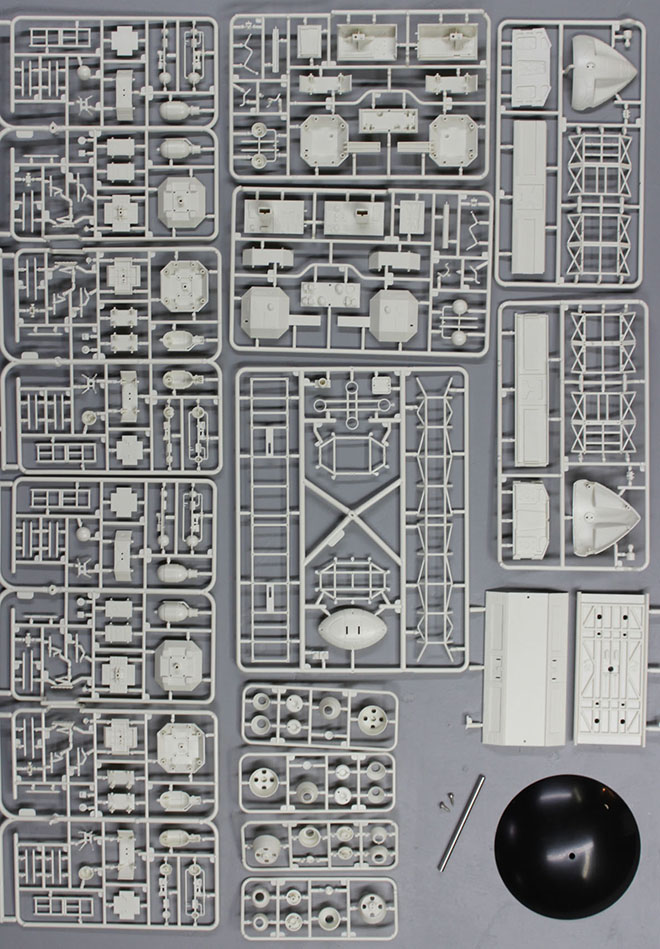 The first pic shows the entire contents of the kit minus the decal sheet and instructions which are yet to be developed.  The rest of the pictures show both sides of each type of sprue contained in the kit. Obviously most are repeated. This kit has all the details present in the 22" kit with the added bonus of being able to be mounted on a stand via a replaceable plug on the bottom of the passenger pod. Those who wish to forego the stand can cover the mount with a hatch detailed to match the hardware that is normally in that area. Also like the 22" big brother, the passenger pod is affixed to the spine with screws so it remains removable. Gosh… I wonder if maybe other pod versions will be made available? [Don't get me in trouble here, Jim. -Jamie] Windows for the passenger pod and nosecone will be represented by decals. Fun fact: on the original 44" studio Eagle models, the Passenger Pod windows were actually not clear but painted over black, so decaled windows in this case are perfectly authentic. Because of its size, articulated landing gear oleos struts were not possible, but you have the option of two positions of struts: landed/collapsed or extended/flying positions.
Enjoy this first detailed look at all the great parts contained in this fantastic new kit!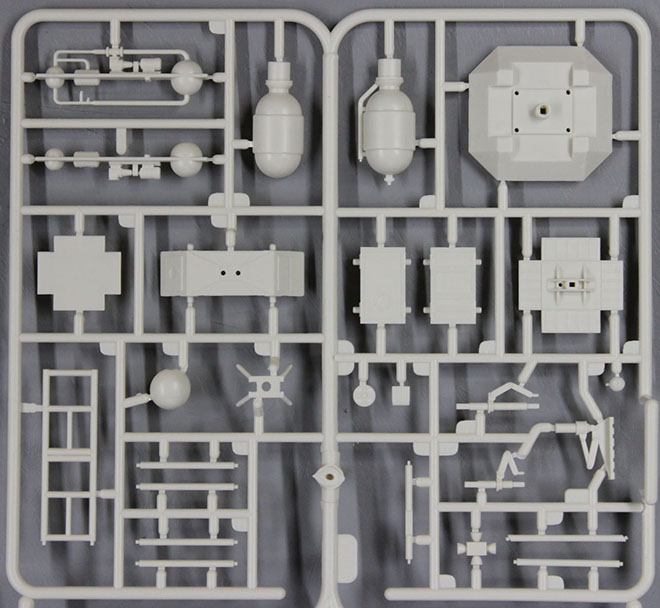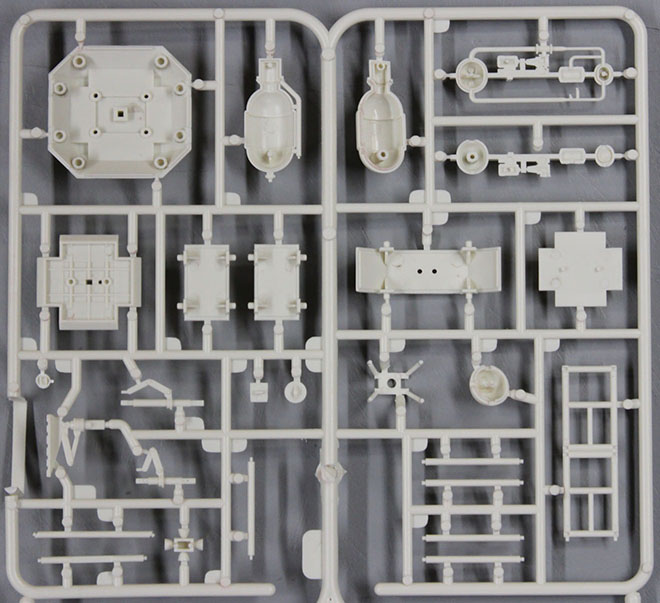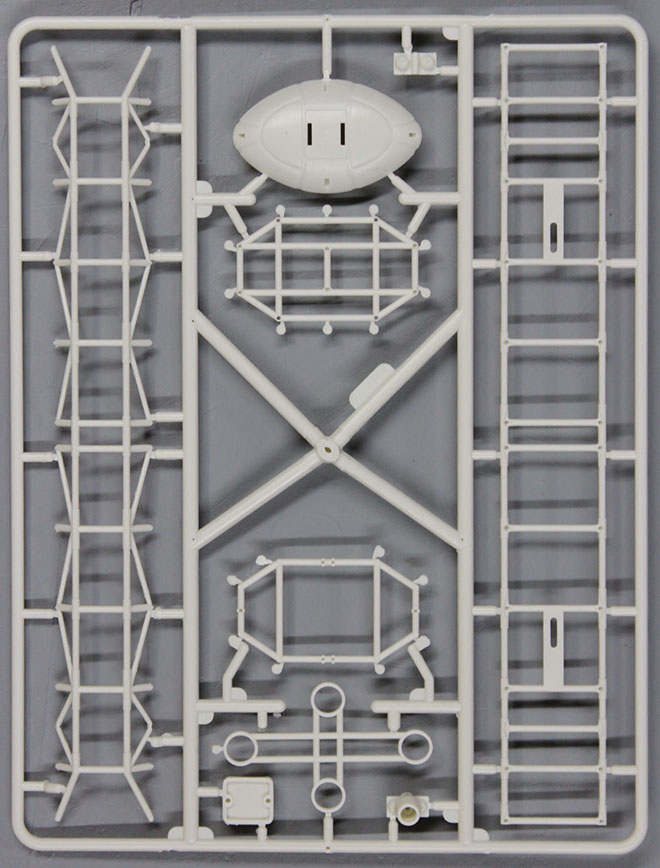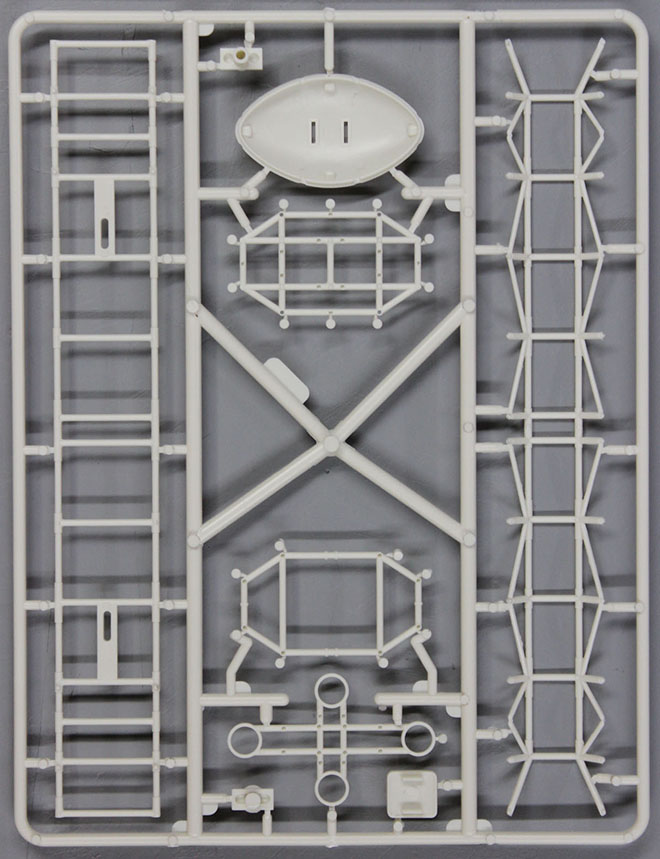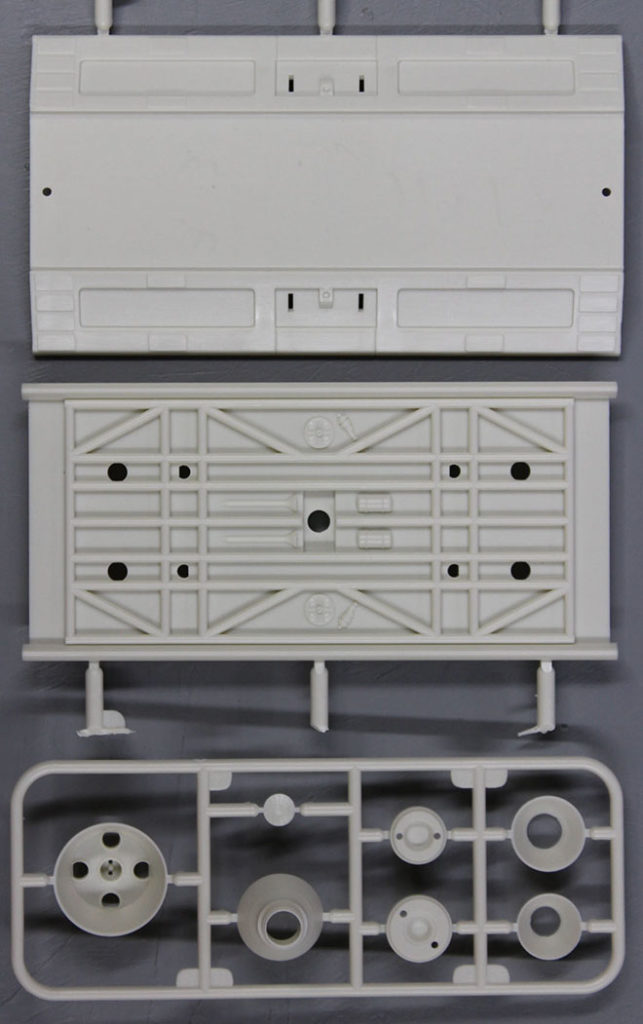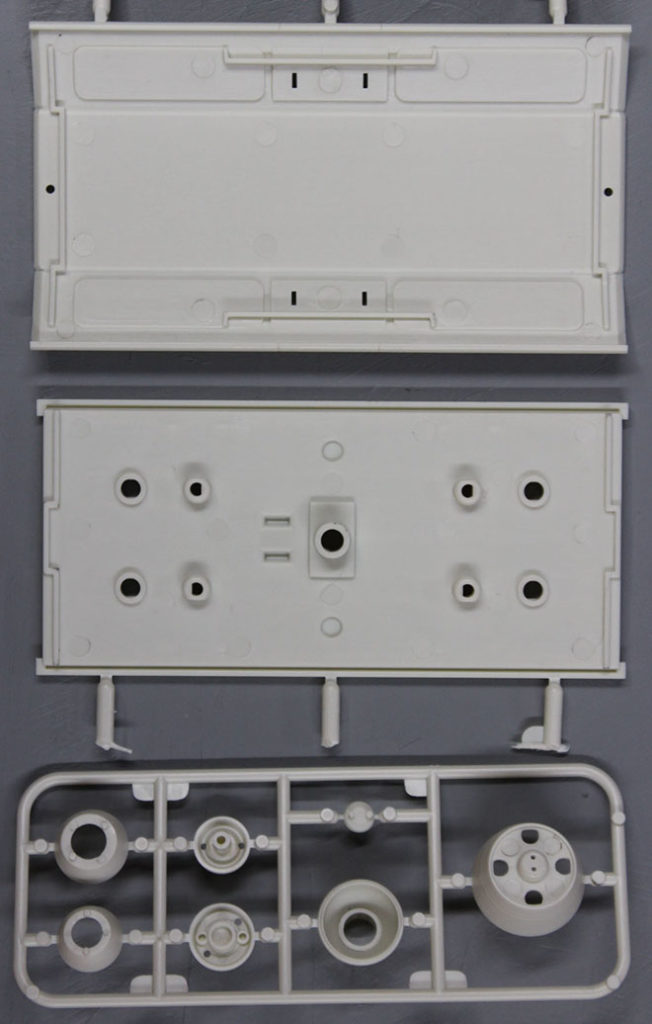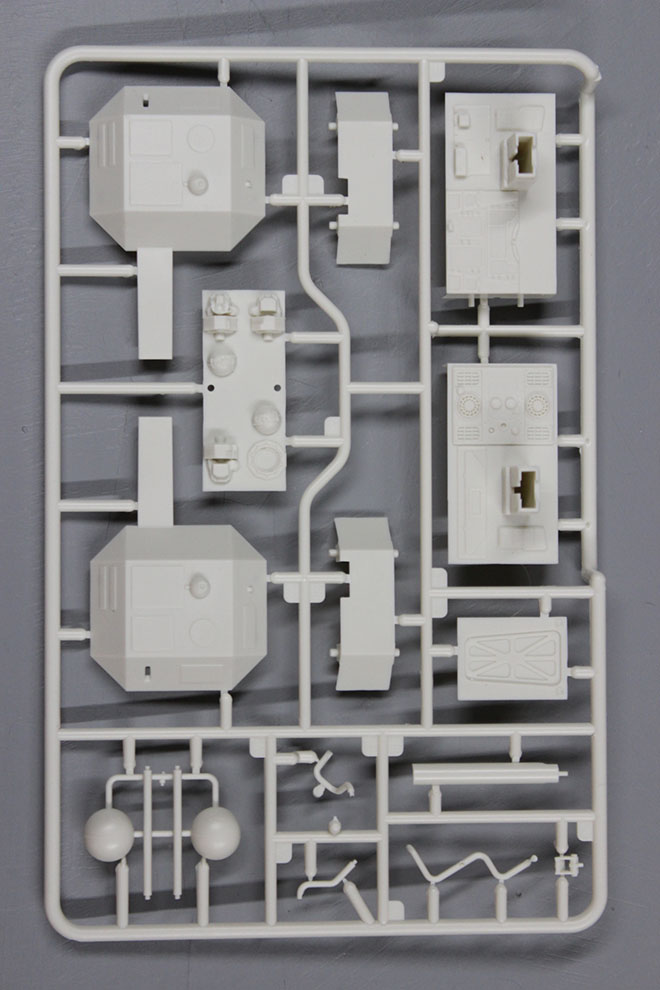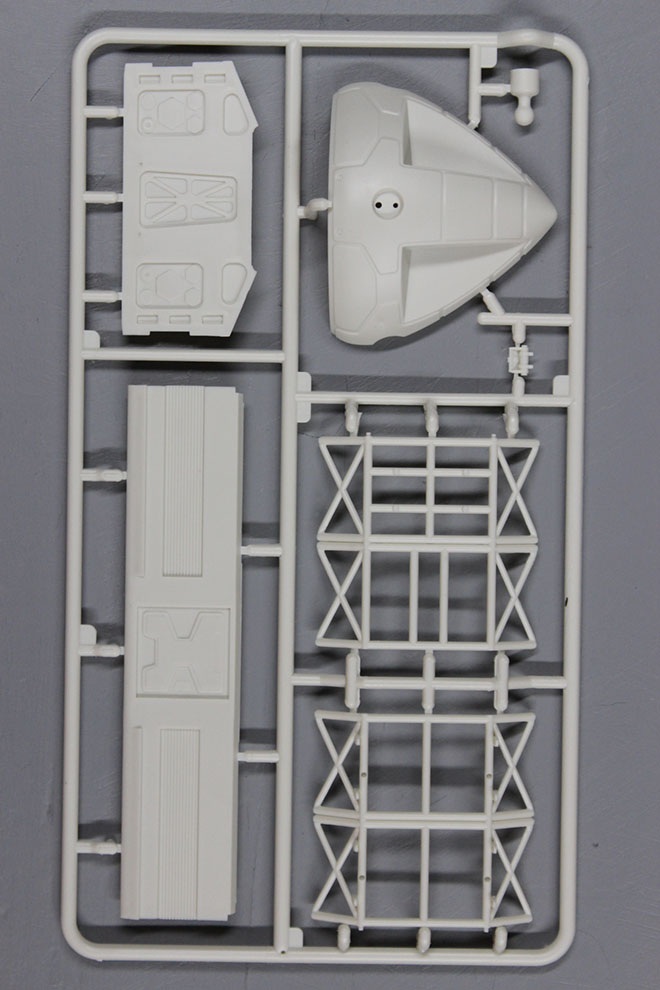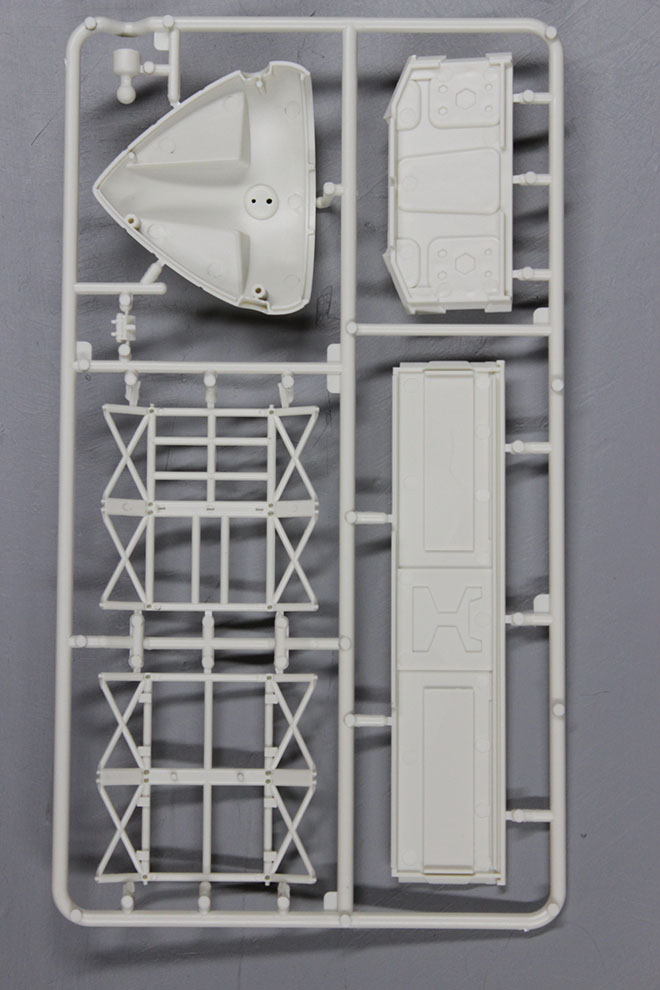 Heck of a far cry from that old 1970's version, eh? This is the kit we'd always wished had been done at the time!
26 Responses to "Space: 1999 Models: New 1/72 scale Eagle kit Pt. 1"