Kat Chat: Skinny Slicks Are In!
Tuesday, August 9, 2016
The Kats at AMT are stoked to report that the all-new "skinny, pie crust" slicks tooled for the reissue of the Barris Surf Woody have been very well received! Modeler feedback continues to be spectacular and so we included a variant, pad-printed with Firestone lettering, for the landmark reissue of the AMT 1929 Model 'A' Ford. Now, for our next trick, how 'bout a wide-whitewall version with simulated raised Firestone lettering! Check it out…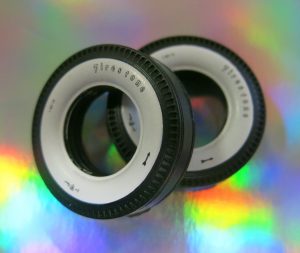 If your eyes are like ours, you're gonna' need glasses or a magnifying glass to appreciate the fine detail in the reversed-out pad-printing on these tires. By "knocking out" the outline of the Firestone letters, a raised look is suggested that will give your next rat rod, old school custom or vintage drag racer build a top shelf super-detailed appearance!
But wait, what kit will these irresistible tires be included in? Well, we're glad you asked! Look for them later in the 4th quarter this year, as an option for the upcoming AMT "GAS MAN" '49 Ford Coupe!
Grab the glue, it's all for you!
3 Responses to "Kat Chat: Skinny Slicks Are In!"