From Star Trek model kits to Batman and on it goes.
Friday, April 17, 2009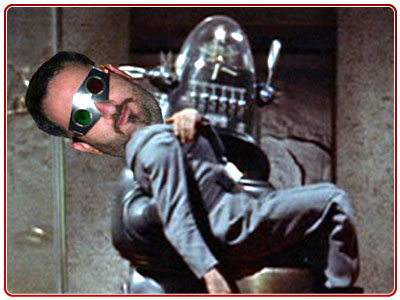 When I found out we were considering acquiring the tooling assets of Polar Lights, AMT and MPC, I was incredibly excited. I love sci-fi and fantasy subject matter from Alien to Blade Runner, from Star Trek model kits to Batman and on it goes. I couldn't wait to finally dive into working on product that fed my passion for sci-fi. When we took on the brands, I had been with the Round 2 for a little over a year, helping with the development of our Forever Fun line of licensed product (and I still do that too) working with great licenses like Rudolph the Red-nosed Reindeer and Peanuts. These were properties that I loved as a kid and still have fondness for but my real passion was always sci-fi and comic book stuff. I loved Star Wars growing up and had a fondness for Star Trek but I'm a die hard comic book collector (Batman, X-men and the best of the rest), have been for as long as I can remember and plan to be for the rest of my life.
I was incredibly excited to start digging into hardcore sci-fi subject matter that was more "adult" than Peanuts and Rudy (still, I gotta love them). The day finally came when we had to start planning our lineup of early releases. I couldn't wait to sit in on the meeting to put my two cents in. When the day came, I realized I may be a fan of sci-fi but there are sci-fi fans and then there are sci-fi fans. Sure, I knew that Leonard Nimoy was Spock and I could pick Robby the Robot out of a lineup as long as you didn't throw B9 in there to throw me off. What dawned on me was not what I knew but what I didn't know, things I had either forgotten or things that I had never picked up on along the way… important things like "which Enterprise was which?". I remember liking the original Star trek series as a kid and some of the movies are my all time favorites (who doesn't like The Wrath of Khan?). I watched my fair share of Next Generation in college, but I hadn't watched any of that in a few years. I had seen nearly every decent sci-fi movie filmed in my lifetime but there were a few of the older movies I only knew from pictures.
I didn't know even more important, practical things… like, "what kits do builders want?" I put up a feeble fight to do a 1/350 Reliant, my favorite ship design. Turns out there were plenty of other ships more deserving to be built in that scale, little ships like the Original Series Enterprise and the Klingon K'tinga. Truth was, I didn't know what kits had been made and what hadn't. I didn't even consider that Star Trek kits have covered many vessels, in many scales and, boy, wouldn't it be great if fans could build all of the ships in one or two scales.
Luckily, our creative director, Bob Plant knew everything I didn't, a fellow comic book collector and sci-fi fan who collects tons of sci-fi and pop culture stuff including Star Trek of every generation. He had been part of Playing Mantis and although he had not directly been involved in the Polar Lights brand, he had watched with interest from afar and knew what went on with the brand. He also had his pulse on the Trek community from the get go and I'm pretty sure he has an enTreklopedia implanted in his brain.
In addition to Bob's great guidance, I've gradually gotten myself spun up to speed by stalked message boards, occasionally posting under a few names here and there just to see what more I can learn/ stir up. Attending Wonderfest last year was a great experience talking to builders first hand. Having everyone fill out a questionnaire gave us a better understanding of our core audience and their ideas for new kits and re-releases.
I know what its like to be a passionate collector. I am one myself. I hold high expectations for my work and the product we produce. I'm glad to work on great subject matter like Star trek, Forbidden Planet and… oh wait, I can't mention that(… yet). It is a genuine joy. I'm glad I get to create great product for all the talented model builders out there. I think the arm's length view I have is just the thing to concentrate on the details to be sure the product is both great and profitable (which allows for even more great product). I think my job is to serve the product, to treat it with the respect it deserves and make sure it is the highest quality possible in order to gain the greatest sales. If I do my job right, I will have satisfied my responsibility to the property, the fans and the company.
Did I mention I had never seen Forbidden Planet before working here? Please no stone throwing…
One Response to "From Star Trek model kits to Batman and on it goes."