AMT, MPC Cars & Trucks: The Devil Is In The Details
Thursday, February 11, 2016
OK, all you car and truck modelers: I've been taking some heat, both internally and also from emails coming in. No, not about suicide chicken wings, but regarding our blog and Facebook pages; being "limited" to sci-fi subject matter. I cannot contest this. So, I'm going to try and improve on the situation once and for all, with some posts for those of you who like things that run on gasoline as opposed to dilithium crystals. I commend Jamie to no end for the time and effort he finds and puts into his sci-fi and figural posts. He's done an incredible job.
My plan is to keep you informed on notable things we're doing in the car and truck realm, and give you a glimpse of the details you may not even be aware of. The Retro Deluxe™ idea was developed to inject real excitement and delight into the
AMT
&
MPC
kits we produce. It's very rarely "just another reissue." Take the Surf Woody for example: did you know we've retooled all-new, narrow "pie crust" cheater slicks which very accurately represent the dual rear tires on the 1:1 car? Check out the images – these babies even have the double pinstripe on them! They're absolutely beautiful. (Side note: the front tires in the Surf Woody kit come with matching double stripes.) You're going to find the new slicks, with different pad printing and lettering, in other kits as well… a certain "Mod Rod" that's coming soon will have 'em!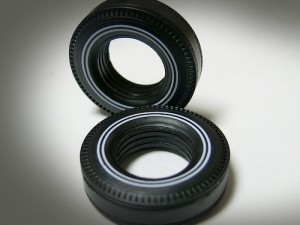 In addition to late breaking news, I'll do my best every so often, to select a question or two to reply on. However, please understand that I cannot answer questions about whether a tool exists or not, or what condition it's in; or will we ever tool such and such, etc. We're not at liberty to divulge information on tooling, primarily from a business perspective: Why freely tell our competition what we do or do not have? Secondly, isn't it much more exciting for everyone when a forty year old kit unexpectedly gets announced? I think so!  Just when you thought you'd never see it again…
Until next time, grab the glue… it's all you!
14 Responses to "AMT, MPC Cars & Trucks: The Devil Is In The Details"